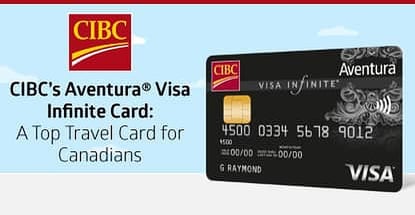 In a Nutshell: Between the planning, the packing, and the planes, traveling can be a pain. Thankfully, the right travel credit card can make traveling a little easier — and more affordable — with great rewards and stress-saving travel perks. In fact, one of the best travel cards in Canada, CIBC's Aventura® Visa Infinite Card can help you save right away with flights as low as 10,000 points and a significant 15,000-point welcome bonus. Your Aventura card can also help ease the stress through the CIBC Travel Concierge program, a personalized concierge service offering one-on-one relationships with knowledgeable concierges who help with planning, booking, and even last-minute questions while you're on the road. //
With only two weeks of guaranteed paid time off, Canada falls low on the list of industrialized nations — though still quite better off than the US, which has no such guarantees. However, regardless of — or, perhaps, because of — their limited time off, most Canadians don't skimp when it comes to traveling.
In fact, Canadians rank sixth for international travel, averaging one trip abroad per person every year — five times the travel of your average American — and eighth for travel overall with just over three domestic trips per person. With so many Canadians enjoying the pleasures of travel, it makes perfect sense that a growing number of credit card issuers are looking to capture their interest (and purchases) through travel rewards.
Across the field of credit card options now available to travel-savvy Canadian consumers, however, some certainly stand out from the rest. Recognized among them is the popular Aventura® Visa Infinite credit card from CIBC, which has been much lauded for its any-flight-any-seat travel rewards program since its reinvention in 2013.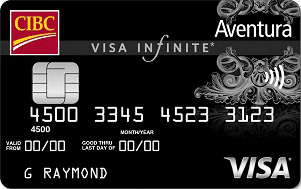 "We did a relaunch of the Aventura card in October of 2013, and we did it according to a strategic decision to focus on Aventura as our elite product," described Mark Swartz, Senior Director of Aventura Rewards & Product Management for CIBC. "And I have to say, we've been absolutely thrilled with the results. The Canadian population has really taken to the Aventura card and rewards program."
In addition to being free of airline or blackout date restrictions, the Aventura program has been a big hit for its wide variety of travel perks. This includes a range of included insurance options, such as trip cancellation and travel medical insurance, which help offset the card's market-competitive $120 annual fee.
"When you add up the cost of purchasing each option as a one-off without the card, it would absolutely cover the $120 fee paid by cardholders," Mark said. "And, when we speak with our cardholders, the feedback we receive is that the travel insurance options are some of the most popular benefits for many of our users."
Fly Right Away with a 15K-Point Welcome Bonus & Flights as Low as 10K Points
In addition to the great insurance benefits, at the heart of the Aventura card is the flexible rewards program. Cardholders can redeem points for a variety of uses, including the popular travel options that are free from airline and blackout restrictions.
"With the Aventura program, you can fly any airline, get any seat — you're not tied to one airline," said Mark. "You can absolutely use your points for anything you desire, within Canada, outside Canada, and around the world." CIBC also works closely with the airlines to provide a range of great deals on popular flights to ensure value for its rewards members.
"We have a flight redemption grid where a client can fly for as low as 10,000 points, though it can vary depending on where a client is going. However, we frequently put out offers that are even better than our redemption grid," Mark said. "For example, we recently offered trips from Toronto to New York for 9,000 points. These offers are only available to our cardholders and just another piece of added value that we provide for our cardholders."
As remarkable as the travel rewards are, Aventura members are hardly limited to using their points for travel. The program also offers clients a large number of other redemption options, including paying their credit card balance and mortgages, buying gift cards and merchandise, or placing a bid on the kind of experience that makes memories.
"One unique offering we have is what we call Auctions, where cardholders can use their points to bid against other Aventura cardholders on once-in-a-lifetime experiences," Mark explained. "For instance, each year we have an auction to send a lucky cardholder to a championship football game. There are a lot of different, really interesting things that we put on that website."
And unlike some other programs, new Aventura members won't have to wait months or years to earn enough points to enjoy some rewards. Each new Aventura cardholder receives a 15,000-point welcome bonus after making their first Aventura card purchase (and no minimum purchase amount). To make it even more valuable, until the end of 2017 new CIBC cardholders can also qualify to have the first year's fee waived, making it free to start using your new Aventura card — and earn points.
"After they make their first purchase they can get those 15,000 Aventura bonus points deposited into their account and use them right away as they see fit. Since you can fly for as low as 10,000 points — right off the bat, when you receive that 15,000-point bonus, you can take a trip. You can fly to New York, you can fly from Toronto to Ottawa or Montreal," Mark described. "You can fly right away, and that's one of the key differentiators we have in the marketplace."
Get Personalized Service from Your CIBC Travel Concierge
Of course, no matter how great the rewards or bonuses, they do cardholders little good if the redemption process is too much trouble. CIBC and the Aventura team take the customer experience seriously and work hard to ensure each member has a great redemption experience.
"We get feedback from our cardholders not only about fees, interest rates, and member benefits, but also directly regarding the reward redemption experience. We want to encourage all of our cardholders to redeem and enjoy their Aventura rewards," Mark said. "And while most clients are happy with how the redemption process goes, there can occasionally be some kinks in the process for others — and we address those issues immediately."
This includes the newly introduced client feedback tool, which allows each cardholder to fill out a process survey after they redeem points, whether online or through the rewards center. If the survey responses fall below a set threshold, the team is alerted and forwarded the survey results and consumer comments within 24 to 48 hours so action can be taken to correct any problems.

At the end of the day, however, the best defense tends to be a good offense; in this case, a full-featured rewards center — one that doesn't have a fee to use. "Our program is one of the only ones in Canada that doesn't charge a fee for a client to book over the phone," said Mark. "So, a client can book online or over the phone, we don't charge a fee either way."
And CIBC offers Aventura clients a personalized Travel Concierge when booking by phone, offering personalized service not often found with many run-of-the-mill concierge platforms.
"Typically, when you call a travel concierge to use your points — you call a 1-800-number and you might get someone you've spoken to before, but you're just as likely to get someone who will have to look up your file to see who you are and what you're looking for," Mark explained. "We have a unique relationship with our call center, where you can get the same agent; you can get their personal line or their email address, and you can contact them if an issue comes up in the future or while you're on vacation, you can feel free to reach out to the individual ."
Travel Better with the Aventura® Visa Infinite Card
The average Canadian is only guaranteed two weeks of paid time off — so you better make the most of it. For many, the best way to have an unforgettable vacation is to travel to a new and exciting locale (or even a familiar and relaxing one).

No matter where you travel, a solid travel rewards credit card can make it easier, more convenient — and a bit more affordable. One of the best travel cards in Canada, the CIBC Aventura® Visa Infinite Card can not only get you flying right away to tons of popular locations, but offers vast redemption options and a personalized member experience.
"Over the next year or so, we're going to be adding even more travel options to our offerings," Mark revealed. "We'll also be updating our redemption website to make an even better, easier, more enhanced way to book online."
Advertiser Disclosure
CardRates.com is a free online resource that offers valuable content and comparison services to users. To keep this resource 100% free, we receive compensation for referrals for many of the offers listed on the site. Along with key review factors, this compensation may impact how and where products appear across CardRates.com (including, for example, the order in which they appear). CardRates.com does not include the entire universe of available offers. Editorial opinions expressed on the site are strictly our own and are not provided, endorsed, or approved by advertisers.