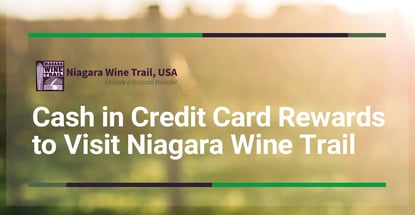 In a Nutshell: Here at CardRates, we love travel, wine, and finding unique ways to turn our credit card rewards into great memories. With that in mind, we recently learned about the Niagara Wine Trail in Western New York, just minutes from Niagara Falls and were enthralled. The organization consists of a number of local, family-owned wineries that produce a huge variety of wines, thanks to the region's unique geography and climate. Whether you're looking for a day trip or a romantic getaway with your significant other, the Niagara Wine Trail offers a great way to make use of those credit card rewards when you're planning your next trip.
For years in the U.S., wine country was synonymous with the vineyard-rich region of Northern California. But places like Napa Valley and Sonoma Valley can no longer claim a corner on the market.
Wine is now produced in all 50 states, with certain regions gaining in popularity in recent years. Western New York is among that list, specifically Niagara, Orleans, and Monroe counties in the area surrounding Niagara Falls.
So, what does all this have to do with credit cards? Credit card rewards, of course.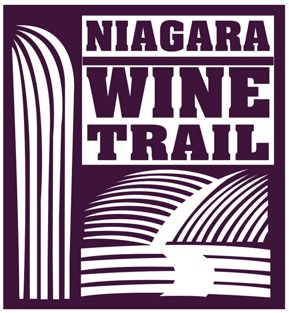 Regular CardRates readers may be aware that we love to find novel ways to turn our credit card rewards into lasting memories — aka taking cool trips. That can mean applying credit card reward points toward airfares or turning them into cash to help fund our trips.
And recently, we've also been dipping our toes into oenology — the study of wine — mostly by tasting different types. Our "studies" brought to our attention the Niagara Wine Trail, USA, in New York. The wine trail and sightseeing around the area present a perfect opportunity to plan a getaway with your significant other.
We were eager to learn more about the trail and the types of wines available in the region so we reached out to the organization and spoke with Media Director Elizabeth Rose Maute and Shane Gustafson, President of the Niagara Wine Trail and owner of A Gust of Sun Winery and Vineyard.
"Our first winery opened up in 1999, but we've been growing grapes in the region for a really long time," Maute said. "We have wineries that are on farms that are over a century old and some of the grape vines are over 100 years old as well."
The Region's Climate Sets the Stage for its Grapes to be Cultivated into a Wide Variety of Wines
Maute discussed how the climate lends itself to cultivating grapes for quality wines and spoke to what kinds of wine visitors can expect to sample on the trail.
She explained that this area of New York is on a similar latitude to some other well-known wine producing regions of the world.
"If you drew a line across the globe we would be about where Germany's growing region would be, so Riesling does really well here," Maute said.
Due to its latitude and geography, the climate in Western New York is somewhat unique in the states, laying the groundwork for quality wine production.
"Geographically situated between the Niagara Escarpment and Lake Ontario, the wine region has a unique micro-climate," according to the organization. "Located at Latitude 43 degrees North, the cool climate region of Niagara enjoys long days during the growing season. This makes it suitable for the production of the types of fruit that are used to create its fine wines."
The area sees the second-longest growing season for grapes in the state of New York.
This is significant because a longer growing season allows time for the grapes to build up more fruit esters, which give the fruit its qualities of aroma and taste.
"Along with the moderate climate, the character of the local soils, the dolomitic limestone of the Escarpment, and the gravel silts near the Ontario lakeshore are ideal for growing vinifera grapes," according to the organization. "European vinifera wines, including Riesling, Pinot Gris, Pinot Noir, Chardonnay, Cabernet Franc, Vidal Blanc, and Sauvignon Blanc, thrive in the region."
Follow the Trail for a Taste of the Area's Many Wineries
"The Niagara Wine Trail organization is run by the wineries on the trail," Maute said. "They're all members of the organization. They're independently run wineries — there are no corporate-owned members — they're all family owned."
She explained that the wine trail is a result of the region's wineries collaborating to create an organization that would help unite their voices and bring more attention to the area.
"We work together as a community, rather than doing it independently," Maute said.
"Each winery on the trail offers a diverse selection of traditional vinifera style, native, late harvest and ice wines, as well as unique styles such as award-winning fruit wines, meads and ciders," according to the website. "There is something to please the palate of everyone along the Niagara Wine Trail, USA from the novice to the most discerning wine connoisseur."
The trail itself consists of 17 diverse wineries that all share a passion for producing high quality beverages, according to the Niagara Wine Trail.
"This region has been recognized by prominent wine publications as producing the best Pinot Noir, Cabernet, Ice Wine, and Syrah that New York has to offer, along with top scores by wine critics and international wine competitions," according to the website.
"Something that's great about our trail is that — my winery offers a really wide variety — and we have wineries that specialize in just dry, we have some that specialize in sweeter styles," Gustafson said.
She said there truly is something for everyone.
"It really is dependent on the drinker. There are a lot of misconceptions in the wine world. A lot of people enjoy dry wines and a lot of people enjoy sweet, fruity wines," Gustafson said. "New people coming into the scene tend to be categorized as sweeter drinkers. But there is a varying palette among the customers we see."
Maute said that, prior to the COVID-19 pandemic, the Niagara Wine Trail wineries were focused on getting people to experience several wineries in a day through various events. But, with the pandemic altering travel plans — and business plans — for many, the organization has been less focused on large events and more focused on intimate experiences.
"We're seeing more people that want to have a day or weekend trip where they can have a bit of an itinerary planned out for them," she said. "That's where we're going forward in the new year — kind of creating day experiences for everybody where you can maybe visit two wineries in the morning, stop for lunch, do some shopping, and maybe do another two in the afternoon."
Maute said that because the wineries are small, family-owned operations, people often can get a behind-the-scenes kind of experience during their visit.
Just a Short Distance from Niagara Falls
While wine enthusiasts may be drawn to the area to sample the broad variety of locally grown wines the region has to offer, Niagara Falls is a huge draw in itself for many folks.
The Niagara Wine Trail is only a short drive from the breathtaking views of Niagara Falls as well as the cities of Buffalo and Rochester, Gustafson said. So whether your main objective is wine tasting or sightseeing, a trip to Western New York can offer it all.
"Picturesque farm vistas and the beautiful Escarpment are all within a short drive from Niagara Falls," according to the organization website. "Enjoy the many interesting towns, restaurants, historical sites, farm markets and antique shops as you travel along the wine trail. Sip in the fine wines our area has to offer as your eyes drink in the view!"
With COVID-19 vaccines coming into production and beginning to be distributed among the population, people around the country are hopeful to resume their normal lives and, of course, plan vacations in the near future.
Maute points out that the Niagara Wine Trail pass is valid for three months, so visitors don't have to nail down an exact date to purchase a pass.
"They can come visit us anytime during that three-month period," she said.
Interested oenophiles can purchase a winter wine pass through the organization's website for $25. A winter wine pass entitles the passholder to three tastings at 14 wineries along the trail. The pass also comes with an informative brochure that contains other deals to please wine lovers.
Whether you're just learning about the wide world of wines or you and your significant other are seasoned pros, the Niagara Wine Trail has something for everybody.
Advertiser Disclosure
CardRates.com is a free online resource that offers valuable content and comparison services to users. To keep this resource 100% free, we receive compensation for referrals for many of the offers listed on the site. Along with key review factors, this compensation may impact how and where products appear across CardRates.com (including, for example, the order in which they appear). CardRates.com does not include the entire universe of available offers. Editorial opinions expressed on the site are strictly our own and are not provided, endorsed, or approved by advertisers.