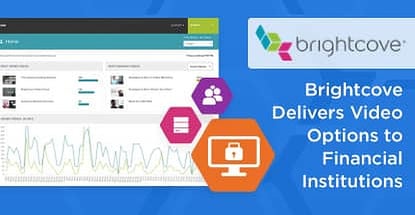 In a Nutshell: Businesses in all industries turn to online video every day to get their message out to potential customers.  With advances in technology, businesses require expertise in marketing analytics and security so their videos are delivered, consumed, and interacted with to their best potential. Brightcove, an industry leader in content delivery and hosting has become the solution that many top financial firms turn to publish, host, and secure their internal and external video content. Those institutions face tight security standards with any media that's posted, but Brightcove's tools keep them compliant and appealing to new and existing customers. The company's powerful cloud solutions provide clients educational and promotional opportunities, both externally and internally, with secured employee training and company update videos available to anyone inside a client's network. Brightcove's emphasis on live streaming promises to advance the company into — and beyond — the coming years. //
In November of 1994, thousands of computers attempted to tune into a live Rolling Stones concert from Dallas. The show made the rock giants one of the first musical acts to stream a performance online. Like Ed Sullivan's introduction of the Beatles to America, the Stones were ushering in a new era of media delivery.
But the approximately 200 web surfers who managed to view the grainy, low-quality video feed also became part of the milestone event's narrative.
The New York Times reported the next day that streaming was "not quite ready to replace television" after the image broadcast filled only a fraction of the computer screen, and the delivery was so slow, the performance looked more like a high-speed slideshow. The computer systems required to access the 20 minutes of concert footage were equipped with as much as $20,000 in hardware — which many fans of the Stones did not have. A lot has changed since then.
Streaming has claimed much of television's market share nearly a quarter century later. Web surfers are accustomed to consuming their favorite shows and movies online. And innovations in technology and security have changed the way those videos are streamed and hosted.

Brightcove is a leader in those changes. The company's Video Cloud services stream, host, and display video content across some of the world's biggest websites. Several top US banks and other financial businesses partner with Brightcove to overcome security hurdles and deliver experiences customers appreciate.
"Security is of prime importance to financial businesses, but security requirements weren't kick-started by the financial industry. Media companies did that," said Paul Casinelli, VP Product Marketing and Strategy at Brightcove. "They have a vast amount of intellectual property they need to keep from being hacked and put into the black market. We took that same technology from television, movies, and music and applied it to banks."
Brightcove improves client ROI with tools to help their customers interact with video in ways previously unimaginable.
"Simply placing a video on a website is not differentiated enough if you want to make a big impact and influence buying decisions," Paul said. "We've followed our customers and built solutions that add the next level of video capabilities and video engagement onto our platform."
Brightcove helps clients display their video content on almost any screen without formatting issues. Advertising campaigns are run using high-speed HTML5 video players and can be featured on desktop mobile devices, connected television, and game consoles.
Analytics Increase Engagement & Expand a Company's CTA
Website video content keeps customers engaged longer — if it can hold their attention. Many media delivery companies allow clients to host and post a video, but that's it. Advanced users need tools that report vital information in real time to get a feel for the success — or lack thereof — of their posted media. Paul said Brightcove gives their customers just that.
"There's a lot of power in analytics," he said. "With our services, you can not only see how many people clicked on a video to play it, you can learn how long they watched that video or where they started watching and where they stopped watching. You can learn how much was consumed. You can't get that with a website pageview count or download statistics."
Brightcove's Video marketing Suite allows users to publish, distribute, and analyze video content happens within one hub. The user-friendly interface is designed to help clients digest the glut of information Brightcove's video analytics provides.
"It's your command center for publishing video to all your networks — like your YouTube channel, Facebook channel, or Twitter account," Paul said. "It gives you everything you need to engage your audience."
Financial businesses that want to get their call to action across the internet get everything they need from Brightcove. Analytics makes it easier to decipher what customers are interested in and what they're skipping over. The difference between a good and bad promotional video in a crowded marketplace can mean dozens of new or lost customers.
"The days of banks being boring and serious and not innovative with marketing are long over," Paul said. "Our banking and financial institution customers are leading the way on marketing because the industry is so competitive."
Analytics also measure the engagement users have with each video. Modern displays allow links and other clickable interactions within media. Customers can sign up for a service or make purchases before the video ends. Brightcove calls it shoppable video.
"Whatever the product or service is in your video, there's a button that links you directly to the e-commerce experience so you can purchase it or sign up," Paul said."It can all be tracked to find out what campaigns are effective and which aren't hitting the mark."
Increased security standards sometimes limit the amount of creativity financial institutions have within their media. Paul said that's changing as Brightcove's products evolve. The company prides itself on a long history of working with clients who have major security needs.
"Our finance industry customers need someone who can deal with robust security requirements and provide really compelling and exciting marketing experiences. They need to be able to engage their audience and move it through the journey of awareness and turning them into customers. We do both of those things."
Internal Video Options Promote Workplace Education, Growth & Harmony
Paul said many of Brightcove's financial clients add media strategies not only to their websites but through back-end channels. Internal videos are used for updates, training, and morale-boosting reasons and powered by secure logins that assure only employees see them.
"We live in a world where people expect video," Paul said. "It's on social media and other websites we use all the time. Then you go to work and get these really boring PDFs or weird internal websites that look like they're from the 1990s. We take all the great experiences we created on the outside of these websites and flip it on the inside."
Major financial businesses like ING already use internal videos to connect employees and vendors with the latest company news and updates. The videos eliminate the need for certain meetings with live stream capabilities and still disseminate vital information like the company mission, terms to be used with customers, or changes to the code of conduct.
Internal videos, like external media, can be tracked with analytical tools that lets authorized users see who viewed the video and for how long.
"Most people think videos are useful just for selling or recruiting new customers," Paul said. "That's just not the case. Videos can make your point to the people on the front lines faster than any other media. It saves time, hassle, and money over the long haul."
Financial Businesses Stay Ahead of the Competition with Future Marketing Tactics
Financial businesses use video to recruit new customers, educate existing ones, or introduce new products and services to the masses. But not all videos are the same in the world of online media.
"There are different types of videos for different needs," said Paul. "Video on social media, especially Twitter, needs to be really short. If you have a video that connects to someone further along the customer journey, you want it to be a little longer and link it with content relevant to the message."
Brightcove plans to expand its content delivery options in the coming months with a focus on immediate gratification to viewers. More companies are choosing to launch products or promote existing campaigns, with live online events. Brightcove is among the leaders in providing live-streaming capabilities.
"Live streaming is something we're focusing on in 2018," Paul said. "Even though we live in an on-demand world, there are certain instances when people want to be the first to know or hear about something."
So Rolling Stone fans can rest easy — when the band embarks on its umpteenth retirement tour, your computer will almost certainly be able to watch the stream this time around.
Advertiser Disclosure
CardRates.com is a free online resource that offers valuable content and comparison services to users. To keep this resource 100% free, we receive compensation for referrals for many of the offers listed on the site. Along with key review factors, this compensation may impact how and where products appear across CardRates.com (including, for example, the order in which they appear). CardRates.com does not include the entire universe of available offers. Editorial opinions expressed on the site are strictly our own and are not provided, endorsed, or approved by advertisers.