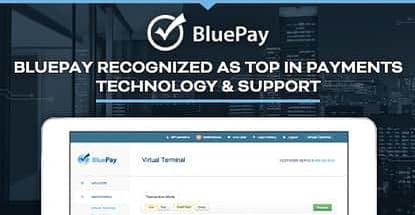 In a Nutshell: Cash has become an afterthought as more businesses cater to customers' needs with an increasing willingness to accept credit cards. Small businesses now have to compete with the conveniences provided by the big guys, and companies like BluePay have risen to the occasion. BluePay consistently wins awards for providing merchants with quality payment processing solutions, outstanding credit card security, and top-notch service. A team of 50 in-house developers enable the company to respond quickly to the changing landscape of payment processing services, and BluePay's always-available customer support ensures merchants can count on it to improve the way they do business and help them achieve goals. //
When my friend Lesley opened her housekeeping business, she accepted only cash payments. Very quickly, Lesley realized this limitation on payments created an inconvenience for her clients. In fact, customers often canceled appointments on short notice simply because they'd been too busy to stop by an ATM. Instituting a 24-hour cancellation penalty just made matters worse, as some customers just wouldn't book her services again.
To increase convenience for her clients and generate more reliable revenue for herself, Lesley began accepting credit card payments and offering subscription-based plans for her regulars. For $120 per month, Lesley provides a two-hour house cleaning every other week. Lesley knows she'll lose a bit of her income to credit card processing fees, but accepting credit cards means added convenience for her clients, fewer cancellations, and more dependable income.
There are many payments processors on the market, but BluePay stands out because of its award-winning customer service and range of customizable processing solutions, including omnichannel, large ticket, e-commerce, and mobile credit card processing.
BluePay processes $11 billion in payments annually, and much of that comes from its compatibility with hundreds of different software platforms and the ability to meet the needs of businesses of varying sizes and industries.
Over 50 In-House Developers Ensure Agile Solutions for Client Needs
One of BluePay's competitive advantages is that its technology is provided entirely in-house. According to Jennifer Seebock, Marketing Coordinator for BluePay, its team of more than 50 developers help the company's agility in making changes and developing the cutting-edge technologies that many of its competitors cannot provide as quickly.
BluePay understands that each business is unique and payment processing is not a one-size-fits-all proposition.
Its in-house team of integration specialists can work to build a custom solution that is right for each business, by integrating with existing software platforms and providing custom payment solutions, including online capabilities, mobile processing, and virtual terminals. If they do not have a plugin for a certain software platform, they offer free APIs in many different languages, allowing businesses to build their own custom integrations.
In 2016, BluePay was honored with a Silver Stevie Award for Information Technology Team of the Year at the 14th Annual American Business Awards, the nation's premier business awards program. BluePay's in-house team of developers was recognized for its ability to deliver scalable, optimized solutions to meet the needs of clients of every size.
BluePay's Dedicated Service Teams are Committed to the Client Experience
BluePay integrates with more than 320 software platforms, and so far, its services have been used by more than 42,000 businesses since the company launched in 2002. How is it able to maintain such lofty customer service standards while handling such a high customer volume? BluePay achieves this by staying connected to what clients really need and want.
Jennifer says BluePay implemented "Voice of the Customer" surveys in May of 2015. The surveys are collected by a third party via web questionnaires and phone interviews. Based on the results of its first survey in 2015, BluePay segmented its customer service into three teams: Small to Medium Businesses (SMBs), Partner, and Enterprise.
Enterprise-level customers are handled by a national account manager team, and customers have the direct line of a designated support professional. The Partner Support Team makes sure that BluePay's partners and their merchants have the tools and knowledge they need to be successful by bringing the necessary people together to get the job done.
No matter which tier BluePay's customers fall into, all are able to connect with a live customer support person at any time of day via email, phone, or live chat.
BluePay's goal is resolving any issue with just one phone call. That commitment to thorough support has led BluePay to win several awards in the customer service space.
Earlier this year, BluePay was one of only two companies to be recognized in two categories by the CNP Awards, hosted by CardNotPresent.com. It received a Customer Choice Award for Best E-Commerce Platform/Gateway for being the e-commerce application service provider that most effectively and safely connects consumers with merchants, and merchants with acquirers, processors, and issuers during purchase and authorization.
BluePay also received the Customer Choice Award for Best Call Center Solution in recognition of its Interactive Voice Response (IVR) system. This pay-by-phone option reduces merchant liability risks by removing sensitive payment data from its phone system and creating a safe and convenient way for customers to make payments and check account balances.
BluePay's definition of customer support extends far beyond the traditional handling of phone calls and troubleshooting issues. All of its partners receive access to learning opportunities in the form of newsletters, webinars, and sales and conversion training.
Continuously Updating to Maintain the Highest Standards
BluePay provides essential services to businesses such as merchant accounts and payment processing, but it's also always seeking to improve and continuously update its products and services. Maintaining these high standards of innovation helps customers grow and achieve their business goals.
It was a pioneer of tokenization, which is a highly effective data security measure designed to protect sensitive data from prying eyes. Tokenization releases merchants from needing to maintain credit card or ACH data within their payment systems, helping to reduce a merchant's PCI scope and business liability.
Another helpful feature is BluePay's Account Updater. Subscription-based businesses like Lesley's housekeeping business face credit card processing challenges that other businesses don't.
When a business runs a one-time credit card transaction, either the payment goes through and the customer gets the product or service, or the transaction is declined and they don't. With a subscription-based business model, the company must be able to bill the customer repeatedly and respond quickly and effectively if the payment is not forthcoming.
Renewals are often charged using payment details provided for the initial purchase, so subscription billing is vulnerable to payment detail changes such as credit card expiration, canceled cards, or upgrades. Account Updater helps to eliminate those declines by submitting data to the card brands for verification against their databases on a monthly basis.
When the card brands respond with updated account numbers or expiration dates, BluePay updates the card information within the BluePay Gateway. The next time the merchant runs the customer's payment information, the transaction will be automatically updated with new card information, reducing the likelihood of a decline.
Don't expect BluePay to slow down on delivering cutting-edge technology and stellar customer service anytime soon. Jennifer said BluePay CEO Bala Janakiraman is looking to build brand recognition to better compete with other payment processing services, and one way of doing this is continuing to win accolades.
With a commitment to innovation in the payments space and its customer service-centered culture, BluePay seems to be poised to add plenty more awards to its growing trophy case.
Advertiser Disclosure
CardRates.com is a free online resource that offers valuable content and comparison services to users. To keep this resource 100% free, we receive compensation for referrals for many of the offers listed on the site. Along with key review factors, this compensation may impact how and where products appear across CardRates.com (including, for example, the order in which they appear). CardRates.com does not include the entire universe of available offers. Editorial opinions expressed on the site are strictly our own and are not provided, endorsed, or approved by advertisers.