In a Nutshell: Alive Credit Union began as a co-op for healthcare providers in Jacksonville, Florida, but has expanded its mission to include everyone in the city. The institution makes certified financial counselors available at its branches to advise members on the right loan products for building credit. And its membership in the Juntos Avanzamos network ensures Spanish-speaking members receive the same high level of personalized service. Through its products, services, and initiatives, Alive Credit Union aims to inspire financial wellness for community members from all walks of life.
Not everyone needs a loan. In fact, some consumers may find a loan counterproductive to financial improvement. It all depends on the interest rate and how it fits with a person's current status and goals.
When the time is right, certified financial counselors at Alive Credit Union are always ready to match members with the loan or credit product that works best for them. The institution just needs to get to know the person first.
Alive Credit Union launched in 1954 when when Florida Blue (formerly Blue Cross Blue Shield) workers in the Jacksonville, Florida, area pooled their resources to meet their own financial goals. Over the years, the credit union expanded to serve all community members in the Jacksonville area, and surrounding counties, including medical other employee groups. And healthcare remains a focus through its purpose of inspiring financial wellness.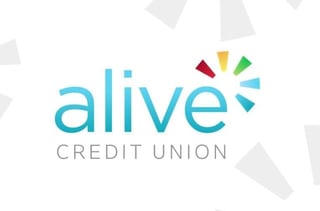 "A few years ago, our management team decided to move away from the mission and vision concept and just create a purpose," said Christian Pagan, Marketing and Business Development Manager. "In everything we do, with every program we implement, we make sure we're living by that purpose."
That commitment includes products for members looking to build or rebuild credit and resources to serve those from the Spanish-speaking community. Alive Credit Union and its team of financial counselors work in the best interests of each member, regardless of origin or status.
"Our priority has been to expand our offerings with the vision of helping those who need help the most," Pagan said. "As a not-for-profit organization owned by its members, we always want to make sure we keep that top of mind."
Loan Products to Help Members Build Their Credit
Alive Credit Union offers a comprehensive credit card lineup that takes many priorities into account, including consolidation, cash back, rewards, or even just getting started with credit.
The credit union's team of certified financial counselors looks out for each member's best interests, and sometimes a credit card isn't an appropriate choice. That's why Alive Credit Union offers a variety of other loan products to ensure all members have a chance to reach their goals.
Alive Credit Union Certified Lending and Financial Counselor Carol Ann Aldridge said the process of determining the right credit fit typically starts with free financial wellness coaching.
"Because not every household is the same, the first thing we do is we get to know them personally," Aldridge said. "That includes their personal finances, how their household runs, what their income looks like, and what short- and long-term financial goals they may have."
A credit report review helps establish a foundation, which may lead to a discussion about loans and other programs for building credit.
The Credit Builder Loan, for example, works similarly to a secured loan, but the loan itself is the collateral. Members can establish a positive payment history that is reported to the credit bureaus.
For members who need cash right away, the Easy Cash Plus Loan is an excellent payday loan alternative through with a savings component through which the member receives $1,000 in loan proceeds. The first $500 is available to the member immediately while the remaining $500 is placed on hold in the member's account until the loan is paid in full.
"It's a wonderful opportunity that helps members get out of that payday cycle," Aldridge said. "It keeps a little bit more coin in their pocket and gets them to where they need to be."
Juntos Avanzamos Designation Demonstrates Community Commitment
Alive Credit Union offers the Easy Cash Plus Loan in conjunction with its free financial wellness coaching service as part of the eligibility requirements. Another credit union initiative, its Juntos Avanzamos certification, ensures Spanish-speaking members get the same benefits from their counseling.
Juntos Avanzamos, which translates to Together We Advance, is a nationwide network of credit unions committed to serving and empowering Hispanic communities. Given that Spanish speakers in the U.S. may avoid mainstream financial institutions because of bad experiences or feelings of exclusion, the Juntos Avanzamos designation signals a welcoming environment for Spanish speakers.
All that Juntos Avanzamos credit union members need to open an account is an Individual Tax Identification Number (ITIN) and a U.S. or official foreign-government-issued photo ID.

Earning the designation was especially important for Alive Credit Union because of the influx of Spanish speakers in the Jacksonville area in the wake of the destruction in Puerto Rico from Hurricane Maria in 2017.
"At first, people moving from Puerto Rico went to Orlando, but in Orlando, they only found service jobs that were not what they were looking for," Pagan said. "A lot of these folks are in the healthcare industry, and in Jacksonville, they've found a good place to raise their families."
Now those individuals — and indeed all Spanish speakers in the Jacksonville area — can turn to Alive Credit Union for service that can accommodate their specific needs.
"We can open accounts and do loans for people who only have an ITIN number," Pagan said. "Even if they're not a citizen, they don't have to use prepaid cards or stash their money as cash."
Alive Credit Union Teaches Better Decision-Making
Many consumers begin working with a financial institution to prepare for a life-changing large purchase, including a car or home. Those are the types of financial decisions that can lead to more independence and success.
The credit union's Drive with Alive program makes lower-cost auto loans accessible to more members.
"We can get them out of those high-interest, buy here, pay here loans into something more manageable, and they can use the extra funds to pay off some debt," Aldridge said.
It also offers programs that make home loans accessible to applicants with credit scores as low as 520, meaning Alive Credit Union can turn homebuying from a dream into a reality.
"When we ask in our initial consultations about short- and long-term goals, members want to establish and rebuild credit because they want to own their own homes instead of paying to rent a place that's not theirs," Aldridge said.
That personal touch continues at Alive Credit Union on behalf of members who need an extra boost to get over the homebuying threshold. Some of its programs involve homebuyer seminars and other educational sessions.
"Because we're a credit union, our mortgage manager can talk to people who can't be approved at this time and say, 'This is the path we need to take,'" Pagan said. "He has a simulator where he can input different scenarios that'll tell you exactly what you need to pay first to increase your credit by a certain amount. We've seen them take over a year, but they come back, and we can get them into a home."
Advertiser Disclosure
CardRates.com is a free online resource that offers valuable content and comparison services to users. To keep this resource 100% free, we receive compensation for referrals for many of the offers listed on the site. Along with key review factors, this compensation may impact how and where products appear across CardRates.com (including, for example, the order in which they appear). CardRates.com does not include the entire universe of available offers. Editorial opinions expressed on the site are strictly our own and are not provided, endorsed, or approved by advertisers.