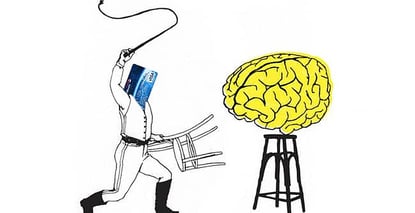 Think back to the last time you were offered a credit card. What do you remember most: the deals and rewards the card offered or it's APR, fees and fine details?
Credit card companies make billions of dollars a year through clever accounting and finance technique, but the vulnerability of the human brain may be their most valuable tool. These tricks come from theories grounded in behavioral finance, a study that blends psychology and consumer finance.
We spoke with some of the nation's leading university professors who have an deep understanding of behavioral finance to reveal the tricks credit card companies play on us every day.
1. They appeal to our sense of deals
Have you ever had a retail cashier offer you a new credit card in return for a discount? According to Itacha College Professor of Marketing Michael McCall, this trick not only helps stores build brand loyalty, but also appeals to our inner desire for all things frugal.
"They use language that appeals to peoples' sense for deals," McCall said. "If you go to an intersection with two gas stations, one offers gas for $2.99/gallon with a 10-cent discount for paying cash. The one on the other side of the road offers $2.89/gallon with a 10-cent charge for paying with credit. Although they're charging the exact same thing under the exact same conditions, one gas station will win every time — the one that offers the discount …. That's the psychological nut that drives economists crazy — we like things that are deals!"
On its face, we like the deal because it helps us save money, but it also also be tapping into a more profoundly primal part of our minds.
"If you're actually in the store at the moment, then you have this goal to make a purchase at that store," said University of Texas Cognitive Science Professor Arthur Markman. "One of the things we know about goals that have been activated like that is that they get you to value things that help you achieve the goal."
Things like a new store credit card.
2. They distance us from our money
When you're using a credit card, you're spending your own money, right? Not quite. Every dollar you spend through your card is borrowed from the issuing bank and doesn't actually affect your wallet until you make payments on those debts you owe.
Markman said this tactic distances people from their money and is a fundamental element of not only credit cards, but casino gambling.
"It's one of the reasons casinos use chips and put the money you're spending in slot machines on a card rather than giving you cash," Markman said. "They really want to create that sense of distance because the more abstract you think your money is, the more willing you are to part with it."
If you want to get back some of your hard-earned money, consider opening a cash back credit card.
3. They get their foot in the door
Which sounds more attractive — a 12 percent APR credit card or a credit card with zero percent APR for the first 12 months before it switches over to 12 percent?
In this regard, credit cards have a lot in common with "freemium" cell phone games. It costs nothing to start playing, but both freemium game developers and credit card companies are banking on you spending money eventually.
"It's very attractive to see 'no interest,' dive right into that and forget that credit cards are probably not the best source of loans you can get," Markman said. "Part of the problem is that we tend to be focused on the present rather than the future, so people see that low interest rate in the present and not necessarily calculate what that's going to mean for their long-term payments."
Once the card companies have you signed up on those temporary low rates, they're betting on the fact it'll be difficult (or at least inconvenient) for you to switch cards.
"When they lock you in on certain rates, they also create switching barriers, so it's harder to switch and use another card," McCall said. "It's even done at the level of the credit rating — the more credit cards you have, the more potential it has to damage your credit rating."
Consider opening a low APR credit card if you want to avoid the introductory offer hustle.
4. They entice you with rewards
This last tactic is probably the most obvious, but we'd be remiss to leave it out — rewards, rewards, rewards. Who doesn't love the idea of getting a free gift or vacation every once in a while?
But perhaps "free" is a bit misleading. In order to get these deals, you have to accumulate points by spending money, and typically the money you spent far exceeds the pricetag for whatever gift or reward you're receiving.
"One bit of language they use is to get you to think of the experiences you can have by spending money rather than the money itself," Markman said.
If you can use credit cards responsibly, consider opening a credit card with excellent points and gifts.
---
Are these techniques manipulating us? Yes, but is it wrong? Not necessarily. Credit cards are tools, and like any tool, they can cause damage if used incorrectly or irresponsibly.
McCall and Markman do not support or endorse the products offered on this site. 
Photo credit: Isaac Tobin/Dan Harris/ABC News (edited)
Advertiser Disclosure
CardRates.com is a free online resource that offers valuable content and comparison services to users. To keep this resource 100% free, we receive compensation for referrals for many of the offers listed on the site. Along with key review factors, this compensation may impact how and where products appear across CardRates.com (including, for example, the order in which they appear). CardRates.com does not include the entire universe of available offers. Editorial opinions expressed on the site are strictly our own and are not provided, endorsed, or approved by advertisers.