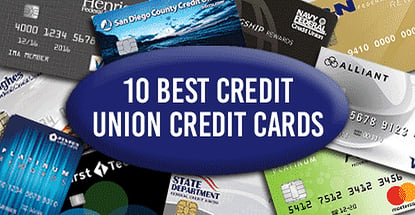 With less than one-third of consumers saying they trust their financial services institution, it's not surprising that an increasing number of people are migrating from big banks to local credit unions for their banking needs.
And it's easy to see why. The differences between banks and credit unions are many, starting with the very core of their missions: Banks are focused on earning profits — credit unions are focused on their members.
What's more, while credit unions have long been known to offer better rates and fees on checking accounts and loans, they're also making great strides in the consumer credit card market. A number of credit union cards now rival — or even surpass — their big-bank competition, and we've narrowed down the best of today's offerings.
Points | Customization | Low-Fee | Secured | Mobile App | Travel Rewards
International | Balance Transfer | Cash Back | Fuel Rewards
Best Card for Rewards Points
Although consumers have used credit cards years before rewards cards were introduced, today's crowded credit card marketplace means many issuers need to offer perks and rewards to stand out from their copious competition.
But it isn't just big banks that have jumped into the rewards fray; credit unions are also fielding competitive rewards cards. And some, like our favorite credit union points card, even include signup bonuses and other perks.
As issuers use increasingly convoluted bonus categories and tiered signup bonuses to vie for consumers, earning credit card rewards has become a complicated game for many cardholders. The SDCCU Visa Signature® Card eliminates the chaos with straightforward rewards points that offer value without the games.
Indeed, the SDCCU Visa Signature® Card provides the same flat 2X Signature Rewards points per dollar on every purchase, with no categories to track or activate. Rewards are redeemable for everything from travel to merchandise, giving users flexibility to suit their lifestyles.

Earn unlimited 2X Signature Rewards per $1 on all eligible net purchases
Redeem points for gift cards, travel, merchandise & event tickets
Pay $0 annual fee the first year, then $89
Of course, the SDCCU Visa Signature® Card doesn't just stop at rewards. SDCCU knows that to be competitive in today's market, you also need to go the extra step with a customer-friendly signup bonus.
"Our SDCCU Visa Signature card users earn a one-time 10,000-point bonus when they spend $3,000 on net purchases within the first 90 days after enrollment," explained Nathan Schmidt, EVP of Brand Strategy and Digital Channels for SDCCU. "While sign-up bonuses might not be common from credit unions, our SDCCU Visa Signature credit card must compete against the largest card issuers who routinely offer such bonuses."
As with any credit union, prospective cardholders will need to join SDCCU to qualify. You can become a member if you live or work in San Diego, Riverside, or Orange counties, or if you are a member of the Financial Fitness Association.
Best Card Customization Options
It's often hard to make your card stand out from the crowd in a credit card market full of hundreds of blasé designs. Our top pick for this category not only offers a low-fee card with great rates, but it goes above and beyond to help you customize your card.
While it's easy to love a credit card with good rewards or rock-bottom fees, Hughes Federal Credit Union gives members yet another reason to love their cards: Design a Card.
"One of the things I really love about our cards is that you can upload a photo of your own — or choose one of ours — to customize your card," described Danielle Gomez, Marketing Manager for Hughes. "I think that makes it really personal, and you can really show your style and interests."
All of the credit union's credit cards come with access to the card design features for free, but the Hughes Federal Credit Union Visa® Platinum Card stands out as a solid card on its own, offering a low interest rate, no annual fee, and limits of up to $25,000.

Design your own credit card by choosing from available designs or uploading your own photo
Credit limits range from $5,000 to $25,000 with low APRs
Pay no annual fee
You'll need to join Hughes Federal Credit Union — rated the number one credit union in Arizona by Forbes — to qualify for a customizable card. You can become a member by being an active or retired employee of a sponsor company, by living, working, worshiping, or attending school in Tucson, or by becoming a paid member of the Friend of the Library organization for the Oro Valley, Green Valley, or Pima County.
Best Low-Fee Rewards Card
The premium rewards cards with metal cores and three-digit annual fees may be all the rage with the serious rewards junkies, but you don't have to fork over hundreds of dollars just to earn credit card rewards — especially not at the credit union with our top pick for low-fee rewards.
On top of unlimited rewards and a real signup bonus, the Visa® Platinum Rewards Card from Henrico Federal Credit Union is about as a fee-free as it gets.
Not only will you pay no annual fee, but you won't be charged a fee for most transactions, which means no balance transfer fees, no foreign transaction fees, and no cash advance fees.

Earn 1X point per dollar spent on all net purchases made with your Platinum card
Pay no balance transfer or foreign transaction fees
Pay no annual fee
In the words of Henrico Credit Union, "You should look past the big bank cards and go with our Visa Platinum Rewards Credit Card [because] you will earn rewards on everyday purchases, plus you're keeping your money local with the credit union you know and trust!"
Only Henrico Federal Credit Union members are eligible for its credit cards. You can become a member if you live, work, worship, or attend school in Henrico County or one of 20 qualifying cities and counties in the greater Richmond area.
Best Secured Credit Card
Whether you need to establish your credit or rebuild it after a few mistakes, secured credit cards can offer an attainable, lower-fee alternative to expensive subprime unsecured credit cards. And, as in the case of our favorite secured credit union card, they can also be an affordable way to earn credit card purchase rewards.
The Savings Secured Visa® Platinum Card from the State Department Federal Credit Union combines pretty much everything you could ask for in a secured card — or any card, for that matter.
In addition to reward points, the card also has a low APR, no annual fee, and a 25-day grace period on purchases. Your credit line will be equal to your deposit, and there is a minimum deposit requirement of $250.

Earn 1X Flexpoint per dollar spent on net purchases made with your Platinum card
Credit lines starting as low as $250
Pay no annual fee or foreign transaction fees
Cardholders can earn 1X Flexpoint per dollar on net purchases. According to the credit union's website, "Flexpoints can be redeemed for hundreds of rewards including airline tickets, hotel stays, merchandise, gift cards and more."
To become a member of the State Department Federal Credit Union, you'll need to be a US Department of State employee, employed or affiliated with an eligible organization, be an immediate family of a member, or be a paid member of the American Consumer Council (ACC).
Best Cardholder Mobile Banking App
In today's modern digital era, mobile banking isn't just a nice-to-have — it's a must-have part of any consumer-facing financial organization. But while anyone can slap together a basic banking app, our top pick offers a full-service on-the-go experience for all of its cards.
From the L&N website, "Mobile apps for both iOS and Android devices are available so you can manage your L&N Visa Credit Card conveniently and securely from your mobile device. Our mobile credit card app offers on-the-go access to important account info and so much more!"
L&N's mobile app allows you to track and manage your credit card wherever you go, including making payments, reviewing transactions, lost card reporting, and transaction disputes.
You can access L&N Federal Credit Union's great mobile app to manage any card from the credit union's suite of Visa cards, but the Visa® Platinum Rewards Card stands out for its unbeatable cash back rewards rate on gas and no annual fee.

Earn 5% cash back on gas station purchases and 1% cash back on all other purchases
Earn $50 cash back for $1,000 in purchases in the first 90 days
Pay no annual fee
Cardholders will need to join L&N Federal Credit Union. You can become a member if you live, work, worship, attend school, or belong to any legal entity in eligible counties in the Louisville, southeastern Kentucky, or Northern Kentucky areas.
Best Card for Travel Rewards
Whether to try new foods, experience new destinations, or simply to get new "likes," most of us seem to have the drive to travel. Given how expensive travel can be, however, smart travelers use a travel rewards credit card to make the most of their money.
If you want the perks of a travel rewards card but the service and community involvement of a credit union, look no further than our top credit union card for travel rewards.
The Odyssey Rewards World Elite MasterCard® from First Tech Federal Credit Union proves you don't have to pay three-digit annual fees for a travel rewards card you can take anywhere.
According to Terry Roderick, the credit union's Vice President of Cards and Payments, "The First Tech Odyssey Rewards World Elite Mastercard is a fantastic value for people who travel — earning 3X points per dollar spent in this category. Additionally, with industry-leading chip-and-PIN security, this card is a must-have when traveling internationally."

Earn 3X points per dollar on travel & 2X points per dollar on dining
Redeem points for travel, merchandise, charitable donations, gift cards, or cash
First year free, then pay a $75 annual fee thereafter
And that chip-and-PIN security is worth a second mention, especially for cardholders who frequently travel to the UK, where PIN verification dominates the credit card market. That's because First Tech's cards use PIN verification by default, enabling seamless use even at unmanned payment kiosks.
As a credit union, First Tech requires cardholders also be members. You're eligible to become a member by working for a qualifying sponsor company or for the State of Oregon, by living or working in Lane County, or by being a paid member of the Computer History Museum or the Financial Fitness Association.
Best Card for International Travelers
As many travelers can likely attest, there is a world of difference between a domestic vacation and a trip abroad. New languages, new customs, and new currencies can all add layers of complexity to an otherwise simple journey.
While our top credit union card for international travel can't help you with the first two, it can help reduce the impact of making purchases abroad.
Although not considered a typical business traveler, military members can spend significant time out of the country during their careers. So, it's little surprise that our top credit union card for international travel comes from the Navy Federal Credit Union.
The Visa Signature Flagship Rewards credit card has a range of features that make it ideal for international travel, including purchase rewards that offer bonus points for travel, a broad category that includes a host of travel-related expenses.

3X points per dollar spent on eligible travel expenses & 2X points on everything else
Receive statement credit (up to $100) for Global Entry or TSA Pre✔®
Pay $49 annual fee
"Our newly added travel category offers 3X points on all travel-related spending, including ride-sharing programs, tolls, taxis, parking garages, cruises and more," said Annie Sebastian, Senior Vice President of Credit Card Products and Business Optimization at Navy Federal. "We're even offering 3X points on the things people like to do while traveling, like heading to the golf course or visiting an amusement park. All that and you can still get 2X the points on everything else."
You'll need to join the Navy Federal Credit Union to qualify for this card. You can become a member if you are an eligible active duty or retired member of the US military, a DoD employee or eligible contractor, or if you are an immediate family member of someone eligible for membership.
Best Card for Balance Transfers
Nobody likes debt — well, except for the lenders — but high-interest debt is the worst of the worst, those big fees gobbling up funds that could be going to pay down your balance instead. Balance transfer credit cards allow you to move that expensive debt to a card with a lower rate, saving you money and getting you out of debt faster.
While many issuers offer balance transfer cards and deals to help combat high interest rates, credit unions tend to have the lowest rates and fees. Our top pick ups the ante even more by accepting applicants with a wide range of credit types.
Big banks may get all the buzz, but credit unions often have better deals, and the Aspire Platinum Mastercard® from Aspire Federal Credit Union is definitely a good deal. Open to applicants with fair credit or better, the card has a 0% intro-APR offer for six months of interest-free balance transfers, plus it has no annual fee.
In Aspire's words, "Rest assured this brand-new card has been specifically designed with YOU in mind. Take advantage of this great offer and enjoy extra cash in your pockets!"

0% introductory APR* on purchases and balance transfers for 6 months
Fair to good credit score required
Pay no annual fee
This card's intro-APR offer may not be the longest on the market, but it's especially lucrative for fair-credit applicants with few alternatives. And the regular APR is lower than your average big-bank card can provide cardholders of any credit type, with purchase and balance transfer rates starting around 10.15% APR for qualified applicants.
Applying for an Aspire credit card requires joining the credit union. You can become a member if you — or an immediate family member — work for a Select Employer Group or by joining the American Consumer Council.
Best Card for Unlimited Cash Back
While credit card points and miles programs keep getting more complex, cash back has remained popular among cardholders for its simplicity, and unlimited cash back cards reign supreme as the simplest to use and redeem.
Unfortunately, many cardholders are turning to more complicated bonus category cards in an effort to maximize their savings. But, with our top-rated credit union card for unlimited cash back, you won't have to choose between no-fuss rewards and a competitive cash back rate.
Although a handful of unlimited cards offer a higher-than-standard 2% cash back on every purchase, the Alliant Visa® Signature Card from Alliant Credit Union takes unlimited rewards to a whole new level. This card earns a market-leading 2.5% cash back.
As one might expect from a Visa Signature card, big spenders will typically get the most value out of this card, and it's deliberately designed for consumers who spend $50,000 or more on their cards each year.

Earn 2.5% cash back on every purchase, up to $10,000 spent each billing cycle
Works with Google Pay™, Apple Pay™, and Samsung Pay™
Pay $0 annual fee the first year, then $99
The Alliant Visa® Signature Card also offers perks for travelers, offering a variety of travel-related perks. According to the site, "Say adios to foreign transaction fees and bonjour to great travel benefits like emergency card replacement, emergency cash disbursement, and concierge services."
You'll need to join Alliant to qualify for a credit card. You can become a member if you work for a Qualifying Company, live or work in a Qualifying Chicagoland Community, are a member of a Qualifying Organization, or become a member of Foster Care to Success.
Best Card for Fuel Rewards
Given that many of the top rewards credit cards focus on bonus points for travel purchases, you'd think that we're all constantly flying from place to place.
If you're like most people, however, your regular travel probably consists of a daily commute, making gas — not flights or hotels — your biggest expense. For many cardholders, a great everyday spending card, like our favorite credit union pick below, can be the best way to maximize rewards.
With 5X points per dollar at the pump, the PenFed Platinum Rewards Visa Signature® Card from Pentagon Federal Credit Union is one of the market-leading cards for gas rewards, even against big banks. But what makes it a true everyday card is that it also provides triple points on groceries, and unlimited 1X point per dollar on everything else.
As PenFed puts it, "Earn as you pay and get a little more with your everyday purchases. Rewards at the supermarket and the gas pump? That's the platinum standard."

Earn 5X points per dollar spent on gas purchases & 3X points per dollar on groceries
Redeem rewards for gift cards, travel, and merchandise
Pay no annual fee
PenFed rewards points are worth 1¢ per dollar, no matter how you redeem them. Redemption options include merchandise purchased through the rewards portal, as well as gift cards for popular retailers and travel brands.
Prospective cardholders will need to join PenFed to be eligible. You can become a member if you are an active or retired member of the US military, work for an eligible organization, belong to an eligible association, are an employee of the US government, live or work in an eligible location, or if you join Voices for America's Troops or the National Military Family Association.
Bank on a Better Community with a Local Credit Union
While they both offer many of the same services, banks and credit unions are vastly different in nearly every other way, starting with the fact that banks are for profit, while credit unions are not.
Instead, credit unions are all about their members — mostly because, well, credit union members are actually owners, too. And, without faceless boards to whom they must answer, credit unions can turn profits into member perks, like better rewards cards and lower rates.
Furthermore, as organizations owned and operated by their members, your local credit union is inherently a part of the community. As a result, many credit unions are actively involved in community outreach, including sponsoring local events and charities.
Advertiser Disclosure
CardRates.com is a free online resource that offers valuable content and comparison services to users. To keep this resource 100% free, we receive compensation for referrals for many of the offers listed on the site. Along with key review factors, this compensation may impact how and where products appear across CardRates.com (including, for example, the order in which they appear). CardRates.com does not include the entire universe of available offers. Editorial opinions expressed on the site are strictly our own and are not provided, endorsed, or approved by advertisers.