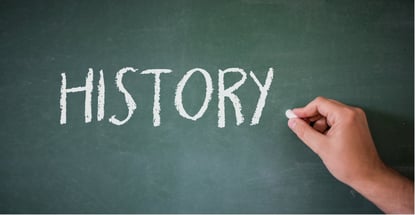 Credit cards — or at least the concept of them — are not 20th-century payment tools. In fact, the ability to purchase what you want or need and then be presented with a bill for what you bought later has deep roots in the past.
Here is a brief history of credit arrangements and instruments — and a little taste of what the future will bring.
2000 BC: Clay Tablets
Roughly 5,000 years ago, trade in Mesopotamia (today Iraq, Syria, and Turkey) and the Harappan civilization (present-day Pakistan's Punjab and Sindh provinces) was rocking.
In fact, commerce was so robust that using coins or the barter system was not convenient for large purchases, so the credit system was developed. Merchants created tablets made of baked earth that were stamped with the seals of their communities.
The tablets took the place of currency and served as a "buy now, pay later" tool between agreeable parties.
1400s: Shopkeeper Tabs
Credit boomed in the middle ages. Rather than pay for essentials such as bread, wine, candles, shoes, and meat with cash on hand (should they even have it on hand), merchants extended lines of credit to shoppers, who ranged from folks barely scraping by to those in high society.
Unfortunately, this resulted in widespread economic insecurity. Historians note that pre-modern commerce revolved around credit, and by around the 1400s, nearly everyone was in debt to someone else.
1900s: Taxi Tokens
Taxicab companies and retailers began to issue credit coins, sometimes called taxi tokens to riders and consumers.
These metal coins were stamped with the name or logo of the company on one side and a number on the other side. The coins did not have a fixed value but were instead linked to a billable account.
The merchant used a ledger for who spent how much on what, and users were required to settle the debt monthly.
1920s: Metal Store Cards
Eventually, department stores created cards made out of metal for their shoppers to use at checkout. With them, consumers would be able to buy things and receive a bill for everything they spent at the end of the month.
The clerk would take the card, rub the numbers with a device, and a tab would be created. These credit cards were status symbols since they were only provided to people who had the means to make expensive purchases at low risk to the retailer.
In fact, that tradition of elitism was resurrected in 1999 with the Centurion Card from American Express that was made of titanium.
1930s: Air Travel Cards
Throughout most of air travel's relatively short history, flying on a plane was for the superwealthy.
This was especially true during the Great Depression when few had cash to spare and couldn't afford to get into an overabundance of debt.
Yet in 1936, American Airlines introduced the very first Air Travel Card. Glamorous jet setters could use it to charge the cost of their flights and then receive the bill for the trip upon their return.
Oh, and they'd enjoy a 15% discount, too.
1950s: The First Real Credit Card
The first real line of credit as we know it today was the Diners Club® Card, which was made of paper.
It all began when a businessman named Frank McNamara left his wallet at home while dining out at a New York City restaurant. Embarrassed that his wife had to rescue him, he knew there had to be a better way, so he developed the Diners Club card.
Select clientele (i.e, those who had the money to spend at pricey establishments) could qualify for the card, which they could then use throughout many of the city's restaurants and hotels.
Eventually, the card was stamped into plastic and could be used at a wide span of other retailers. Bank of America then developed its BankAmericard in 1958, the first modern credit card issued by a third-party bank.
1960s: Magnetic Strip Cards
The 1960s brought space-age technology to the new plastic credit cards.
At the end of the decade, credit cards with groovy magnetic strips glued to the backs of the cards made their debut. The magnetic strip was able to record the account owner's personal and financial information, which was then decoded by a machine at checkout.
Swiping such strip-embossed cards began in earnest in the late 1970s.
1980s: Cash Back, Miles, and Points Cards
The '80s were indeed a rewarding time. Credit issuers began to offer major rewards for using their cards.
The first card to be equipped with cash back incentives was the AT&T Universal Card. Consumers were able to earn real money based on each transaction, and the funds were applied toward the person's phone bill.
Then in the mid-1980s, Discover Financial Services introduced its cash back program, in which cardholders could earn 5% cash back on purchases made at such places as grocery stores, pharmacies, and gas stations. Discover holds true to this rewards scheme to this day.
Cards that allowed people to earn points and miles for airline travel also began in this decade. The initial program began with the airlines when people flew and racked up miles, but, eventually, the rewards programs gave way to credit card issuers that allowed cardholders to earn points and miles as they charged pretty much anything.
Those rewards could be traded in for everything from flights to hotel rooms to merchandise.
1990s: EMV Chip Cards
Credit card theft on a large scale began to occur around the globe as hackers found ways to exploit the magnetic strip's security failings. Technology, of course, marched on and the first credit card that was embedded with a computer chip was created in 1994.
The Europay, MasterCard, and Visa (EMV) chip technology began in Europe. The EMV cards had integrated chips that interacted with point-of-sales systems at checkout registers.
Its technology offered advanced security systems, and in 2015, the U.S. began to switch to the EMV standard.
2000s: Mobile Wallets and Contactless Payments
Who needs a physical card when you have a phone, computer, laptop, tablet, or smartwatch? Enter mobile wallets.
In 2008, Apple created the app store and opened it to third-party developers. At that stage, entrepreneurs and established companies could develop applications that stored payment data.
Mobile wallets soon splashed onto the scene, where users could download their app of choice and pay for things with their linked bank and credit accounts.
In 2009, the Square Reader became the first product to accept credit card payments via a mobile device's audio jack. That enabled not just businesses with point-of-sale systems, but anyone with a smartphone — from artists at craft fairs to farmers at markets — to accept credit card payments.
Contactless payments were next. The year was 2011.
Barclaycard and Orange launched the first mobile device for contactless credit cards that worked with a computer chip that emitted short-range radio waves. Users could place their card within a few inches of a contactless-enabled payment terminal to use their credit cards. The information would be transferred, and the transaction completed seamlessly in seconds.
The Immediate Future: Biometric Cards
Credit cards with biometric technology are on the near horizon in 2021 and beyond. They authenticate credit card transactions with iris scanners, fingerprints, and face IDs rather than chips, personal identity numbers, and signatures.
Many credit issuers are rushing to the finish line. For example, Visa recently launched a pilot of its new dual-interface biometric payment card with Mountain America Credit Union and Bank of Cyprus. It should be available to the public soon.
People across the world and in all stages of human development have borrowed money with constantly updating types of credit cards. How those transactions were accomplished, what people got in return, and who was able to take advantage of the process varied across the ages.
However, some constants remain: The opportunity to obtain an item or service immediately and have some time to pay for it is universally attractive — and repaying the resulting debts on time and in full is always in vogue.
Advertiser Disclosure
CardRates.com is a free online resource that offers valuable content and comparison services to users. To keep this resource 100% free, we receive compensation for referrals for many of the offers listed on the site. Along with key review factors, this compensation may impact how and where products appear across CardRates.com (including, for example, the order in which they appear). CardRates.com does not include the entire universe of available offers. Editorial opinions expressed on the site are strictly our own and are not provided, endorsed, or approved by advertisers.