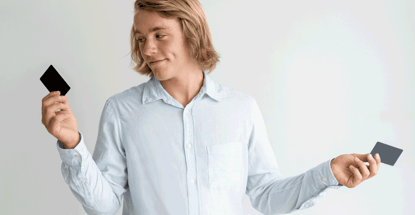 May your biggest problem be deciding which premium card to add to your wallet. A premium card should offer you great benefits that enhance your lifestyle, especially when you are trotting around the globe.
With this in mind, we decided to evaluate the Chase Sapphire Reserve® vs. Amex Platinum® cards to see which one affords you more luxurious and useful benefits at a better price.
Spoiler alert: Both cards are great, but one may do a better job rocking your world.
1. One is a Credit Card, the Other is a Charge Card
The Chase Sapphire Reserve® is a credit card, and the Platinum Card® is a charge card. What does that mean for you?

American Express is by far the biggest issuer of charge cards, but most consumers prefer credit cards. Let's look at a couple of key differences between charge and credit cards.
Spending Limits
When you receive your credit card, the spending limit will be prominently disclosed. The limit is pre-set, which means you aren't allowed to exceed it, or if you do, you risk being charged a fee.
A premium card has a relatively high spending limit, and you can always try to negotiate a higher one. It's easier to get your spending limit raised after using the card for a while and scrupulously making all payments on time. The Chase Sapphire Reserve® has an average initial credit limit above $22,000.
Our research indicates that the Amex Platinum Card® has an initial spending limit of around $5,000, but it's not disclosed. You won't know that you've exceeded your spending limit until you do it and you get a polite communication from Amex.
Because you don't really know your spending limit, you also don't know your credit utilization rate (CUR). That can be a problem because a high CUR can hurt your credit score. Another problem is that you may experience an embarrassing "card declined" incident because you were too near your spending limit.
Annual Percentage Rate
The APR on the Chase Sapphire Reserve® has a purchase APR of 16.99%-23.99% Variable. Your exact APR depends on your creditworthiness and can vary with changes to the Prime Rate.
You can avoid paying interest on purchases and transfers by paying your entire balance by the next due date (fees apply for balance transfers). Interest on cash advances starts on the transaction day.
The Amex Platinum Card® has no purchase APR because you must pay your entire balance each month. However, the card does apply an APR to cash advances. A late fee applies to payments made after the due date.
The Verdict
We have to give the nod to the Chase Sapphire Reserve® because its spending limits appear to be more liberal than those from the Platinum Card®. As for the choice between a charge card and credit card, the Chase Sapphire Reserve® credit card offers flexible repayments that the Platinum Card® doesn't.
2. Both Have Great Travel Perks, Including Lounge Access
If you like traveling in luxury, then these cards will really float your boat.

These two cards are first and foremost travel cards. Both offer a huge array of travel benefits that are broadly similar, although they differ in the details.
Airport Lounge Access
The comfort afforded by airport lounges cannot be overestimated. In a hectic world, lounges provide an oasis of calm and a smidge of luxury.
Both cards offer complimentary access to all associated lounges, plus two additional guest passes at most associated lounges. The Chase Sapphire Reserve® gives you access to the 1,300+ Priority Pass™ lounges worldwide.
However, the Amex Platinum Card® is associated with seven lounge networks, including Priority Pass™ and the prestigious Centurion Lounge network. Note that Priority Pass™ lounges may restrict access during peak times.
Car Rental Benefits
Each card provides auto rental collision damage waiver insurance. The Chase Sapphire Reserve® card offers primary coverage of up to $75,000 for collision damage and theft. You also get Emerald Club Executive Elite® status at National Car Rental, as well as discounts at Avis and Silvercar by Audi.
The Platinum Card® also offers up to $75,000 in auto rental collision damage waiver coverage, but this is secondary insurance. In addition, you get premium membership at Hertz, Avis, and National.
Hotel Benefits
Free upgrades and exclusive deals can't help but put a smile on the face of any traveler. The Platinum Card® offers complimentary Gold Status at Hilton and Marriott Bonvoy hotels, a $100 credit at The Hotel Collection, and special benefits at American Express® Fine Hotels and Resorts, including room upgrades, free breakfasts, complimentary Wi-Fi, late check-out, and other property amenities.
The Chase Sapphire Reserve® card offers similar benefits at the Luxury Hotel and Resort Collection and at Relais & Chateaux properties. In addition, both cards offer bonus points when you use the cards to pay for hotel stays.
Other Travel Benefits
Both cards provide up to $100 reimbursement for TSA Precheck or Global Entry fees. They also provide annual travel credits: $300 from Chase, $200 from Amex.
The Chase Sapphire Reserve® card also provides:
Inflated point values for travel redemptions at Chase Ultimate Rewards®
No travel restrictions or blackout dates
1:1 point transfers to airline and hotel loyalty programs
Access to Visa Infinite® Concierge
Additional travel benefits from the Platinum Card® include:
Additional points for flights and hotels booked on the Platinum Card®
Preferred seating at no additional cost
$200 in Uber Cash per year, $15/month + $20 December bonus
Both cards offer many additional travel benefits specified in their Benefits Guides.
The Verdict
It's a tie! Both cards offer generous travel benefits.
If you're a frequent flier, you may prefer the Platinum Card® thanks to the $200 annual airline credit and greater number of airport lounges. Chase's annual travel credit, however, is more flexible in that it can be used on varying travel purchases, such as hotel stays or cruise bookings. Check the details to see which card offers benefits that are a better fit for your unique needs.
3. Point Redemption Values Differ Greatly
Points are flexible. You can redeem them for cash or purchases and even transfer them to associated travel partners to potentially maximize their value.

How you choose to redeem your points will determine their true value. For example, you may get more value by redeeming your points for travel booked through the issuer's portal rather than redeeming them for cash back.
Chase Sapphire Reserve® Points
You earn 3X points (i.e., 3 points per $1) when you pay for travel or prepaid hotel purchases, as well as dining at restaurants worldwide. All other purchases earn 1X points. When you redeem your points for travel through Chase Ultimate Rewards®, the points are worth 50% more. You can transfer points 1:1 to loyalty programs of selected airlines and hotels.
The Platinum Card® Points
The Platinum Card® offers 5X points (i.e., 5 points per $1) on purchases for travel and hotel stays. Certain travel and hotel bookings through Amex Travel earn 2X points. All other purchases earn 1X points. You can also transfer points to selected airline and hotel loyalty programs.
The Amex Membership Rewards program offers varying point values at different merchants. For example, 10,000 points will purchase $70 worth of products at merchants like Amazon, Best Buy, Dell, Expedia, Grubhub, Rite Aid, Saks Fifth Avenue, Staples, and Walmart. They're also worth $70 when used to book prepaid hotels, cruises, and vacations, including bookings on Expedia.com.
Those same 10,000 points are worth $100 when spent on NYC taxi rides, gift cards, travel through American Express Travel, bookings with select fine hotels and resorts, and upgrading with points. The 10,000 points are worth $50 at Ticketmaster and when shopping with Membership Rewards.
The Verdict
We give a narrow win to the Platinum Card® for its 5X points for hotels and travel. The 3X points from Chase Sapphire Reserve® seem a little puny in comparison, but at least the rate also applies to restaurants, something we'd like to see from the Platinum Card®.
4. Both Cards Have a $550 Annual Fee
Premium cards command premium annual fees. Still, we must admit that these cards offer a lot of value for the money.

As you can see, adding authorized users to the Amex Platinum Card® will get expensive quickly, especially if you want to add your whole family.
The Verdict
Both the Chase Sapphire Reserve® card and the Amex Platinum® card charge $550 per year. The winner: Chase Sapphire Reserve®, only because an authorized user costs an extra $100 with Amex.
That being said, these cards are aimed at well-heeled consumers. Perhaps the $100 difference will not be decisive in your overall calculations.
5. The Sapphire Reserve® Has Better Travel Insurance
Many things can go wrong when you travel. It's nice when your credit card gives you free, automatic insurance to take some of the sting out of missed flights, lost bags, or stolen rental cars.

Travel insurance is a valuable perk that issuers are slowly doing away with, so it's nice to see these two cards still offer travel protections to its cardholders.
Baggage
It's hard to travel without baggage. However, the bags can get lost or damaged, the contents can be pilfered, or the bags can be misrouted.
The Chase Sapphire Reserve® card covers all these contingencies. Lost, stolen, or damaged baggage is insured for up to $3,000 per person per trip for carry-ons and checked luggage.
Baggage delayed more than six hours is covered for up to $100 per day for up to five days. The Platinum Card® covers lost, stolen, or damaged luggage up to $3,000 for carry-ons, $2,000 for checked luggage. The card does not provide baggage delay insurance.
Roadside Assistance
Premium cards should provide premium roadside assistance, but only one of these cards does. The Platinum Card® is doing away with its roadside assistance in January 2020.
That means only the Sapphire Reserve® card provides service for incidents such as lockout service, battery boost, fixing flat tires, towing, and fuel delivery. Chase allows for four service calls per year, with a maximum benefit of $50 per call.
Trip Cancellation/Delay
Travel insurance helps reimburse you if your trip is canceled by you or the airline and the fare is nonrefundable.
Chase Sapphire Reserve® provides trip cancellation insurance of $10,000 per trip per person or $20,000 per incident, up to $40,000 per 12-month period. The card also reimburses you up to $600 for travel delays greater than six hours. This covers meals, accommodations, and other essentials while you wait.
Amex announced in 2019 that it is adding trip cancellation and delay insurance benefits to select cards starting in January 2020. The Platinum Card® is one such card. It comes with some limitations, though, as it only provides this coverage on roundtrip tickets paid for with your Platinum Card®.
Amex provides cancellation reimbursement up to $10,000 in non-refundable travel expenses per trip, up to $20,000 per year — half of the $40,000 annual protection Chase provides. The Platinum Card® will reimburse up to $500 for delays greater than six hours.
Emergency Medical and Dental
Needing emergency medical or dental treatment when traveling internationally can be upsetting on several levels. Insurance can help relieve some of the anxiety, and Chase Sapphire Reserve® is there for you.
You're insured for $2,500 per day with a deductible of $50 per day. Coverage includes charges for hospital stays, operating rooms, anesthetics, treatments, lab tests, X-rays, ambulance services, medicine, and therapeutic services. You're covered up to $100,000 if you need emergency transportation or evacuation. You're also covered up to $75 per day for up to five days if your doctor prescribes a recuperative hotel stay.
The Platinum Card® does not offer emergency medical or dental insurance.
Travel Accident
This type of coverage is one you hope to never use, but are glad to have. The Chase Sapphire Reserve® will cover you and your immediate family up to $1 million should loss of life, limb, speech, sight, or hearing occur while traveling on a common carrier, such as airline, bus, train, or cruise ship. Claims must be filed within 20 days of the occurrence.
Amex chose to eliminate travel accident coverage in its 2019 revamp of travel and purchase protections offered.
The Verdict
Considering the Chase Sapphire Reserve® offers more travel insurance coverage for unexpected incidents, it is the clear winner in this category.
So, Which is Better?
We've pitted Chase Sapphire Reserve® vs. Amex Platinum® with an eye toward benefits and costs. These are two awesome cards, and if you'd like to own both a charge card and a credit card (and you can afford them), then these two are top candidates.
Realistically, you probably don't need more than one premium card. In our opinion, the better choice is the Chase Sapphire Reserve®. It offers superior insurance and provides plenty of rewards and benefits.

at Chase'ssecure website
Earn 50,000 bonus points after you spend $4,000 on purchases in the first 3 months from account opening. That's $750 toward travel when you redeem through Chase Ultimate Rewards®
$300 Annual Travel Credit as reimbursement for travel purchases charged to your card each account anniversary year
3X points on travel immediately after earning your $300 travel credit. 3X points on dining at restaurants & 1 point per $1 spent on all other purchases. $0 foreign transaction fees.
Get 50% more value when you redeem your points for travel through Chase Ultimate Rewards. For example, 50,000 points are worth $750 toward travel
1:1 point transfer to leading airline and hotel loyalty programs
Access to 1,000+ airport lounges worldwide after an easy, one-time enrollment in Priority Pass™ Select
However, if you are a frequent traveler, you may prefer the Platinum Card® for one important reason: It can get you into more airport lounges. In terms of rewards points, the two are not vastly different.
While it's true the Platinum Card® delivers 5X points to the 3X points from Chase Sapphire Reserve®, Chase Ultimate Rewards boosts the value on some of those points by 50%, which is like earning 4.5X points for certain redemptions. Also, the Chase card offers 3X points for restaurant dining, which is just a 1X item for the Amex card.
If you like the Chase Sapphire Reserve® card but don't want to shell out $550 a year, consider the Chase Sapphire Preferred®. It offers many similar benefits and the annual fee is $95.
Advertiser Disclosure
CardRates.com is a free online resource that offers valuable content and comparison services to users. To keep this resource 100% free, we receive compensation from many of the offers listed on the site. Along with key review factors, this compensation may impact how and where products appear across the site (including, for example, the order in which they appear). CardRates.com does not include the entire universe of available offers. Editorial opinions expressed on the site are strictly our own and are not provided, endorsed, or approved by advertisers.