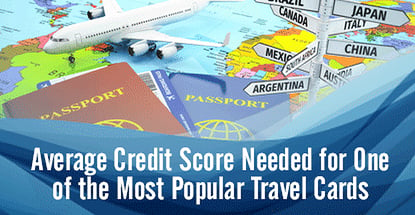 The Chase Sapphire Preferred® Card is one of the consistently highest-rated travel rewards cards on the market. Between its generous signup offer and market-leading rewards rates – not to mention its sleek metal design – it's no wonder the Chase Sapphire Preferred® Card reigns supreme among those looking to maximize both value and rewards flexibility.
So, what does it take to get the Chase Sapphire Preferred®? Credit score is a major consideration — a good-to-excellent credit score is generally required. Based on hundreds of user reviews, we've broken down some of the factors Chase looks at when deciding who'll be approved for one of its most popular offers. We also look at how to apply for the card and explore some other solid choices should you not be approved for the Chase Sapphire Preferred® Card.
3 Approval Factors | Apply | Alternate Offers | Reconsideration Line
Average Credit Score for Approval: 741
An average credit score of 741 sits nicely in the "excellent" credit score range (720+), but don't be discouraged – users with much lower credit scores say they've also been approved. MileCards.com reports that users with scores as low as 668 have been approved, and this Credit Karma reviewer says he was not only approved, but given a very high credit limit, despite his limited credit history:
"Apprehensive, but applied after being prequalified on their website. 703 TU (TransUnion) 693 EF (Equifax) on Credit Karma. I only have eight months of credit card history – Capital One QuicksilverOne Cash Rewards Credit Cardd with a credit line of $1,500. I was instantly approved for a $21K credit line." — Credit Karma Review
Credit Karma also provides a chart of its members' credit scores who carry the Chase Sapphire Preferred® Card. As you can see, the majority have a score above 750.
For the 6% of cardholders below 600 – and perhaps even the 11% below 650 – it's likely their scores took a hit sometime after having already been approved for the card. Late payments and high credit utilization can cause a credit score to plummet, as they're the most heavily weighted factors used to determine one's credit score.
3 Things Chase May Take into Consideration When Applying
After scouring the web for reviews and learning everything we could about this particular card's qualifying criteria, here are three commonly reported factors Chase takes into consideration when determining approval:
1. Equifax Credit Report
While you have three main credit reports — one each from the three major reporting bureaus, Equifax, Experian, and TransUnion — most creditors won't check all three reports, instead pulling just one or two reports. According to many reviewers, Chase seems to favor Equifax credit reports, though the exact report (or reports) the bank checks can vary based on a number of factors, including your state or region.
Why does the specific bureau matter? Because your three reports could each hold information the other two lack, and your credit scores can vary based on the credit report data used. Of course, this isn't a rule and you can ask each lender exactly which report they look at, but if you have a charge-off or any other such derogatory mark on your Equifax report, it could pose a problem when applying for this particular card.
2. Total Open Credit Cards
This factor has little to do with your creditworthiness, and a lot to do with whether Chase thinks you may be a credit card churner. Basically, many Chase credit cards, including this one, are subject to what's known as the 5/24 Rule, which means you won't be approved for a Chase Sapphire Preferred® Card if you've opened five or more credit card accounts within the last 24 months.
"I have three cards from Chase: Freedom, Amazon, Southwest, with a total credit of $37,500. I pay off the balances every month, and my CK score is 790+. With some upcoming dental work and insurance expenses totaling about $5,000, I applied for the Chase Sapphire card to take advantage of the signup bonus. Received a letter from Chase turning me down because I have too many cards (10) opened during the last 2 years." – Credit Karma Review
So, even if you're otherwise perfectly qualified for this card — or any other solely Chase-branded credit card — you'll be automatically rejected if you've opened too many credit cards in the recent past, regardless of issuer. In some cases, having a business card or simply being an authorized user on a credit card account can count toward the five-card limit.
3. Credit Utilization
Your credit utilization is the balance you carry on your credit cards. This number should never exceed 30% of your available credit. For example, a credit card with a $1,000 limit should not keep a balance of over $300. People have reported being denied for having a high balance on other cards, but then being approved after paying the debt down.
"My scores got knocked back because a high utilization was reported one month. I got my only card, my Capital One QuicksilverOne Cash Rewards Credit Card ($6,500 CL) to a zero balance and waited for a few days for the zero balance to post to the bureaus. Saw a major bump in scores (35+ points in each) when the utilization ding cleared. Applied with 799 Transunion, 759 Equifax Credit Karma scores. Instantly approved as soon as I hit the apply button with a $12,000 limit. I'll never carry a balance there, but it's nice to know that I can now purchase a pair of international business class tickets in one transaction." — Credit Karma Review
Along with always making your payments on time, keeping your credit utilization low is one of the best things you can do to maintain a good credit score.
Ready to Apply?
Now that you have an idea of what Chase may look for when reviewing a Chase Sapphire Preferred® Card applicant, you can apply below by clicking the green button. The only way to truly know if you'll be approved is to apply!
What if I Didn't Get Approved?
While it may be true that the Chase Sapphire Preferred® Card is one of the more difficult cards to be approved for, that doesn't mean there aren't other great offers available to you. While this card is popular for its travel and cash-back rewards, we've evaluated three comparable offers for you to consider.
What's especially nice about these cards is that there's no annual fee, something Chase Sapphire Preferred® Card cardholders don't have the luxury of. Additionally, ValuePenguin says that if you don't spend at least $10,000 annually on the card, it's likely not worth it, making the above offers even more attractive.
If All Else Fails, Call the Reconsideration Line
Chase offers applicants a reconsideration hotline in the event an application is denied, and many have reported success by calling:
888-245-0625
Representatives are available to assist you at this number between the hours of 7 a.m. — 10 p.m. EST Monday through Friday, 8 a.m. – 10 p.m. EST Saturday, and 9 a.m. – 9 p.m. Sunday.
Note: The reconsideration number is not the same for business accounts, in which case you'll need to call: 800-453-9719
"I applied for the Chase Sapphire Preferred® Card card about 7 days ago and got a rejection letter today. It said, "Too many requests for credit or opened accounts with us." I've had 5 hard pulls since Jan. 1st & only have one Chase card currently. So I called the Chase reconsideration line a few minutes ago. The rep asked me the amount of my mortgage payment, put me on hold for 2 minutes, and approved me. My FICO is about 750 & I've had a long history with Chase so I expected them to approve me." – Flyertalk.com Review
When calling to have an application reconsidered, have your financial information in order (income, debts, credit score, etc.), do so in a timely manner (within one month of applying), and be polite! The person on the other end of the phone didn't personally deny your application, so don't take your frustrations out on them – a little kindness can go a long way in these situations, and you may soon have the Chase Sapphire Preferred® Card in your credit card repertoire.
Advertiser Disclosure
CardRates.com is a free online resource that offers valuable content and comparison services to users. To keep this resource 100% free, we receive compensation for referrals for many of the offers listed on the site. Along with key review factors, this compensation may impact how and where products appear across CardRates.com (including, for example, the order in which they appear). CardRates.com does not include the entire universe of available offers. Editorial opinions expressed on the site are strictly our own and are not provided, endorsed, or approved by advertisers.