When it comes to the Chase Sapphire Reserve, the credit score needed may be higher than your personal score at this time, but that doesn't mean you can never get your hands one of these sought-after cards. These days, most consumer credit scores are calculated on a range of 300 to 850, with 850 being the best possible credit score you can achieve.
For the roughly 3 million consumers who have reached the pinnacle of credit, the question "Will my credit be good enough to qualify?" simply never enters the equation. For everyone else, it's a question that should be asked before applying for any new credit — but especially when applying for a top-tier rewards credit card like the Chase Sapphire Reserve®.
And with good reason. The Chase Sapphire Reserve® is a popular travel card with a host of great features, but that same high quality that draws in applicants also means a high approval standard that typically requires an equally high credit score.
Credit Score | 5/24 Rule | Other Factors | Reserve vs. Preferred | Reconsideration
Approved Applicants Had an Average Score Above 760
When the Chase Sapphire Reserve® first launched, it came with a nearly unheard-of 100,000-point signup bonus that resulted in thousands of consumers flooding the bank with applications — more than Chase ever planned on receiving, in fact.
Even with its half-size signup bonus, however, the Chase Sapphire Reserve® continues to be a popular pick for its lucrative Ultimate Rewards® points and bevvy of extra benefits (like airport lounge access and an annual travel credit).
Earn 60,000 bonus points after you spend $4,000 on purchases in the first 3 months from account opening. That's $900 toward travel when you redeem through Chase Ultimate Rewards®
$300 Annual Travel Credit as reimbursement for travel purchases charged to your card each account anniversary year.
Earn 5x total points on flights and 10x total points on hotels and car rentals when you purchase travel through Chase Ultimate Rewards® immediately after the first $300 is spent on travel purchases annually. Earn 3x points on other travel and dining & 1 point per $1 spent on all other purchases
Get 50% more value when you redeem your points for travel through Chase Ultimate Rewards®. For example, 60,000 points are worth $900 toward travel
1:1 point transfer to leading airline and hotel loyalty programs
Access to 1,300+ airport lounges worldwide after an easy, one-time enrollment in Priority Pass™ Select and up to $100 application fee credit every four years for Global Entry, NEXUS, or TSA PreCheck®
The card's popularity begs the question, what does it actually take to get approved?
Thanks to the generous reports from thousands of applicants — compiled by a helpful Reddit user — we can dive deep into the statistics to get a big-picture look at the credit scores likely to be approved for the Chase Sapphire Reserve®. Overall, we looked at the reported data for just under 3,000 Chase Sapphire Reserve® applicants from 2016. (It should be noted that this data was reported by the users themselves, not the bank.)
Of those who reported, around 84% were approved for the card, while the remaining 16% reported being denied. The average credit score of all approved applicants who reported their score was 766.
However, this score may need to come with a grain of salt. Further analysis suggests a reporting bias, as the average overall score of all applicants was nearly the same as that for approved applicants — 766.2 — and the average score of a denied applicant was also similar at 766.9.
Since the overall average numbers may be less than helpful, we broke down application responses by credit score range. Reported scores and responses are shown below based on whether an applicant was instantly approved, instantly denied, or received a pending notice before being approved or denied.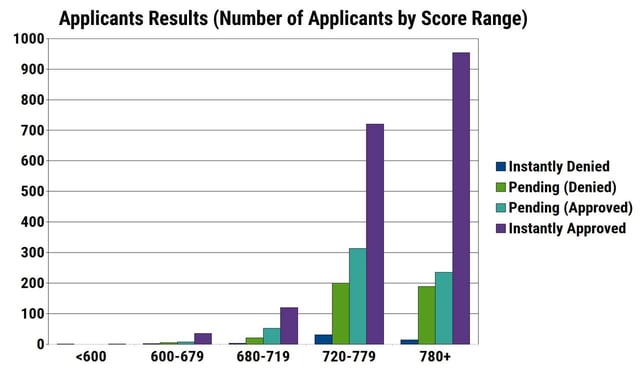 The majority of reporting applicants (47.9%) had credit scores of 780 and above, with most of the remaining applicants — 43.5% — reporting scores between 720 and 779. Less than 10% of applicants who supplied data reported credit scores below 719.
Although only a comparatively small number of people with low credit scores applied for the card, they seemed to have almost the same chances of being approved as applicants reporting higher scores. Almost 70% of reporting applicants with scores between 600 and 679 said they were instantly approved, roughly equal to the percentage of applicants with scores of 780 and above.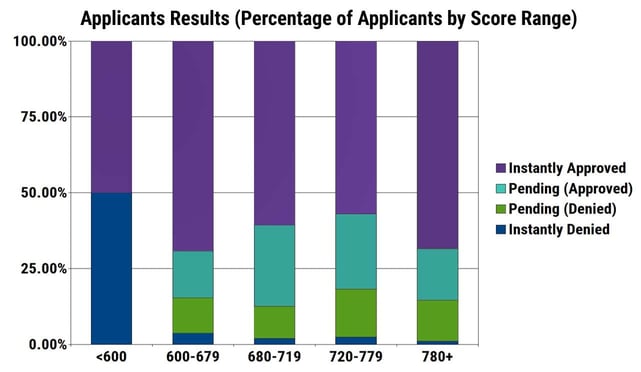 That said, we can see that applicants with credit scores of 780 and above were the least likely to be instantly denied for a Chase Sapphire Reserve®, while half of applicants with scores below 600 were turned down right away. Consumers with scores in the middle range were most likely to receive a pending notice, though these applicants were more often approved than denied after pending.
Although credit scores may have seen a reporting bias in terms of the overall average versus the approved average, some other interesting trends did pop up, including a pretty consistent relationship between credit score and average initial credit limit.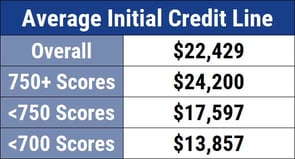 In fact, while the data shows an average initial credit limit of around $22,429 for all approved applicants, that number drops sharply as the average credit score decreases. For example, the average new credit line for applicants with scores of 750 and below was just $17,597.
At the extreme ends, approved applicants with scores below 700 report receiving initial credit lines averaging $13,857. In contrast, the average initial credit line for consumers with scores over 750 is more than $10,000 higher, coming in at $24,200.
Being Over the 5/24 Limit Means Instant Rejection
Although credit scores are often used as a way to quickly evaluate your chances of being approved for any given credit product, your credit score is only one of the many factors that go into a bank's decision to approve or deny you for credit — as may be evidenced by the fact that around 7% of applicants with credit scores above 780 were denied for a Chase Sapphire Reserve®.
For Chase cards, this statement is doubly true because of the bank's infamous 5/24 Rule that limits how many cards you can open in a two-year period. In a nutshell, the rule can be stated as:
You will not be approved for a Chase credit card if you have opened 5 or more bank cards in the last 24 months.
While few written examples of the Rule can be cited, mountains of data points have proven over the last several years that not only is the 5/24 Rule a real and upheld policy, but it applies to most (if not all) Chase and Chase co-branded credit cards — including the Chase Sapphire Reserve®.
In other words, no matter how excellent your credit scores and history may be, you won't be approved for a Chase Sapphire Reserve® if you're already over the 5/24 limit. It's probably fair to say that 5/24 Rule compliance is the number one reason people with good to excellent credit have trouble getting approved for a Chase Sapphire Reserve® — or any other Chase credit card, for that matter.
A few ways to bypass the 5/24 Rule have been found over the years, but any potential 5/24 workarounds seem to be very much a "your mileage may vary" type of situation. (The most commonly mentioned way of avoiding 5/24 is by applying through the "Selected for You" offers sometimes presented to existing Chase customers.)
Other Factors that Can Lead to Rejection
In general, it seems that getting approved for the Chase Sapphire Reserve® requires both excellent credit and coming in under the 5/24 Rule's limits. If anything, the former condition may vary — some cardholders did report being approved with sub-750 scores, after all — but the latter condition has very little flexibility.
However, those are not the only hoops you may have to jump through to get approved for a Chase Sapphire Reserve®. As with any credit product, Chase will also look at factors beyond your credit profile when evaluating your application, including:
Annual Income: The Chase Sapphire Reserve® is a Visa Infinite® product, which means it comes with a lot of cardholder perks courtesy of Visa — but it also means a reported minimum credit limit of $10,000. If your income doesn't qualify you for the high minimum credit limit, you'll be unlikely to be approved. To put it in terms of data, the average reported income of all approved applicants (according to the Reddit data) was $117,438.
Current Chase Credit Lines: As with most issuers, Chase has an internal metric that decides how much total credit it is willing to extend to any given customer. If you have multiple existing Chase credit card accounts that already represent a sizable amount of credit, the bank may not want to extend you additional credit and will deny your application. In some cases, offering to shift credit from another card to the Chase Sapphire Reserve® can bypass this restriction and get your new card approved.
Customer History with Chase: While your credit report is the main source of data on your payment history, banks also keep their own records — records that can contain data your credit reports have long forgotten. As such, a poor interaction with Chase (like a discharged account), no matter how long ago it occurred, may be enough to get your application rejected.
If you aren't sure of whether you'll qualify for a Chase Sapphire Reserve®, you can check for pre-qualification online through Chase's website. Pre-qualification uses a soft credit pull to estimate your chances of approval and won't hurt your credit.
Keep in mind that pre-qualification is not a guarantee of approval, as it only takes a general look at your credit profile to see if you fit the minimum requirements for a specific card. The other factors we've described — including your income, history with Chase, and, yes, your 5/24 status — can all cause your official Chase Sapphire Reserve® application to be denied even if you've been pre-qualified.
Qualifying for the Chase Sapphire Reserve® vs. the Chase Sapphire Preferred® Card
Years before the Chase Sapphire Reserve® graced cardholders with its big purchase rewards (and even bigger annual fee), Chase's travel-happy customers were using the Chase Sapphire Reserve®'s sibling, the Chase Sapphire Preferred® Card.
The two cards are part of the same card family, hence the shared names and similar rewards categories. However, where the more expensive card offers 3X Ultimate Rewards® points on travel and dining, the Chase Sapphire Reserve® gives cardholders 2X points per dollar in the same travel and dining categories — but it does so with less than a quarter of the annual fee.
Earn 60,000 bonus points after you spend $4,000 on purchases in the first 3 months from account opening. That's $750 when you redeem through Chase Ultimate Rewards®.
Enjoy benefits such as a $50 annual Ultimate Rewards Hotel Credit, 5x on travel purchased through Chase Ultimate Rewards®, 3x on dining and 2x on all other travel purchases, plus more.
Get 25% more value when you redeem for airfare, hotels, car rentals and cruises through Chase Ultimate Rewards®. For example, 60,000 points are worth $750 toward travel.
Count on Trip Cancellation/Interruption Insurance, Auto Rental Collision Damage Waiver, Lost Luggage Insurance and more.
Get complimentary access to DashPass which unlocks $0 delivery fees and lower service fees for a minimum of one year when you activate by December 31, 2024.
Nowadays, the Chase Sapphire Reserve® — with all of its bells and whistles — is firmly entrenched in its role as Chase's top travel rewards card, and the Chase Sapphire Preferred® Card is often considered to be its mid-tier little sibling. Despite its lower rewards rates and reduced perks, however, the Chase Sapphire Preferred® Card is still popular, particularly for those consumers who stop short when they see the Chase Sapphire Reserve®'s annual fee and steep qualification requirements.
But, does the lower-tier card's reduced rewards and limited perks mean the Chase Sapphire Preferred® Card is actually easier to get? Looking at the data, the answer seems to be: yes — but not by much.
As with the Chase Sapphire Reserve®, cardholders of the Chase Sapphire Preferred® Card have credit scores across the spectrum. However, as is also true of both cards, the average credit score of a Chase Sapphire Preferred® Card cardholder is well into the "good" part of the credit score range, coming in around 741.
Taking a broader view, most approved cardholders report having credit scores above 700, and the majority of reporting cardholders have a credit score above 750. Less than 10% of respondents reported having credit scores below 600.
Naturally, the Chase Sapphire Preferred® Card application process also involves factors beyond credit score, one of which may make it easier to qualify for over its more expensive sibling. Namely, the Chase Sapphire Preferred® Card may be available to applicants with lower incomes than are required for the more expensive Chase Sapphire Reserve®.
This is primarily due to the fact that the Chase Sapphire Preferred® Card is only a Visa Signature® card, not a Visa Infinite® card like its sibling. While this means the Chase Sapphire Preferred® Card has fewer cardholder perks from Visa, it also means that the Chase Sapphire Preferred® Card has a minimum credit line of $5,000, instead of the higher $10,000 minimum for the Chase Sapphire Reserve®.
Unfortunately, the Chase Sapphire Preferred® Card does share one important feature with its big sibling: The Chase Sapphire Preferred® Card also falls under the umbrella of the 5/24 Rule. This means you won't be able to qualify for the Chase Sapphire Preferred® Card if you have opened five or more credit card accounts within the last 24 months.
Does Chase Sapphire Reserve® Reconsideration Work?
Once you've applied for a credit card, you'll usually either be approved or denied within a few minutes, particularly for modern online applications. In some cases, you may get stuck with a pending notice, which usually means the bank needs to verify some piece of data or that your profile requires a human evaluation (as opposed to the typical computer algorithm that makes decisions).
Either way, you should know where you stand within a few weeks, for better or for ill. However, even if you are denied for the Chase Sapphire Reserve®, that denial may not be the end of the story. The data suggests that credit card reconsideration may work in some cases.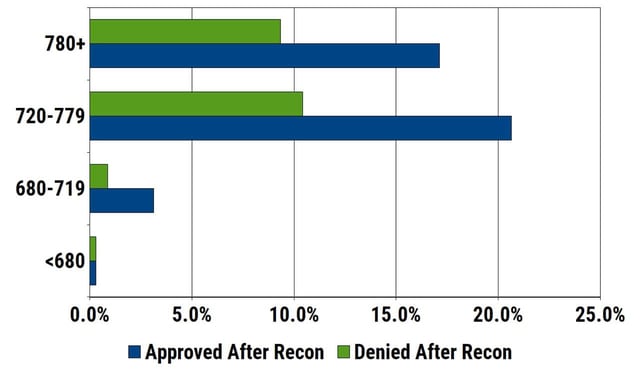 In fact, reports indicate that applicants with credit scores of 680 and above were roughly twice as likely to be approved after reconsideration as they were to be denied. However, applicants with lower scores had less favorable reconsideration odds, as applicants with credit scores below 680 were equally likely to be approved as denied after reconsideration.
So, how does it work? Basically, credit card reconsideration involves calling the issuer — Chase, in this case — and requesting that your credit card application be, you guessed it, reconsidered.
Beyond following the cardinal rule of dealing with customer services agents — that is, always, always, always be polite — the best method for a successful reconsideration call will depend on exactly why your application was denied in the first place. This information should be in the formal denial letter you receive in the mail.
For instance, if your existing Chase credit lines were an issue, you can offer to transfer some of your existing credit to the new card. Or, if a series of recent hard inquiries was the problem, explaining that you were rate shopping a loan could be enough to warrant reconsideration.
Chase Reconsideration (Personal): 888-270-2127
One thing you want to avoid is mentioning anything that may make it seem as though you are solely after the card's signup bonus. Credit card issuers in general — and Chase in particular — are cracking down on "churners," or people who open new cards for the rewards then close the accounts after getting the bonus. If the service agent thinks you may be a churner, your chances of reconsideration will be slim to none.
A Solid Card for Excellent Credit
For all that it is a seemingly innocuous three-digit number between 300 and 850, your credit score can have big, lasting impacts on your financial future. It can impact your ability to get approved for new credit, how much credit you're offered, and how much you'll have to pay for that credit.
But, while there's no denying the importance of credit scores in the consumer credit market, credit scores are just one part of a host of factors that decide your credit fate. This is easily evidenced in the data for the Chase Sapphire Reserve®, which shows that additional factors, like your income and recent card activity, can also impact your ability to get approved for a credit card.
Advertiser Disclosure
CardRates.com is a free online resource that offers valuable content and comparison services to users. To keep this resource 100% free, we receive compensation for referrals for many of the offers listed on the site. Along with key review factors, this compensation may impact how and where products appear across CardRates.com (including, for example, the order in which they appear). CardRates.com does not include the entire universe of available offers. Editorial opinions expressed on the site are strictly our own and are not provided, endorsed, or approved by advertisers.