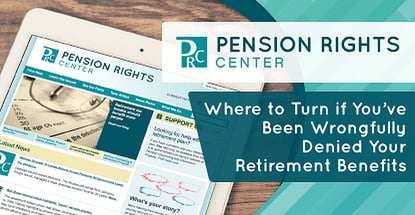 In a Nutshell: Retirement should be the reward for decades of work and sacrifice. However, many people spend their later years fighting for the pension and retirement benefits they've worked hard to attain for themselves and their families. The Pension Rights Center acts as a resource center for six federally funded pension counseling projects that together serve retirees across 30 states. To date, the pension counseling projects have recovered over $242 million in earned retirement benefits for nearly 59,000 people in addition to helping spur several major pension reforms. The Pension Rights Center also works with individuals and groups to help them find answers and achieve legal and policy victories, both large and small. //
Every day, millions of Americans go to work under the assumption that they will one day be able to retire. Some count the days, months, and years that remain until their pension, 401(k), or other retirement savings is strong enough to last them for the rest of their lives.
My mother-in-law was a state employee for nearly 30 years working her way up to a supervisory role. She had a great record throughout her entire time at the organization — the same organization that dismissed her job just five days before she became eligible for full pension benefits.
Five days.
Everyone involved suspected that something wasn't right with the situation, but few lawyers wanted to take on her case and fight the state. Eventually, a pension rights advocate caught wind of her troubles and took up her cause. Soon after, she received her full benefits.
Sadly, her story isn't uncommon, especially during turbulent economic times when companies look to tighten pension plans as more baby boomers approach retirement.
The Pension Rights Center acts as a resource for six federally funded pension counseling projects that together serve individuals in 30 states across the country. The pension counseling projects provide free legal assistance to anyone — regardless of age or income — who needs help understanding their rights to retirement benefits they have earned through their employment. These projects even offer legal help obtaining wrongfully denied retirement benefits by working through a retirement plan's internal claims and appeals process.
In the 20 states not covered by a pension counseling project, the Pension Rights Center can provide assistance by referring consumers to other legal service providers or to a private attorney who specializes in retirement issues through its National Pension Lawyers Network.
"They can get assistance by calling us at (202) 296-3776 or by filling out our online help request form," said Emily Spreiser, Legal Program Director at the Pension Rights Center. "In limited cases, the Center's legal team is able provide direct client assistance to individuals."
Anyone who is trying to find assistance with an issue involving retirement benefits can also visit PensionHelp America, a website run by the Pension Rights Center. Users to input their demographic information on the site to match them with the legal service providers that can assist them.
"Anyone who lives in one of the 30 states covered by a project — or whose employer is based in one of those 30 states — can reach out to the Pension Rights Center for a referral to a pension counseling project," Spreiser said.
Fighting to Secure Benefits for Current and Future Retirees
Since its inception, the Pension Counseling and Information Program — a program that comprises the Pension Rights Center and the six regional pension counseling projects — has recovered over $242 million in earned retirement benefits for nearly 59,000 people.
Spreiser noted that, from January to June of 2018, the Pension Rights Center responded to approximately 1,000 help requests from individuals who sought assistance with their retirement benefits.
"In addition to the Center's federally funded legal work with the Pension Counseling and Information Program, the Center also has a policy program funded by other sources. On the policy front, the Center is working with thousands of retired truck drivers, ironworkers, musicians, and others who face pension cuts in their underfunded multiemployer plans, and, together, we are advancing comprehensive, workable solutions," she said.

The Center's work focuses on current or former employees, in any field, and it actively monitors changes in policy that could impact workers' rights.
"We are also fighting to ensure that hospitals, schools, and social services agencies that are affiliated with religious organizations, but whose pension plans were not established by churches, are not able to convert their federally protected pension plans to unprotected church plans," Spreiser said. "This endangers the benefits of hundreds of thousands of current and future retirees."
A History of Pension Rights Victories
The Pension Rights Center doesn't just work on behalf of individual consumers who contact them. In fact, since day one, the Center has played a leading role in identifying pension inequities by crafting and securing pension reforms for the masses.
"We are often the first to identify pension problems, propose solutions, and then advocate for the implementation of those solutions," Spreiser said. "The Center spurred the enactment of major pension reform provisions in the Retirement Equity Act of 1984, the Tax Reform Act of 1986, the Pension Protection Act of 2006, and three other federal laws that expand protections for older Americans and widowed and divorced spouses."
In addition to these achievements by the Center's policy program, the Pension Rights Center's legal team has also achieved victories for numerous individual clients over the years. These include locating unclaimed pension benefits for low-income and homeless individuals, successfully disputing unfair benefit recoupment practices, and helping the spouses of deceased retirees obtain survivor benefits.
"We also played a key role in the adoption of important regulations that have significantly expanded protections for millions of older Americans," Spreiser said. "Recently, we have encouraged changes in federal guidance regarding the recoupment of benefit overpayments from innocent retirees living on fixed incomes."
Help is Only a Phone Call or Email Away
As a nonprofit organization, the Pension Rights Center's legal program receives funding from the US Administration for Community Living but also depends on the donations of individuals, organizations, and foundations to promote retirement income security for workers, retirees, and their families.
Beyond monetary donations, Spreiser said consumers can support the Center's work by helping ensure that anyone in need finds his or her way to the organization.
"Consumers can also follow our blog, our newsletter, and our social media accounts and share our content to make sure it reaches others," Spreiser said. "We also encourage individuals to post their stories to our online story bank."
Retirement should be a time to relax and enjoy the fruits of labor workers have earned and saved for decades, but that only happens when retirees actually receive their benefits. The Pension Rights Center is working to make sure that current and future retirees never have to worry about the security of their retirement funds.
Advertiser Disclosure
CardRates.com is a free online resource that offers valuable content and comparison services to users. To keep this resource 100% free, we receive compensation for referrals for many of the offers listed on the site. Along with key review factors, this compensation may impact how and where products appear across CardRates.com (including, for example, the order in which they appear). CardRates.com does not include the entire universe of available offers. Editorial opinions expressed on the site are strictly our own and are not provided, endorsed, or approved by advertisers.