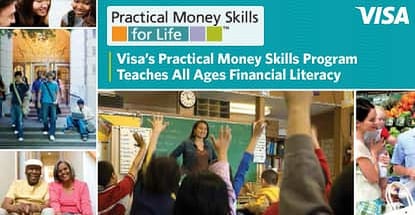 In a Nutshell: Practical Money Skills offers students and consumers of all ages a broad array of educational resources and tools for enhancing their financial literacy and money-management abilities. Providing a comprehensive collection of lesson plans, articles, mobile apps, video games, and calculators, the site is a one-stop shop for those looking to improve their overall financial wellbeing. The Practical Money Skills program — developed by Visa and a team of partners consisting of leading consumer advocates, educators, and financial institutions — is at the forefront of the ongoing movement to make sound money management a universal skill. //
While the U.S. may be one of the most economically prosperous countries in the world, recent studies show that many Americans are woefully lacking in basic financial knowledge.
A 2016 study by the Financial Industry Regulatory Authority's (FINRA) Education Foundation found that nearly two-thirds of American adults were unable to pass a basic financial literacy test. These findings were gathered from more than 27,000 Americans in four key areas: making ends meet, planning ahead, managing financial products, and financial knowledge and decision-making. What's more, similar studies on the financial literacy of American teens show that the next generation will likely be just as ill-prepared to manage their personal finances as the current ones.
Given that the U.S. is currently rebounding from the worst financial crisis since the Great Depression, this news is especially concerning and points to the urgent need for a new approach to improving our society's financial education and skills.
"This research underscores the critical need for innovative strategies to equip consumers with the tools and education required to effectively manage their financial lives," said FINRA Foundation Chairman Richard Ketchum in a press release.
Fortunately, Visa's Practical Money Skills for Life provides all of this and more. Practical Money Skills is a free, award-winning, financial education program that offers a vast clearinghouse of money-management resources and tools designed to enhance financial literacy among people of all ages. In addition to detailed lesson plans and classroom exercises for professional educators, the program provides a wealth of tips and tools to help consumers prepare for common, life-altering financial events, such as purchasing a home, planning for parenthood, paying for college, and saving for retirement.
"At Visa, we believe the most effective way to ensure that we are helping consumers of all ages become better money managers is through public and private sector partnerships. By working together, we can create more effective tools and resources that can be tailored to meet the unique financial education needs of a number of audiences, including parents, students and teachers," said Hugh Norton, Head of U.S. Financial Literacy, Visa Inc.
Partnerships with Leading Consumer Advocates & Educators Help Visa Spread Financial Literacy Resources
Practical Money Skills was launched in 1995 to help consumers and students of all ages learn the essentials of personal finance. Visa developed the program in partnership with a group of leading consumer advocates, educators, and financial institutions, and it provides a huge array of educational resources, such as personal finance articles, lesson plans, video games, and mobile apps. Visa and its partners also work with state and national governments to sponsor community-based events to showcase the program's unique tools for teaching financial literacy.
So far, Practical Money Skills has reached more than 40 million people worldwide, and its materials are available in 16 languages across 42 countries. One of the program's greatest strengths lies in the diversity of their partners and their ability to reach a broad cross-section of audiences. These partners include nearly 50 different organizations, spanning a wide spectrum of interests and industries, such as the NFL, the Federal Reserve Bank of Chicago, Capital One, AARP, the International Olympic Committee, and the YMCA.
Beyond these partners, Practical Money Skills has also reached agreements with 49 U.S. state governments and the District of Columbia to distribute its most popular educational materials to every middle school and high school student in those states. From pre-teens, parents, and retirees to teachers, military veterans, and Olympic athletes, Practical Money Skills offers valuable educational resources specifically tailored for virtually every phase and walk of life.
Financial Lesson Plans for Teachers at Every Grade Level
Although the U.S. educational system is well-equipped to teach young people the intricacies of algebra, English literature, and American history, it frequently offers them very little in the way of personal finance instruction — especially when compared to other countries. A 2014 study by the Organization for Economic Cooperation and Development (OECD) tested more than 29,000 15-year-olds around the globe and found the U.S. ranked ninth in average financial literacy among the 18 countries that participated. While Chinese teens scored highest, the U.S. ranked lower than even comparatively tiny countries like Estonia, New Zealand, and Latvia.
Practical Money Skills addresses this educational gap by providing teachers of all grade levels a comprehensive collection of lesson plans aimed at giving students lifelong money management skills. These lesson plans are educator-developed, educator-approved, and carefully mapped to meet state-standardized curriculum requirements.
From pre-kindergarten through college, the lesson plans target each grade level with unique instructional materials and exercises designed to engage students with real-world scenarios they are likely to encounter in their own lives. Topics range from the bare basics for the youngest, such as "What is Money" and "Comparison Shopping," to more advanced lessons for middle and high schoolers, such as "The Art of Budgeting" and "Selecting a Banking Partner." Finally, the most complex financial courses, such as "Living on Your Own," "Buying a Home" and "Saving and Investing," are aimed at providing college students with the skills they'll need to face a lifetime of financial challenges.
Best of all, the lessons aren't centered on boring lectures and outdated assignments that put most students right to sleep. Instead, the Practical Money Skills program features lively learning activities that aim to spark young people's interest in financial matters through problem-solving, research, discussion, and collaborative exercises. Not only will educators find a wide selection of traditional instructional materials, such as study guides, worksheets, and quizzes, but they also have access to more high-tech tools, including online games, podcasts, videos, calculators, and mobile apps.
Unique Games & Tools that Make Money Management Fun
Making financial literacy interesting and fun can be quite a challenge, especially when it comes to teaching young people. Unless they find the material engaging, they're likely to tune out at best or become turned off at worst. To make the lessons as appealing as possible, Practical Money Skills has developed a cutting-edge collection of games, comics, and mobile apps targeting students in elementary through high school.
Two popular online games for the youngest students are Peter Pig's Money Counter and Money Metropolis. Students aged 4 to 7 can use Peter Pig's Money Counter to practice sorting and counting coins, while Money Metropolis is aimed at ages 7 to 12, and it lets students navigate a multi-dimensional world, making decisions that affect whether their virtual bank accounts grow or shrink.
Visa has also teamed up with Marvel Entertainment to release two educational comic books: Avengers Saving the Day and Guardians of the Galaxy: Rocket's Powerful Plan. These comics combine Marvel's iconic superheroes with personal finance lessons to teach students fundamental money-management skills in an entertaining format. The comics also come with supplemental instructional materials, such as teacher's guides, worksheets, and a list of finance terms.
To get teens aged 14 to 18 interested in honing their personal finance skills, Practical Money Matters created two highly popular interactive video games: Financial Football and Financial Soccer. Financial Football was developed through a partnership with the NFL, and it lets student teams compete against one another to earn yardage and score touchdowns by answering financial questions. Similarly, Financial Soccer challenges students to answer multiple-choice, money management questions to advance down the field and score goals.
In addition to comics and games, Practical Money Skills boasts an array of innovative financial apps and calculators for both adults and young people. For example, adults can use the Lunch Tracker app to save money by monitoring the amount they spend on lunch every day, while teens can budget for prom-related expenses with the Plan'It Prom app. Moreover, Visa's suite of 30 financial calculators, which are available online and as mobile apps, offer a convenient way to forecast and analyze a wide range of common financial transactions, such as auto loan payments, retirement savings, mortgage refinancing, and travel budgets.
Learning About Finances is Not Limited to Any Age
Whether you're a teacher searching for engaging lessons, a parent budgeting for college expenses, a retiree looking to make the most of your savings, or a teen buying your first car, you'll find comprehensive, in-depth advice and tools on Practical Money Skills to help guide you through the process. From articles, videos, e-newsletters, podcasts, and apps, the site offers customized resources for practically every financial issue you're likely to face in a lifetime.
Visa and its partners are dedicated to advancing the cause of financial literacy through community events, policy forums, research, and advocacy. One of the most prominent ways Visa promotes the importance of financial literacy is through its annual Financial Literacy Summit, co-hosted by the Federal Reserve Bank of Chicago. Now in its 10th year, this event brings together international financial experts to discuss and analyze the latest solutions for improving financial literacy on a global scale.
At the 2013 Financial Literacy Summit, keynote speaker Richard Cordray, Director of the Consumer Financial Protection Bureau, spoke about the critical need for advancing financial literacy in today's society. His remarks underscore the gravity of the situation we're currently facing and perfectly parallel the goals of the Practical Money Skills program.
"We must start with the importance of fostering broader recognition that educational and informational support in matters of personal finance are essential pillars of life as we know it in America," said Cordray. "If we intend to foster and maintain the kind of society we desire to have, then we must make a point to arm our fellow citizens with the wherewithal to stand on their own two feet and make sustainable economic choices."
Advertiser Disclosure
CardRates.com is a free online resource that offers valuable content and comparison services to users. To keep this resource 100% free, we receive compensation for referrals for many of the offers listed on the site. Along with key review factors, this compensation may impact how and where products appear across CardRates.com (including, for example, the order in which they appear). CardRates.com does not include the entire universe of available offers. Editorial opinions expressed on the site are strictly our own and are not provided, endorsed, or approved by advertisers.