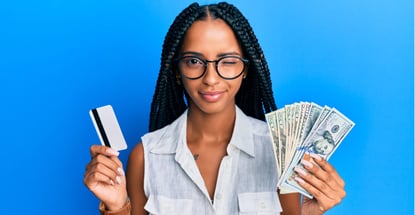 Prepaid cards that you can add money to provide the opportunity to create a budget or conduct your financial dealings without the need for a traditional bank account. With these cards, you can authorize direct deposits of checks, safely store your money, and make purchases or payments online or in person — without the fear of accumulating debt or paying interest charges like you would with a traditional credit card.
And the best reloadable prepaid card options provide mobile applications that allow you to manage your card account, track your spending, and check your balance right on your phone.
Prepaid Cards That Accept Cash & Electronic Deposits
We've followed the prepaid debit card industry for years and have a good grasp of which cards offer the best solutions and customer service for your financial needs. When choosing the right card for you, consider each offer's monthly fee, direct deposit features, ATM withdrawal abilities, and how easy the issuing bank makes it to conduct cash reloads.
We've long admired the Brinks Prepaid Mastercard for its commitment to security and convenience for every cardholder. This card makes it easy to pay bills, withdraw cash, and avoid overdraft fees since it only allows you to spend up to the amount of money you've deposited.
You can also earn Payback Points on all eligible purchases — similar to a rewards or cash back structure on a traditional credit card. You can redeem your points for cash back and other rewards through your Brinks card account.
PayPal is an established resource for financial transactions — and the PayPal Prepaid Mastercard® is just another tool to help you along without the need for a checking account, savings account, credit card, or debit card.
You can also use your existing PayPal account to shuffle money to and from your reloadable prepaid card instantly. You can also conduct cash reloads at thousands of locations around the U.S.
The NetSpend® Visa® Prepaid Card provides several ways to add cash to your account. This includes depositing money at one of thousands of locations around the country, performing a mobile check deposit through your phone, or accepting direct deposit of your employment or government benefits checks at no extra charge.
You can also use this prepaid card at any location that accepts Visa. That means you can shop online or in person and pay bills in a matter of seconds.
The NetSpend® Visa® Prepaid Card pays out Payback Rewards points for signature purchases with select merchants. You can redeem your points for cash back that's credited directly to your card account. 
Much like a traditional savings account, your Netspend reloadable Visa allows you to safely store your money and deposit more cash whenever you need to increase your spending power. Just be aware that the location that accepts your cash may charge a reload fee for the service.
The Bluebird® American Express® Prepaid Debit Account may be the most affordable card on this list because it does not charge a monthly fee. There's also no ATM withdrawal fee when you use MoneyPass ATMs throughout the U.S.
You also won't be charged a transaction fee when you make a purchase or account overdraft fees. That's a big deal — especially for a company with the prestige of American Express.
The Mango Prepaid Mastercard® can connect to an optional savings account that gives you many of the perks you'd expect from a checking account. As a cardholder, you can earn interest on your deposited money and enjoy up to six free transfers from the account each month.
This allows you to pay bills through your debit Mastercard with no transaction fee while earning money along the way.
The Serve® American Express® Prepaid Debit Account makes it easy to avoid the standard monthly fee by depositing a specified amount of funds into your card account each month. You can also avoid other pesky fees, including an ATM withdrawal fee if you use MoneyPass ATMs. 
And the American Express Serve card won't punish you for having a poor credit score because this card doesn't require a credit check for approval.
The Greenlight – Debit Card For Kids is an excellent tool for parents to teach their kids about saving and budgeting. As a debit Mastercard designed for children, you don't have to worry about an activation fee, ATM fee, or transaction fee, but it does charge a monthly fee for account maintenance.
Parents have complete control over the account and can add money and control spending through the card's mobile app. This is an easy way to pay an allowance or send money to your child when they aren't nearby.
The Walmart MoneyCard® pays you cash back to shop at Walmart. This includes purchases made on its website, at fuel stations, and brick-and-mortar stores. 
When you activate direct deposit on your account, the card will provide overdraft protection that helps you avoid overdraft fees.
While this Serve® American Express® Prepaid Debit Account may share a name with its sibling card listed above, there are a few key differences between the offerings — but also several similarities.
For starters, this card offers cash back rewards for all eligible purchases — similar to a credit card. As with the card above, you can also avoid several fees that other prepaid cards charge.
The BusyKid Visa® Prepaid Spend Debit Card is designed for children but accepts consumers of all ages. This Visa prepaid card helps every cardholder learn good habits by saving and earning money while providing the convenience of debit card payments for online or in-store shopping.
You must pay an annual fee for this Visa prepaid card, which is different from the typical prepaid debit card that charges a monthly maintenance fee.
With the ACE Elite™ Visa® Prepaid Debit Card, you can get up to $100 per day in fee-free cash at any ACE Cash Express location. You can also opt to deposit your money into a high-yield savings account that earns interest over time.
The card's Payback Rewards feature allows every cardholder to earn cash back for purchases at select retailers and restaurants.
​​The Travelex Money Card is designed as an alternative to outdated traveler's checks and allows you to pay for hotels, restaurants, entertainment, and more while on the road. 
You have full control over your account, whether you're home or away, and can set spending limits to add an extra layer of security to your card account.
What Is a Prepaid Card and How Does It Work?
A prepaid card is similar to a debit card issued by any bank or credit union. These cards allow you to deposit cash at a reload location or accept the direct deposit of your payroll or government benefits checks.
You can use your card to spend that money online and at any location that accepts credit cards. This keeps you from having to carry cash but still gives you the convenience of a credit card if you're shopping online or paying bills over the phone.
Every card charges different service fees. Some cards charge a reload fee if you deposit cash to your card account through a retail location. Many cards also charge a monthly maintenance fee that you can sometimes waive by authorizing a regular direct deposit of a certain amount of money into your account.
You don't have to worry about overdraft fees with a prepaid card because you can't spend more than what you have deposited into your account. And since this card isn't attached to a line of credit, you typically don't have to worry about a credit check or minimum credit score for approval.
How Do I Get a Prepaid Card?
The easiest way to get a prepaid card is to apply online and receive the card through the mail within seven to 10 business days. Whether it's a Visa card, an American Express, or a Mastercard you're seeking, you can find card options above that suit your needs.
You can apply for these cards without a credit check by clicking the links above for the card that interests you.
The application typically takes less than five minutes to complete and requires you to fund your account by the time you activate your new card. You can fund the account by adding money at a retail location, setting up direct deposit of employment or government benefits checks, or linking an external checking account to send money directly to your account.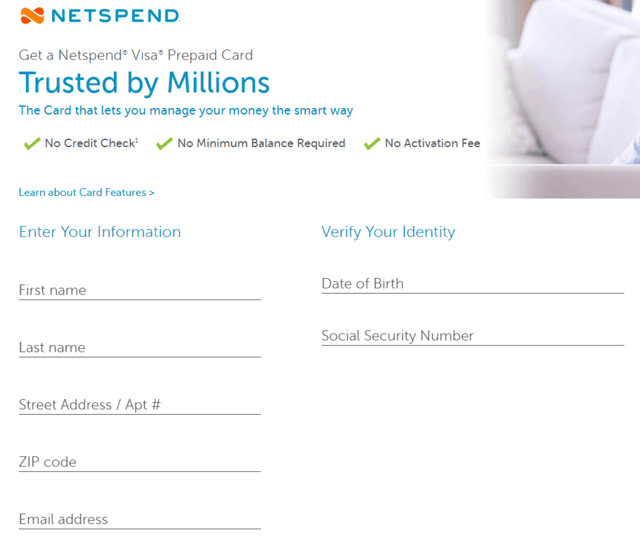 In the case of the PayPal Prepaid Mastercard®, you can use your Paypal account to add and withdraw funds immediately from your card account.
Most cards offer a mobile app that lets you monitor your account, check your balance, and perform other necessary tasks directly from your cellphone.
Can a Prepaid Card Help Build My Credit?
You cannot build your credit score with a prepaid debit card because prepaid card issuers do not report your account activity to the major credit bureaus. 
Credit bureaus calculate your credit score based on how you manage your access to credit. Do you keep your balances low? Do you pay your bills on time? Have you ever defaulted on a loan? These are all major factors that determine your creditworthiness.
Since a prepaid card doesn't have an associated line of credit, it won't require a monthly payment or any repayment of debt. This means that the card issuer will not report any of your card activity to a credit bureau, and the prepaid card will not show up on your credit history.
If you're interested in rebuilding your credit and do not qualify for a traditional credit card, we always suggest a secured credit card. These cards essentially allow you to choose your credit limit based on the amount of your refundable security deposit.
You can use a secured credit card in the same way that you'd use a prepaid card, but since you'll have access to a revolving line of credit, the card issuer will report your account to the bureaus so you can build a credit history and improve your credit score over time.
What's the Difference Between a Prepaid Card and a Credit Card?
The main difference between a prepaid card and a credit card is the money you spend with each. A prepaid card requires you to deposit your own money into a secure account.
Every time you use your card to make a purchase or pay a bill, the transaction total is deducted from the money you deposited. In short, you're spending your own money, much like a debit card is tied to a bank account. 
A credit card is a form of revolving credit. You don't have to deposit money into a credit card account (unless it's a secured prepaid credit card). 
Every time you make a purchase using your credit card, the issuing bank pays for the transaction. You eventually pay the bank back through your monthly payment. This means you're spending the bank's money at the register.
Because prepaid cards aren't credit cards, they don't show up on your credit history. This means they can't harm or help your credit score. A credit card is a key tool used for building credit because your account balance, payment history, and age of the account will all appear on your credit history.
Since a bank doesn't loan you money for a prepaid card, you don't have to worry about interest charges, overdraft fees, or other added costs that credit cards have. You will likely encounter a monthly maintenance fee and may have to pay a fee for a cash withdrawal from an out-of-network ATM.
Compare Prepaid Cards That You Can Add Money To
Prepaid cards are no longer relegated to the gift card display at your local convenience store. Whether a Visa card, Amex card, or a Mastercard, a reloadable prepaid card is a great way to safely store your money and stick to your monthly budget.
Prepaid cards that you can add money to provide the convenience of credit by allowing you to shop online or in person. You can pay bills and share in all of the same financial transactions that you would if you had a traditional credit card.
Advertiser Disclosure
CardRates.com is a free online resource that offers valuable content and comparison services to users. To keep this resource 100% free, we receive compensation for referrals for many of the offers listed on the site. Along with key review factors, this compensation may impact how and where products appear across CardRates.com (including, for example, the order in which they appear). CardRates.com does not include the entire universe of available offers. Editorial opinions expressed on the site are strictly our own and are not provided, endorsed, or approved by advertisers.