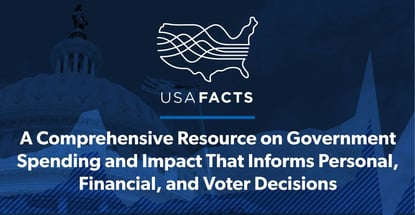 In a Nutshell: When Former Microsoft CEO Steve Ballmer and his wife Connie started looking for numbers to guide their own charitable giving decisions, they discovered how difficult it is to find, gather, and interpret government financial data. This led to the founding of USAFacts, a privately-funded not-for-profit that serves as a free, comprehensive resource for unbiased information on government revenue, spending, and impact. The organization also prepares annual reports and a 10-K and presents a clear view of government finances that can inform lifestyle, investment, and voting decisions.
After retiring as CEO of Microsoft in 2014, Steve Ballmer and his wife Connie started looking for ways to get even more involved in philanthropy. The pair realized they didn't have many specifics on federal aid, so they first set out to answer a few questions: How much federal funding goes toward poverty relief? Whom are these programs serving? And what are the outcomes?
Steve first sought the help of a former Microsoft finance department colleague who expected the task would take up to six weeks. But, after six months of sorting through data from the government's vast network of agencies, Steve and his friend still didn't have many answers. In a structure as large and complex as the U.S. government — with 90,000 jurisdictions and 23 million employees — it was incredibly challenging to find specific information.
That experience led Ballmer to launch USAFacts, a not-for-profit that offers access to in-depth government data on population, finances, and society.
"As a businessperson, Steve talks about how he can't imagine trying to run Microsoft without access to data, let alone three- to five-year-old data," said Poppy MacDonald, President of USAFacts.
To launch USAFacts, he assembled a team of experts and went to work gathering, organizing, and understanding government financial data. USAFacts Director Richard Coffin, who has been with the organization since its founding in 2016, said that Steve's approach helped shape the methodology of USAFacts.
"He was trying to figure out how to analyze the government the same way you would analyze a business to understand whether it's healthy," he said. "Out of that mentality came our first annual report. Although it solved his personal use case, the concept of what we had done was much more useful to the public, especially in terms of knowing what's going on in the country."
Ballmer officially launched the USAFacts platform on Tax Day — April 18, 2017. The site serves as a public resource for government financial data drawn from more than 70 agencies, and it allows people to understand the flow of federal tax revenue, spending, and its impact on society.
"The overarching visuals are nonpartisan, and we have no political agenda. We believe we need to provide government data as it's been recorded, with no predictions," MacDonald said. "We simply want people to use facts to make more informed decisions, so that's at the heart of the USAFacts mission."
An Organizational Structure Based on the Four Missions of the Constitution
One of the first tasks USAFacts took on was deciding how to organize government information, a challenge that was complicated by the sheer volume of available data.
"People often think that the problem with data is there isn't enough of it, but the real problem is that there's too much of it, and it isn't organized in a way that makes any sense," Coffin said.
On top of that, each branch of the government uses a different organizational system.
The House, Senate, and Executive Branch each have a unique way of organizing information, and the majority political party often changes those platforms when leadership changes.
"When you look at the state and local governments, it gets worse," Coffin said. "We needed to find something that wouldn't add to the problem, but it also needed to be something people wouldn't question."
For guidance, the USAFacts team looked to the Constitution, specifically its Preamble, which outlines the four overarching purposes of the U.S. government: to establish justice and domestic tranquility, provide for the common defense, promote the general welfare, and secure the blessings of liberty for ourselves and the next generations.
"You can divide everything the government does into one of those four areas. To verify this, we looked at every rule agencies had changed and every piece of legislation Congress had passed over one year, and everything fit. So, we decided to use the Preamble as an organizational principle," Coffin said.
Each of these areas, or metrics, breaks down into specific spending categories and subcategories. For example, under general welfare, USAFacts includes data about the economy and infrastructure. Individuals can find data in 11 categories ranging from economic indicators and actions to jobs and business vitality.
By using one of the most trusted founding documents, USAFacts has found an intuitive way to organize government revenue and spending to help people quickly find the numbers they seek — all in one location.
"That's the beauty of organizing by the founding principles of the federal government. We make it simple to look at what government is spending to address a specific issue, and then find the outcome," MacDonald said.
Financial Reporting to Guide Consumer Investing, Giving, and Other Life Decisions
Since many people have limited awareness of how the government collects and uses tax dollars, USAFacts provides an interactive flowchart that helps them visualize federal revenue and spending. Users can zoom in on various categories of interest, organized by the four missions of the Constitution. A list-based view of this information appears under the site's finances category.
"You can see what revenue goes to government employees and how programs help individuals. We worked with an economist to show how much the average taxpayer receives from various government programs, how it compares to what they make from wages and investments, and how it compares to the taxes they pay," Coffin said.
USAFacts data can also guide consumers as they make important financial decisions. For Steve Ballmer, it was charitable giving; for others, it might be deciding where to invest financial assets for the highest return.
"In terms of just investment vehicles, you can see treasury bills and other areas to invest in, and what the rate of return is," Coffin said.
And entrepreneurs can use USAFacts to scope out the best location to launch or invest in a business, MacDonald said.
"Government impacts business investors' lives in many ways—from the roads they drive on, to the education that their employees have access to, to high school education rates. It just depends on what they want to see about the community they're considering investing in, whether personally with their lives or professionally with a company. There's a lot of useful information."
Nonpartisan, Not-For-Profit Data Encourages Transparency
As a privately funded not-for-profit, USAFacts strives to be a nonpartisan, unbiased resource for information on the government's spending activities. It refrains from interpreting data and only uses information gathered from publicly available government data sources.
This practice makes USAFacts a reliable source for voters looking for rhetoric-free information on how specific government departments and programs are performing, which can inform their voting decisions.
During the 2018 midterm elections, USAFacts launched a guide that allowed voters to search for candidates running for office in their area, view their positions on significant issues, and also compare that side-by-side with outcome data for those issues.
USAFacts can also help those public officials, who often don't have ready access to straightforward revenue and spending data, as they make important policy decisions.
"The federal government invests about $7.5 billion each year in data collection, but they don't put it all together in one place that makes it easy for the public — or even the government — to use," Coffin said. "We want all government officials to have access to this data when they make decisions about the state of the country and, if they aren't happy with the data, to invest in it further."
The OPEN Government Data Act, which requires that federal agencies publish their information online, and other recent laws are steps in the right direction, but USAFacts advocates for data transparency that benefits both voters and politicians.
"Whether you're a voter trying to determine whether to re-elect the incumbent or a member of Congress trying to determine how major policy shifts will impact Americans, you should know what revenue the government is collecting, how it's spent, and the outcomes it's driving," MacDonald said.
Shedding Light on All Levels of Government Finance and Its Personal Impact
When Steve Ballmer isn't running the Los Angeles Clippers, the NBA franchise he purchased in 2014, or overseeing philanthropic investments at The Ballmer Group, he still plays an active role in the development of USAFacts.
"He's got an office right next to mine," MacDonald said. "He's here every week and runs a good four-hour meeting with our team every month, where we all dig into the data and figure out what trends we're seeing."
"We started with bringing national data into one easy-to-consume place, and we want to expand that to state and local data from all 90,000 government entities. We're finding a way to retrieve it and ensure it maps to other state and local entities. So, it's a huge endeavor for us." — Poppy MacDonald, President of USAFacts
The USAFacts site is currently in beta as the team works toward automating all its data-gathering and updating processes, as well as expanding the site to include information from all levels of government.
"We started with bringing national data into one easy-to-consume place, and we want to expand that to state and local data from all 90,000 government entities. We're finding a way to retrieve it and ensure it maps to other state and local entities. So, it's a huge endeavor for us," MacDonald said. "We'll be doing our first release of that in June 2019 and will continue to expand on it."
The other goal for USAFacts is to focus more content on the personal impact of government spending.
"People come and search to find what interests them. But we want to start producing more content out of the data that showcases the trends people are most curious about," MacDonald said. "More data, and more storytelling out of that data, are what you'll be seeing from USAFacts."
Advertiser Disclosure
CardRates.com is a free online resource that offers valuable content and comparison services to users. To keep this resource 100% free, we receive compensation for referrals for many of the offers listed on the site. Along with key review factors, this compensation may impact how and where products appear across CardRates.com (including, for example, the order in which they appear). CardRates.com does not include the entire universe of available offers. Editorial opinions expressed on the site are strictly our own and are not provided, endorsed, or approved by advertisers.