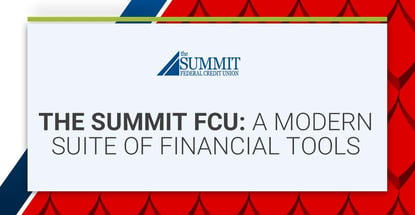 In a Nutshell: While credit unions have a reputation for their strong ties to the community, modern credit unions are also gaining a reputation for providing just as many modern financial products and services as the biggest banks. The Summit Federal Credit Union proves this through its competitive credit card offerings, including a Signature, Platinum and Gold card. It also maintains competitive checking and savings options, and specializes in home equity loans, auto loans, and mortgages. As with many credit unions, The Summit Federal Credit Union supports its local community through volunteering, event sponsorships, and donations, among many other initiatives.
Credit unions were founded on the concept of community members pooling their resources to create a financial institution with their own interests in mind. This means that, over the years, even as credit union footprints have greatly increased, they have largely remained close to the communities they serve.
Credit unions often don't have the same massive volume of assets backing them as do the national and international bank chains. That's why they have erroneously been perceived as quaint institutions with limited financial services.
But, that's not true.

Many credit unions, such as The Summit Federal Credit Union, based in Rochester, New York, offer an array of financial services that rival modern banks while maintaining close ties to the community in a number of ways.
We recently spoke with Mark Gregory, The Summit Federal Credit Union's Vice President of Lending, to learn more about the organization's history, its suite of financial tools, and its community service.
"The Summit was founded in 1941, and we were the Rochester Telephone Credit Union," Gregory said. "Back then, it was for telephone workers, pole workers, and some other companies like Rochester Gas and Electric — some other utilities."
But now, just ahead of its 80th anniversary, The Summit Federal Credit Union has 16 branches across Western and Central New York, he said. The credit union has around 88,000 members and $1.1 billion in assets.
Offering Three Credit Cards to Suit Different Needs
In our conversation about the credit union's financial products and services, Gregory discussed The Summit Federal Credit Union's range of credit cards first.
The organization offers three Visa cards — a Signature card, a Platinum card, and a Gold card — each intended to serve a different segment of the credit union's members.
"Whether you're shopping around the corner, online, or around the world, Summit Visa® Credit Cards give you the purchasing power — and value — you need," according to the credit union website. "Welcomed at millions of locations, our Visa Credit Cards have affordable low rates and no balance transfer fees."
Gregory said the Signature card is the credit union's most exclusive offering and was designed for people who want a card with a strong rewards program, including cash back offerings. The program includes double points for travel, regular points for every purchase, and 10,000 bonus points when members spend $3,000 in the first 90 days.
The Signature card also comes with other perks like extra points on gifts around the holidays, Gregory said.
Next is the Platinum card, which Gregory said is for folks who want rewards but don't want an annual fee. The Platinum rewards program is more straightforward but less robust than the Signature rewards program. Many cardholders are happy to give up some rewards in order to avoid paying an annual fee, he said.
"Our most popular card is our Gold card," he said. "This card does not have a rewards program but it doesn't come with an annual fee, and it has the most competitive interest rates."
Gregory said The Summit Federal Credit Union has done away with minimum credit score requirements for members to be eligible for its credit cards. But, he said, members with lower scores will likely not be approved for lines of credit as large as members with higher scores.
Competitive Checking and Savings Accounts, Loan Options, and Investment Services
The Summit Federal Credit Union offers a range of appealing credit cards, but it also provides a strong offering of essential financial products and services such as checking, savings, and loan options.
"On the savings side, we have the normal products you would expect, like CDs and money market accounts, and our rates are very, very competitive here," Gregory said. "We have a full investment division."
When it comes to loans, he said, the credit union remains competitive as well.
"We're really a strong home equity loan lender and auto loan lender," Gregory said. "Recently, we've been a really strong mortgage lender because of the rates — we can hardly keep up with our mortgage lending, the demand is so high."
Watch on
In fact, Gregory said the credit union is actually adding desks in its mortgage department to help keep up with the ongoing demand.
"One of the product areas where we are unique is our car loans," Gregory explained. "We do business with over 250 car dealers that we call indirect lenders. So, you go there to buy the car, they do the financing, they send it to whatever lender they want. We're really strong there, we do a lot of indirect lending."
The credit union also offers a number of other loan options, including personal loans, consolidation loans, and member assistance loans.
"Our new Member Assistance Loan allows members to borrow up to $3,000 for up to 36 months at just 3.0% APR," according to the credit union website. "We'll also delay your first payment for six months from the loan opening date, so you can focus on other things. These funds can be used for important expenses such as paying bills, purchasing groceries, etc."
Demonstrating a Commitment to the Community through Volunteerism, Donations, and Sponsorships
Gregory also discussed how The Summit Federal Credit Union works to support and improve the communities in which it operates.
He said The Summit Federal Credit Union has about 250 employees and the organization as a whole is very community-oriented. The credit union tracks its employees' volunteer activity, and Gregory said that employees spend approximately 1,800 hours annually volunteering on behalf of the organization.
The Summit Federal Credit Union currently supports about 150 organizations in the community, Gregory explained.
"We focus on helping these organizations that are like us in their mission to improve the lives of people in our region," he said. "We also collaborate with other credit unions. For example, we have a pretty big golf tournament here that we support called the Danielle Downey Credit Union Classic."
The annual event raises significant funds for local charities, Gregory said.
The credit union also provides free financial education sessions and no-cost financial counseling, according to the website.
"At The Summit, we believe that to fully serve our members, we also need to serve their communities," according to the credit union website. "To fulfill this commitment, The Summit supports hundreds of local charities through in-kind donations, event sponsorships and participation in fundraising activities."
Exploring New Payment Options
Gregory further dispelled any perception that credit unions' offerings can't hang with those of the big banks by discussing how The Summit Federal Credit Union embraces progress.
"We're always looking for new products and services," he said. "Right now we're exploring things, including digital wallets, like ApplePay, Samsung, Google, things like that. Also, enhancing our credit cards, enhancing our car lending. We're always trying to make our product line better."
Advertiser Disclosure
CardRates.com is a free online resource that offers valuable content and comparison services to users. To keep this resource 100% free, we receive compensation for referrals for many of the offers listed on the site. Along with key review factors, this compensation may impact how and where products appear across CardRates.com (including, for example, the order in which they appear). CardRates.com does not include the entire universe of available offers. Editorial opinions expressed on the site are strictly our own and are not provided, endorsed, or approved by advertisers.