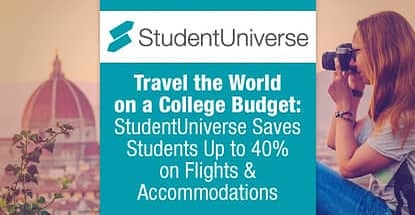 In a Nutshell: Jetting across the globe is an enriching experience for anyone. For college students who are still forming their opinions on the world, traveling abroad can be life changing. The only drawback, however, is that it can be very expensive, and most people on a collegiate budget have modest financial reserves at best. StudentUniverse is an online travel-booking service that provides students with access to specialty pricing on flights, hotels, and tours, saving them up to 40% on travel costs. The site gives them a once-in-a-lifetime opportunity to take advantage of their student status and experience other cultures or study abroad at a reasonable price point. //
College students are typically eager to learn about new things and expand their horizons. Traveling or studying abroad is something that not only opens doors for them in terms of educational experiences, but it prepares them for the real world like no other experience can.
"StudentUniverse was founded by two international students who came to the US for school and understood the patterns of how international students travel — basically, they're flying back and forth several times a year," said Danielle Dougan, Public Relations Manager for StudentUniverse, an online discount travel booking service for college students. "That can become a very expensive proposition, so they decided to do something to solve that problem for students."
StudentUniverse launched in 2000, and the platform is utilized by millions of students every year who access the site for special deals. Once they've signed up for the site and have been verified as students by their university-hosted email addresses, they have access to deals from approximately 80 of StudentUniverse's global partners. This translates to students getting special pricing on flights, hotels, and tours, enabling them to travel the world without racking up massive credit card debt.
"The airlines give us the specialty rates based on the understanding that it be purchased by students that we're verifying," Danielle said. "And when we say 'students,' the age really does vary a little bit from airline to airline. For some airlines, a student means someone from 18 to 26. For other airlines, they can be up to the age of 31 or 32. For some airlines, students of any age can purchase from our site."
Students who sign up for free memberships with StudentUniverse save up to 40% on their travel bookings in comparison to deals found elsewhere online. This level of savings can have a pretty profound impact on where they can go and how they travel, giving students the freedom and opportunity to journey further and see more of the world.
Promos & Contests Give Students Access to Special Pricing
Spending less on travel is an appealing proposition, but applying additional savings onto an already existing deal bumps the appeal up a notch or two. On the StudentUniverse site, students will find a special promotions section where they can take advantage of specific promo codes. These codes are good mostly toward flights, either through specific airlines or to certain parts of the world.
"We do have promo codes, and a lot of airlines will actually offer promo codes to us," Danielle said. "Aside from promotions, we also run a lot of contests and sweepstakes."
The rewards for these contests, sweepstakes, and giveaways are typically free trips and other travel-related prizes. By signing up for the site's newsletter, students can ensure they don't miss out when there's a new contest happening.
"We ran a spring break bingo contest, for example, where we created a bingo board with different challenges for while you're on spring break," Danielle said. "The student who won received tickets through one of our partners to go to Madrid, and we threw in some funds for a hotel."
Don't Go It Alone — Negotiating for Groups of 10 Students or More Leads to Bigger Discounts
Traveling in groups allows students to discover the world with peers and save money by sharing accommodations. Plus, traveling together builds bonds like no other experience can. StudentUniverse has a group in-house who books travel for groups of 10 or more traveling on the same itinerary. These fares are negotiated directly with the airlines versus being booked on the website.
"Once the group gets to the size of 10, we're able to call and interact with that group desk and negotiate rates for that larger group. Those aren't rates that students are booking off our site. Those are rates that are negotiated in real time," Danielle said.
Group travel is a service that's used largely by professors, who are taking a class full of students abroad for a semester. By taking advantage of StudentUniverse's group arrangements, they forgo having to deal with the logistics of managing all of the trip's travel details. They also gain access to additional discounts through special group rates.
"Professors, for example, may be taking 30 students to Barcelona," Danielle said. "The last thing they want to do is manage collecting the students' payments. So we actually take that and facilitate it through the pages on our site once they build a group."
StudentUniverse Joins Flight Centre Travel Group in 2015
StudentUniverse was acquired by one of the world's largest travel agency groups in 2015, Flight Centre Travel Group. The additional resources from the acquisition have since enabled StudentUniverse to grow an even bigger footprint and work with more partners globally.
"We're growing everywhere, but in the UK, our footprint is growing even larger," Danielle said. "Essentially, being part of the Flight Centre family is really important to us because they already have a lot of relationships in place. They're a very large company with tens of thousands of employees and a presence across the world."
Danielle believes that the Flight Centre Travel Group sale helped to accelerate the expansion of the student travel deals site. StudentUniverse continues to manage all bookings on the site, but they're now able to offer many more options and bigger discounts than before.
"Being part of the same family of brands opens up a lot of opportunities for us with new airlines and new ideas — just working cross-functionally with other brands and their portfolio," Danielle said. "It's really been a great thing for us."
StudentUniverse Gives Students the Opportunity to See the World without Going Broke
College years are exciting times for everyone. They're filled with new experiences that teach us about life, and how to survive on this big, blue planet. Studying abroad is arguably one of the most memorable experiences a college student can have, but being on a student budget forces them to find more affordable, creative ways to travel.
StudentUniverse provides millions of students each year with great deals on airfare, hotels, and tours, leaving them with a lifetime of memories without excessive spending.
This means that once students return to campus with new stories to tell about overseas adventures, they'll have more resources to keep those refrigerators stocked. After all, the last thing students need when they get back from a trip is to worry about how they're going to pay off their credit cards while tackling 15 credit hours.
Advertiser Disclosure
CardRates.com is a free online resource that offers valuable content and comparison services to users. To keep this resource 100% free, we receive compensation for referrals for many of the offers listed on the site. Along with key review factors, this compensation may impact how and where products appear across CardRates.com (including, for example, the order in which they appear). CardRates.com does not include the entire universe of available offers. Editorial opinions expressed on the site are strictly our own and are not provided, endorsed, or approved by advertisers.