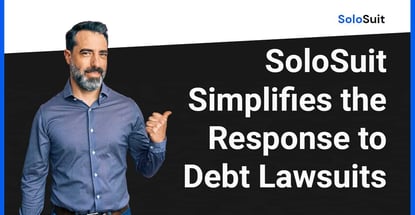 Our experts and industry insiders blog the latest news, studies and current events from inside the credit card industry. Our articles follow strict editorial guidelines.
In a Nutshell: Millions of Americans face debt collection lawsuits every year and are summoned to appear in court. Oftentimes people don't know how to respond after being served and lose a case by default. SoloSuit helps people fight back by providing an app that allows users to create automated legal responses by answering a series of questions in as little as 15 minutes. Those who wish to settle a case can use SoloSettle to negotiate with collectors, and the app will arrange all the payment procedures.
Every year, an estimated 10 million Americans are sued for debt and 9 million people automatically lose because they are unable to properly respond to a court summons. The type of debts that are incurred could often include student loans, medical costs, and auto. During these challenging economic times many Americans are facing, a majority of lawsuits are for unsecured credit card debt.
But there's now an efficient way to fight back. SoloSuit helps people who are facing legal troubles from debt collectors. The company has created a web app with automated tools that help users prepare a response to their lawsuit.

Once a response is completed, users can either print the finalized forms and mail in the hard copies to the courts or they can pay SoloSuit to have an attorney review the documents and submit them to the court directly.
SoloSuit was conceived, in part, by one of its Co-Founders, George Simons. During his first year of law school, Simons had bought a car with defects that made it unsafe to drive (in other words, a lemon). Finding an attorney who could assist him turned out to be very difficult.
That frustration helped Simons realize that there were millions of Americans who were unable to get a lawyer to represent their cases. Simon said people may struggle to find an attorney if there isn't enough money in the case to make it worth an attorney's while, or if the attorney they want is too busy to get on the phone.
SoloSuit is dedicated to placing power back into the hands of the consumer, and since debt collection legal support is greatly underserved, that is what drove the purpose of creating SoloSuit in the first place.
"I found that is one of the biggest issues in that whole space, where over the majority of our cases in the US are actually for debt lawsuits," said Simons.
"No attorneys really represent defendants in debt lawsuits. So we made SoloSuit to help people respond to those lawsuits. We want to make it easier for them to resolve their debt."
Automation Can Give Defendants Peace of Mind
Despite a low unemployment rate and an estimated 10.5 million job openings, some economists say there are still signs the economy could see a slowdown. As the Fed continues to raise interest rates to combat inflation, this may likely lead to many more debt defaults to come.
"The consumer debt is higher than it's ever been right now. It just keeps on going up, and certainly more people are coming to us than ever," said Simons.
Having an automated service to deal with these types of issues can be a tremendous relief for those who are bogged down by debt.
One of the biggest advantages of using SoloSuit is that it can automate every step of the debt collection process. It enables a number of options, including replying to a debt lawsuit, settling a debt lawsuit, forcing a lawsuit out of court, mailing a settlement offer, and replying to a collection letter.
While the web app is free, SoloSuit does charge for additional support services. The standard package includes response document services, and the premium package adds attorney review and shorter turnaround.
SoloSuit also acquires a commission on the total amount of debt when it settles an outstanding debt.
But for those who are straddled with thousands of dollars in debt, paying a minimal fee is well worth eliminating the burden looming over their heads.
"They love it. With the settlement itself, it's really powerful being able to get that resolution," said Simons. "A lot of people that come to us want to pay what they legitimately owe."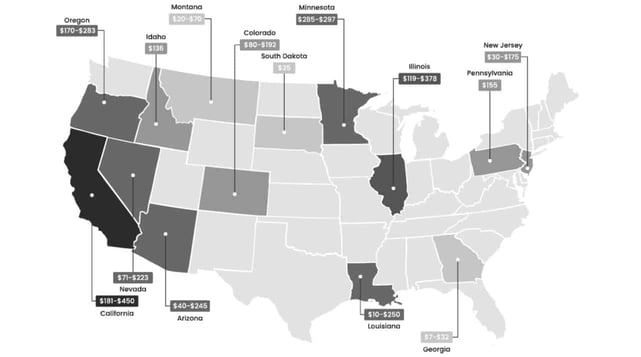 Simons said that the craziest thing he's observed is that courts charge defendants substantial filing fees just to respond to a lawsuit.
So in the state of California, if you're sued for debt of, for example $1,000, you have to pay $225 just to respond to the lawsuit. He said that about 25% of states charge this type of fee.
Debt Answer Helps Borrowers Respond to Complaints
Typically when someone receives a summons in the mail, they only have 14 to 30 days to respond, depending on the state. If they don't respond within the allotted time, they will automatically lose their case.
From that point, consumers may see their wages garnished up to a federal maximum of 25% from every paycheck until the debt is fulfilled.
The debt collector will also get a lien against the borrower's house, meaning that if, at some point in the future, the borrower sells their house, that debt will be paid first before the borrower gets any money from the sales proceeds.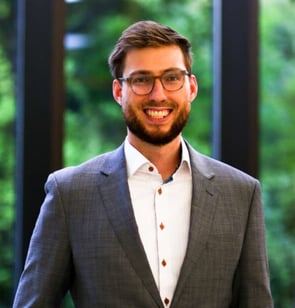 Based on its track record, SoloSuit's automation for debt response has proven to be a highly effective method for dealing with debt collection.
When people are faced with a summons, it can take considerable time to understand the best way to respond, which explains why only around 10% of borrowers who face a debt lawsuit are successful. But with SoloSuit's web app, users can respond to these lawsuits in about 15 minutes.
According to the company's research, when people use SoloSuit, the success rate increases to 70%.
In fact, many debt collectors will simply drop the case after receiving a response from SoloSuit. And it costs only a fraction of the price of a traditional attorney.
The process itself is fairly simple.
First, the customer will respond to a few questions about their case. Then SoloSuit will have a specialized attorney review the customer's documents. And lastly, SoloSuit completes the Answer document and files it with the court on behalf of the customer.
"The most common thing is that the complaint is filed and we found the answer. And then the lawsuit gets dismissed, meaning the collector will file for dismissal, and basically withdraws the lawsuit because the defendant has successfully increased their leverage and increased the cost of collecting," said Simons.
And it turns out that, according to Simons, many of SoloSuit's cases are for people who are unfairly being sued and whose cases should rightfully be dismissed.
SoloSettle Users Tend to Save Thousands of Dollars
Of course not every case ends up being dismissed. When an Answer document is successfully received and the person being charged does indeed owe the debt, the case can still be contested. But taking a settlement is the best way to resolve a debt.
Many collectors are willing to accept a smaller portion of the debt, even if the original amount is in the thousands. Once a settlement is agreed upon, the collector will present a settlement agreement, and the case will be concluded after the payment is made.
The company's SoloSettle system makes the process as smooth and convenient for the customer as possible.
After getting sued for a debt and filing an Answer document, the customer can use SoloSettle to make an offer to start the negotiation. After the customer and the collector agree to an amount, SoloSettle will arrange the payment.
In the end, customers can save thousands of dollars by settling the debt, and they no longer get bothered by the debt collector.
Some of the benefits of using the SoloSettle system is that the offer drafting is automated, customers only pay if a settlement is reached, and they have no direct contact with the collector.
"We find a lot of people want that outcome," said Simons.
"It fully resolves the debt, whereas if you get a dismissal, that isn't necessarily resolved. The lawsuit is done, but the debt still exists, and collectors can sometimes still try to collect outside of court."