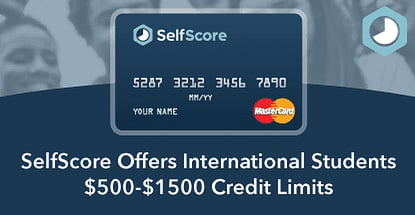 In a Nutshell: Twenty years ago, Kalpesh Kapadia was an international student at Carnegie Mellon struggling to build credit in a system that was utterly foreign to him. Feeling the frustration and confusion some students go through, he was inspired to create a solution. Kalpesh began SelfScore to fix a financial system that's often unfair to international students. The SelfScore MasterCard offers an intial credit line of up to $1500 with no annual fee and an easy sign-up process that any student can apply for online — no Social Security number, credit history, or taxpayer I.D. number necessary. This is a consumer-friendly card intended to give students from other countries a chance to prove themselves worthy of financing. //
Face bright with anticipation, a foreign student steps on campus for her first day of classes at a top-tier university in the U.S. She's worked her whole life to reach this promised land of academia. She's filled out all the paperwork, said goodbye to her family, and now seeks the opportunity to prove herself. She can't wait to get started.
Although she expects the U.S. to be a hospitable and fair place to get her education, in the world of finance, not all students are treated equally. Lacking credit history, a Social Security card, or a driver's license, international students have no way to prove their value as a responsible borrower when they arrive in the U.S.
Kalpesh Kapadia, CEO and Co-founder of SelfScore, knows this all too well. He was once an international student at Carnegie Mellon in Pittsburgh, and he experienced firsthand the struggles that foreign students encounter when trying to get a credit card, a loan, or even a Social Security number.
Driven to rectify these issues, Kalpesh set out on a mission to make credit more accessible to international students living in the U.S. Today, SelfScore offers up to $1500 in initial credit lines, requiring no Social Security number, taxpayer identification number, or credit check. You can apply online here for this student-oriented card.
In the '90s, Kalpesh Was a Student Struggling to Build Credit
Twenty-two years ago, Kalpesh arrived in the U.S. to get his education. At the time, he was unaware what a hard financial road he had ahead of him.
He experienced one headache after another as a financial consumer. When a credit error showed up on his credit report, for instance, he underwent a grueling process to get it fixed.
Caught in the red tape of a credit dispute, he saw how the bureaucratic system works against individuals (especially those unfamiliar with that system). It was a laborious process trying to untangle that knot of mistakes — none of which were his.
"It took a good 40 to 50 hours of my life to fix an error that was not any fault of my own," he says. " I had to pull my hair out to get someone to pay attention to it."
The way the U.S. financial system works, even seemingly responsible behaviors can harm a credit score. Kalpesh found this out when he canceled a credit card he was not using and was shocked to see his score go down. To keep others from going through what he did, SelfScore educates those new to credit about various financial pitfalls and obstacles.
"A whole host of young people are disadvantaged by the system," Kalpesh tells us. "As an immigrant who came here to study, I was top of my class, and I did everything right with good financial behaviors — but still I was penalized."
Today, the financial obstacles are even greater than when Kalpesh was in school because nowadays international students can't get a Social Security number unless they show proof of employment. This means international students are expected to work at least 20 hours a week on top of their schooling.
Even students able to keep up this heavy workload won't be able to secure such employment for a few months after arriving in the U.S. During that time, without a taxpayer identification card, these students cannot apply for a credit card or loan because they aren't in the system. This dramatically impacts their personal finances.
Putting the customer first, SelfScore focuses on a person's potential rather than payment risk, and gives international students a chance to establish a credit history, without a Social Security card.
A Misclassified Population: International Students Don't Get the Credit They Deserve
During our discussion, Kalpesh tells us more about who international students are and the dreams they hold in coming to the U.S.
China and India account for 45% of the total number of international students in U.S. higher education. At the graduate level, the population of international students is growing at a faster rate than the undergraduate population. California, Texas, New York, and Massachusetts are the top four states where these students go to complete their studies. Major U.S. universities benefit from welcoming such a diversity of hard-working students.
"Many people come here to study from other countries," SelfScore's CEO says, "flying thousands of miles away from home to make their life better, to get higher education from American universities — so they are very self-motivated people."
He describes the barriers that international students overcome to get here: applying for visas, scoring well on competitive exams, packing up their lives, and leaving their families in hopes of a better education. "And yet," he says, "when they land here, they are considered invisible."
Upon arrival, international students don't have a Social Security number or any credit history, and so these people don't exist within the financial system in the United States. Kalpesh explains that banks often ignore and misclassify this extremely qualified group of people — simply because they aren't in the traditional credit bureau system.
Looking out for student interests, SelfScore evaluates the financial potential of international students and offers creditworthy individuals an easier pathway to a solid credit history.
"Universities are the new Ellis Island. The motto used to be 'Give me your tired, your poor, and hungry,' — now the motto is 'Give me your doctors, engineers, and MBAs.'" Kalpesh explains, "I want to help these students get on equal footing with their American counterparts."
Three Ways to Measure a Student's Financial Potential
While American students benefit from the opportunity to receive a loan for their education, international students are excluded from that chance because they lack a credit file. Students from other countries getting their doctorate in the U.S. need a cosigner to apply for loans. To make credit available and help students, SelfScore came up with a creative assessment for a line of credit. And it only takes a moment to apply.
"It was surprisingly easy," says Wendy Y., a student at the University of San Francisco. "Usually I get a letter saying, 'Sorry we have to decline.' SelfScore approved me the next day."
SelfScore approves students based on three main criteria:
Identity Verification
Reliable Contact Information
Ability to Pay
When comparing its specialized rating to the consumer's actual FICO score, SelfScore found a 90% correlation. This accurate process gives students the credit they rightfully deserve. To apply, you will need a passport, a student visa, an I-20 form, or recent bank statement.
1. Identity Verification
A simple identity verification process results in instant pre-qualification or denial online. Instead of a driver's license or Social Security number, SelfScore asks for a passport or visa (which all international students should possess) to verify the person's identity. You can simply upload a picture of these relevant documents.
"So what if you don't have a Social Security number? I can look at other information and verify creditworthiness," Kalpesh says.
2. Reliable Contact Information
After checking your identity, the next step involves using an algorithm to find out how much your contact information has changed over time. This means tracking how frequently you move, change phone numbers, or switch email addresses.
With this stat, SelfScore is looking to see how easy it will be to contact you once you're a customer. Reliability and authenticity are key. Emails involving your name or tied to your university serve as favorable indicators of your trustworthiness.
3. Ability to Pay
SelfScore looks at an applicant's income and assets to judge the borrower's ability to make payments. An individual's income potential is also taken into account by evaluating what degree the student is getting at what institution. Students submit a bank statement and an I-20 form with the cost of their education and how that is being paid.
These factors together are weighed to come up with an accurate picture of the applicant's potential creditworthiness.
SelfScore MasterCard Gives Financing — With No Annual Fee
Getting approved for a line of credit is hard enough for young Americans, let alone those outside the U.S. financial system. Faced with a choice between a secured credit card or a debit card, international students have a difficult time building credit for loans, mortgages, and other major financial goals. Kalpesh wants to offer them a better option: the SelfScore MasterCard.
This card provides an alternative means of financing. SelfScore reports to two major credit bureaus, Experian and Transunion, so consumers can build up a credit history and expand their credit profile over time — without fronting their own money or undergoing a credit check.
"We want to do right by the consumer and grow that way," the Co-Founder says, "as opposed to making money off of fees."
SelfScore is run by a diverse and international team of 14 members, 5 board members, 3 advisors, and 5 summer interns. These are people who understand the plight of international students and the ways that banks rig the system to turn a profit.
Kalpesh and his team say they are in business to help students, not sap money from them with unnecessary maintenance fees or overly inhibitive restrictions. The SelfScore MasterCard comes with no annual fees, reasonable interest rates, and plenty of opportunity to grow.
A consumer-friendly and no-fee card, this MasterCard is a great asset for any newcomer to finances. "There's no annual fee, and one late fee is waived," Kalpesh explains. "We want to encourage good credit behavior and grow with you as a customer."
Making an Impact on the Lives of International Students
As a testament to its helpful services and resources, SelfScore has grown primarily through organic traffic and word-of-mouth. Hundreds of visitors come to the site every day, and SelfScore has taken in a few thousand applications in the last two months.
Even during the month of May, which is typically a seasonally slow month due to exams and graduation, SelfScore has been approving students at a steady clip — and not looking to slow down.
Students at hundreds of accredited U.S. universities are welcome to apply to this friendly lender. "We want to make it as broad as possible without diluting the quality of people that come," Kalpesh tells us.
Cautious against the possibility of first-payment default and fraud, SelfScore starts off most customers with a $500 credit limit and lets them build trust from there.
"Once you've established payment with us — by checks, debit card, by phone, or online — once we have that habit established to set up payment, then we're comfortable offering you a higher credit limit."
SelfScore makes a concerted effort to reach out to students by attending conferences for international educators, putting up booths during orientation weeks at colleges, and marketing its services on Facebook. Today, the lender has an active Facebook presence with almost 15,000 likes.
Further expanding its influence and reputation, this lender has set up an Ambassador Program of students speaking to students on campus, online, and at the occasional pizza party. SelfScore ambassadors earn rewards for every successful referral.
For those who are new to the U.S. (and new to credit), SelfScore also provides valuable tips and educational articles that raise awareness on important financial topics like student loans, late payments, and the cost of education.
Combating misinformation, the site is a valuable resource for students who want to learn more about credit in the U.S.
"These are highly educated people," the CEO says about his target audience. "They are sophisticated in finance. Many of them have math degrees, a background in engineering or business, so we want to offer them the best product possible."
SelfScore Opens the Door to Better Finances in the U.S.
Kalpesh has deep empathy for international students struggling to maintain good credit profiles, because he himself has been denied credit, has disputed credit report mistakes, and has experienced the inequity of the U.S. financial system. But that was in the past.
Now, backed by SelfScore, an international students attending an American university will find themselves able to apply for a line of credit right away. There's no need to wait on a Social Security number or a barrage of paperwork anymore. With easy approval and no annual fee, the SelfScore MasterCard welcomes newcomers to this land of opportunity.
"These people have no credit files — they're new to the country, new to credit," Kalpesh says. "We want to help these students. We want to make credit available to them."
Advertiser Disclosure
CardRates.com is a free online resource that offers valuable content and comparison services to users. To keep this resource 100% free, we receive compensation for referrals for many of the offers listed on the site. Along with key review factors, this compensation may impact how and where products appear across CardRates.com (including, for example, the order in which they appear). CardRates.com does not include the entire universe of available offers. Editorial opinions expressed on the site are strictly our own and are not provided, endorsed, or approved by advertisers.