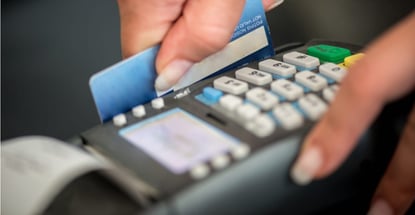 As you search for the best $500-$1000 limit credit cards, you should know a few things. For starters, an unsecured credit card will not allow you to choose your credit limit, which means you aren't guaranteed to get a credit line of between $500 and $1,000.
Also, just about every credit card company has minimum and maximum credit limits on the cards they offer. While a card issuer may not publicize these numbers, a little internet sleuthing can give you a good idea of where your initial credit limit may land.
To make your task a bit easier, we've done all the investigative work for you. Below is our list of the best $500-$1000 limit credit cards — with an idea of where each card issuer sets its minimum credit limit for new cardholders.
Best $500-$1000 Limit Credit Cards For Fair Credit
If you have fair credit (a credit score of between 580 and 669), several credit cards are available to you that aren't on the table for consumers who have bad credit. Not only will you see a better interest rate and credit line when compared with applicants who have a score of below 580, but you may also earn reward dollars or bonus points for your eligible purchases.
The Capital One Platinum Credit Card has a minimum credit limit of $300 for new cardholders. But according to the myFICO® Forums, many new members report receiving credit limits in the $500 to $1,000 range, despite having a fair credit score.
This card offers a perfect opportunity to get your foot in the door with a great credit card company in Capital One. As a major card issuer that maintains a large portfolio of credit card options, you can use this card to improve your credit history and eventually upgrade to an even better card.
While it's hard to find a definitive minimum credit line for the Capital One QuicksilverOne Cash Rewards Credit Card, cardholders on myFICO® Forums report receiving an initial $1,000 credit limit only three months after a discharged bankruptcy case.
This card comes with a nominal annual fee, but you can offset that cost by earning cash back on everyday purchases. With responsible use, you may be eligible to upgrade to a better card within the issuer's portfolio, such as the Capital One Quicksilver Cash Rewards Credit Card that offers similar rewards with no annual fee.
American Express isn't typically known for offering financial products to those who have a fair credit score, but the More Rewards American Express® Credit Card states that it considers applications from consumers who have average to excellent credit.
Amex is pretty tight-lipped about its minimum and maximum credit limits, but some applicants report receiving as much as $20,000 in credit when they apply for this card. Along the way, you'll earn bonus points on eligible purchases that you can redeem for cash, travel, gift cards, and merchandise.
Best $500-$1000 Limit Credit Cards For Bad Credit
Having a bad credit score doesn't have to be a financial death sentence. Banks understand that mistakes happen, and there is more than one card issuer out there specializing in helping consumers with a poor credit history work toward achieving good credit. 
The Surge® Platinum Mastercard® is an unsecured card that offers new cardholders an initial credit line of between $300 and $1,000. The amount of credit you receive is based on your credit report and other information collected from a credit bureau — including your credit utilization and payment history with any credit card account or installment loan you currently have.
The Surge® Platinum Mastercard® is a popular option for customers with poor credit who want to build credit. It tends to offer a higher initial credit limit compared with other unsecured credit card offerings for bad credit.
The Merrick Bank Double Your Line® Mastercard® can offer a sizable credit line for qualified applicants. This starts with an initial spending limit of between $550 and $1,350. Once you establish your credit card account, you may be eligible for a credit limit increase that boosts your spending power to between $1,100 and $2,700.
You can qualify for the credit limit increase after you make at least your minimum payment, with no late payments, during your first seven billing cycles with the card. During that time — and for as long as you maintain your account — Merrick will report your payment and balance history to all of the major credit bureaus, which can help you build credit over time.
The Reflex® Platinum Mastercard® offers initial credit limits of between $300 and $1,000, based on your credit report, and can help you build credit quickly while providing free access to your monthly Vantage 3.0 credit score from TransUnion (one of the three major credit bureaus).
You can also easily schedule online payments through a checking account or savings account with any bank or credit union. This processes your payments faster and eliminates the need to send in a check or money order.
Best $500-$1000 Limit Credit Cards For Students
Students have a lot of numbers to worry about. Between their GPA, their student aid, and the score of this weekend's football game, they often forget to consider their credit score. But with the options below, they can score access to an unsecured card that won't require a security deposit and allows them to build credit for life after graduation.
The Discover it® Student Cash Back seems to offer reasonably generous credit limits to new members. According to cardholders on the myFICO® Forums, many applicants who prequalify with the card issuer receive initial credit lines of between $1,000 and $2,000.
One applicant who was initially rejected during the online application process received the card and a $500 credit limit after contacting Discover and asking the bank to reconsider its decision. You may even qualify for a low-APR balance transfer offer. 
According to cardholder reports, the Discover it® Student chrome has similar credit limits to its Discover it® Student Cash Back sibling card listed above. The cash back structure is a bit different for this card, but it still offers more cash back than comparable student cards.
You can redeem your rewards for cash in any amount, your cash back never expires, and you can use your rewards instantly at Amazon.com checkout or when you pay with your PayPal account.
You can't go wrong with any card in the Chase Freedom line. If you're just starting out as a student, the Chase Freedom® Student credit card provides a tremendous opportunity to get your foot in the door with a sought-after card issuer that offers high-end rewards for its cardholders.
According to NerdWallet reviews, this card starts qualified applicants out with a credit line of between $500 and $2,000. And they can earn a potential credit limit increase after making five monthly payments on time within 10 months of opening an account.
How Can I Get a Credit Card With a $1,000 Limit?
There are two ways to qualify for a credit card with a $1,000 credit limit. The first is to find an unsecured card that offers higher initial credit limits and accepts your current credit score. You can attempt to prequalify or apply for that card online and see if you receive the credit limit you desire.
The other option is to select a secured credit card, which requires a deposit for approval. Your card issuer will base your secured card credit limit on the amount of your refundable security deposit — and you may not even need a credit check to qualify.
For example, you can place a $1,000 security deposit with your card issuer to receive a secured credit card with a $1,000 credit limit. You can use your card as you would an unsecured card and you'll still enjoy a revolving line of credit, and the card issuer will report payment and balance history to each credit bureau to help you build credit.

The bank or credit union that issues your card will refund your deposit when you cancel or upgrade your card account — as long as you have no outstanding debts tied to the account.
While a secured card has more upfront costs when compared with an unsecured card that doesn't require a security deposit, it's the easiest way to guarantee you'll receive a $1,000 credit limit.
If you have good credit or excellent credit and a stable income, you'll likely have little trouble finding a card that offers a four-figure credit line. On the other hand, someone who has poor credit may have limited options and may have to start with a lower credit line that increases to $1,000 or more after receiving a credit limit increase.
How Does a Credit Card Company Decide My Credit Limit?
Every card issuer has different ways to determine an applicant's creditworthiness. Banks spend millions of dollars each year refining their algorithms to make sure they're attracting new customers while minimizing the risks associated with extending credit to high-risk borrowers.
While there's no way to know exactly how much credit a bank will offer you with a new credit card, several factors can improve your odds of a higher spending limit before you apply for your next card:
Your income: The more you make, the more you can afford to repay. That means a larger credit limit and possibly a lower variable APR. Remember that you can include several forms of income on your application, including child support, alimony, retirement accounts, investment accounts, structured settlements, annuities, rental property profits, and other streams of income.
Your credit utilization rate: You calculate your credit utilization rate by dividing your current credit card debt by your overall credit limit. For example, a card with a $500 credit limit and a $250 balance has a 50% credit utilization rate. This means you're using 50% of your available credit. A good utilization ratio is below 30%.
Your employment status: Being employed boosts your chances of getting a higher credit limit, but the bank will also look at how long you've been employed with your current job. Stability is important in the financial world. If you move from job to job, the bank may see you as a risk.
Your payment history: Credit card issuers don't like to take on risk. Any recent late payments on your credit history may jeopardize your approval chances. At the very least, a bank may start you with a lower credit limit until you demonstrate that you can manage your credit responsibly.
These aren't the only factors banks consider when determining your initial credit line, but they're important starting points.
Just remember that your current credit line isn't written in stone. With on-time payments and responsible behavior, you may qualify for regular credit limit increases that can raise your spending power well above your current goals.
Can I Negotiate My Credit Card Limit?
Most credit card issuers dictate the credit limits they offer based on information collected from your credit history and other qualifying factors. But there are times in which you can negotiate your credit line with the bank.
Just about every credit card company will allow you to request a lower credit limit that will take effect immediately. You may do this if you wish to limit the temptation to spend or if you want to set a monthly budget for your card.
But you can also contact your card issuer to ask for a higher credit limit. While this isn't a guaranteed method to increase your spending power, it sometimes works.
If you want to improve your chances of success, consider taking one of these approaches when entering negotiations.
Lean on your relationship: Bring up any positive history you may have with the bank or credit union that issues the card, such as having been a customer or member for several years.
Consider the competition: Card issuers are in the business of making money — and they can't do that if you take your business to another bank. Research other card issuers and see if you can leverage their higher potential card limits to entice the bank to increase your offer.
Accept automatic payments: Some banks will offer you better perks — possibly including an improved credit line — if you agree to automatic payments. This program schedules an automatic deduction of your payment from a linked checking account, savings account, debit card, or another bank account on a set day each month. Note that you cannot schedule automatic payments from a prepaid card or a prepaid gift card.
Upgrade your card: The card you applied for may not be the best card for your financial situation. Ask a bank representative if you may qualify for a better card that offers higher initial credit limits.
While these methods aren't guaranteed to bring you higher credit lines, they're a starting point in negotiations that could lead to you getting what you want out of your new credit card. 
Just be sure that you're cordial with any bank representative you talk to. After all, they are far more willing to help you out if you're pleasant.
How Can I Request a Credit Line Increase?
Banks make it reasonably easy for you to request a credit limit increase in a matter of minutes and receive a near-instant decision.
Most major card issuers — including Capital One, Chase, Discover, and Citi — provide ways to submit your request online at any time of the day or night. This can happen through the bank's website or on its mobile application.
In many cases, you'll find a "Request Credit Limit Increase" link on the site's navigation panel, typically under your account settings.
The bank will likely ask you to provide your current income and expenses when submitting an online request. This will include your current monthly rent or mortgage payment amount. Some banks will allow you to request a specific increase amount, though that request isn't guaranteed.
Once you submit your request, the bank's automated systems will process your form within a matter of seconds and deliver a decision soon after.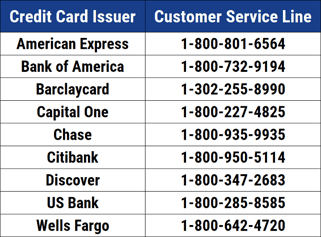 You can also call your card's customer service hotline (a number typically printed on the back of your card) and speak to a bank representative to request a credit limit increase. The rep will likely ask the same questions you'll see through the online form and can also provide a near-instant credit decision.
In either case, qualified applicants will gain access to an extended credit line as soon as the bank grants the request.
If you're not approved, your credit limit will remain unchanged, and you'll receive an adverse action notice in the mail within seven to 10 business days that explains why the bank rejected your request.
Banks will typically consider credit limit increases every six months for existing cardholders. Some card issuers — most prominently Capital One — will routinely monitor accounts and grant automatic credit limit increases to anyone who qualifies.
When this happens, you'll get an automatic boost to your credit line and an email that explains the change. You won't have to apply for the increase, and the change will cost you nothing.
Can I Get a Credit Card With Bad Credit?
While your credit history may affect your potential credit limit, interest rate, and annual fee structure, it won't necessarily affect your overall ability to qualify for a credit card. After all, there are hundreds of credit cards on the market for just about every credit score demographic.
This includes our top-rated credit cards for bad credit. The card issuers specifically designed these cards to act as a tool for improving your credit score with responsible behavior. Just know that they aren't always cheap.
Banks try to avoid risk as much as possible — and in the financial world, no one is as risky as a consumer who has bad credit. That's why some card issuers won't work with someone who has bad credit.
Those institutions that will consider bad credit applications will increase the cost of the cards to offset the risks associated with the accounts. This is especially true with unsecured credit cards that don't require a security deposit.
If you default on an unsecured card, the bank has little recourse for getting its money back. At best, it can sell your debt to a collection agency for pennies on the dollar — which can result in a big loss for the bank.
That's why most banks start bad credit applicants off with a low credit score until they prove their responsibility. After all, a default on a $350 balance hurts much less than someone skipping out on a $10,000 debt.
A bank will likely also charge a higher interest rate and setup fee or an annual fee to offset its losses in the case of default. Unfortunately, that means you'll have to pay more to overcome your credit score. 
But with on-time payments and a low balance, you can improve your credit score and expand your credit card options to find a more affordable product to add to your wallet.
Just remember to stay disciplined throughout your credit-building journey. You can spend years maintaining a great credit track record and lose it all with a single late payment. 
How Can I Build My Credit With a $500 Limit?
You can build credit with any credit limit, though smaller credit lines may require a little more discipline and strategy.
Your credit card issuer will report your payment and balance history to at least one credit bureau every month. This information is vital in updating your credit profile and calculating your credit score.
When you make on-time payments and keep your balance low, you'll add positive information to your credit report each month. Over time, this data will push older, negative information further down your history and lessen its influence on your credit score.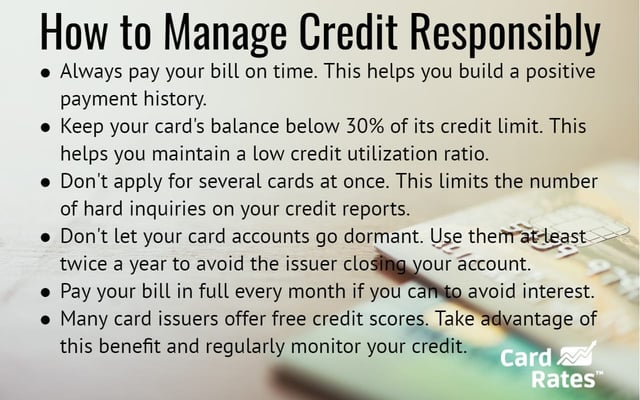 Making on-time payments may seem like a no-brainer to improve your credit score, but maintaining a low balance on your credit cards is just as important in the eyes of lenders. After all, a low balance means a low credit utilization.
But having a lower credit limit, such as $500, makes it very easy to carry a large balance and a resulting high credit utilization ratio. After all, a small balance of just $150 puts you at the 30% threshold. 
That's why it's vital to pay as much of your credit card balance as you can each month. You never know when an emergency will pop up that requires you to apply for a small personal loan to cover expenses. If you're carrying a credit card balance at that time, it could throw off your utilization rate and make it harder to find the loan you need.
Find the Best $500-$1000 Limit Credit Cards Online
Whether you have poor credit, fair credit, or an excellent credit score, you should always have the opportunity to manage the credit limit you need to live your life how you choose.
But depending on your credit history, you may find that banks only want to offer you small lines of credit — if any at all. According to our research, the card issuers listed above will consider your application with poor, fair, or no credit, and they offer some of the best $500-$1000 limit credit cards on the market.
With these cards, you can build credit and develop a relationship with a card issuer that may lead to card upgrades, a credit limit increase, or other perks that reward you for your financial responsibility and loyalty.
And, most importantly, these cards will help expand your financial freedom and allow you to provide for yourself and your family in ways that you may not currently be able to. Consider these cards as your passport to the fresh financial start that you deserve.
Advertiser Disclosure
CardRates.com is a free online resource that offers valuable content and comparison services to users. To keep this resource 100% free, we receive compensation for referrals for many of the offers listed on the site. Along with key review factors, this compensation may impact how and where products appear across CardRates.com (including, for example, the order in which they appear). CardRates.com does not include the entire universe of available offers. Editorial opinions expressed on the site are strictly our own and are not provided, endorsed, or approved by advertisers.