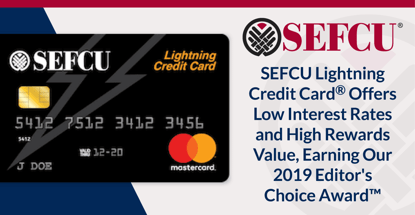 In a Nutshell: Credit unions are challenged to design credit products that compete with those from the biggest players in financial services. In Upstate New York, SEFCU takes a data-driven approach to understanding the financial needs of its members while deeply committing itself to the credit union mission of community service. With its SEFCU Lightning Credit Card®, a compelling low-interest, high-rewards product that returns money to cardholders in categories where they spend the most, SEFCU hits the service mark, earning our 2019 Editor's Choice Award™.
SEFCU serves more than 360,000 credit union members in Upstate New York. An Albany Times-Union reader survey has named it the best bank or credit union in New York's Capital Region every year since 2007.
"SEFCU again — now for a dozen years — tops this list, which garners thousands of votes each year," wrote the Times-Union in 2018. Perhaps one reason the credit union has won the award so consistently is because it's become a great home for managers and associates who want to do good things.
"SEFCU takes the credit union mission very seriously," Chief Performance and Innovation Officer Peter Wohl said. "My background is in public policy, so to think that I would someday work for a financial institution. If you had asked me 10-15 years ago, I would have said, 'I can't see that in the cards.' But I think SEFCU's dedication to the community it serves puts it in the forefront."
Without the impetus of resources, however, all the hope in the world doesn't amount to much. SEFCU builds its mission on a foundation of carefully designed, appealing products.
The SEFCU Lightning Credit Card® is a prime example — its combination of low rates and high rewards in practical spending categories makes it a great choice for members looking to use credit to their benefit every day. And that combination has earned it our 2019 Editor's Choice Award™.
A Low-Interest Rewards Package Built with SEFCU's Members in Mind
Founded in 1934 as a credit cooperative for New York state employees, SEFCU now serves everyone who lives, works, learns, worships, or volunteers in Upstate New York around Albany, Binghamton, Buffalo, and Syracuse. Members transact with the credit union via a state-of-the-art website, mobile app, and in person at one of its 51 branches.
Although much has changed over the years at SEFCU and in its communities, the credit union's commitment to low-interest credit products hasn't — generations of members have relied on SEFCU to give them a fair shake at using credit to build a better life. The SEFCU Lightning Credit Card® continues that tradition.
"We've always had low interest rates," Wohl told us. "The philosophy behind the SEFCU Lightning Credit Card® is what else can we offer while keeping interest rates as low as possible."
The result is a product carrying no annual fee and no balance transfer fees along with 3% cash back rewards on gas purchases and 2% on groceries up to a $1,250 quarterly spend in each category. Rewards of 1% on all other purchases and any purchases that exceed the quarterly cap round out a package that appeals to families and young professionals as well as seniors.
Wohl said the rewards package is partly a product of circumstance.
"Here [Upstate New York], the high-spend categories are generally everyday items, including gas, groceries, and things of that nature. So, we wanted to reward folks for that," he explained.
Data-Driven Design Process to Retain Loyal Members and Draw New Ones
Like all credit unions, SEFCU competes not just with local alternatives but essentially with every credit provider in the marketplace. That perspective informed the design process for the SEFCU Lightning Credit Card®.
"Our competition is not local or regional, it's what people have in their wallets," Wohl said.
To improve upon the Lightning Card, SEFCU transitioned from Visa to Mastercard after considering the benefits associated with different Mastercard options. It then gathered information to assess the wants and needs in SEFCU's service area credit market.
"We went through a formal design process where we did an environmental industry scan, worked with some consultants to identify best practices, and then tried to incorporate what we could that made financial sense in order to offer something that not only appealed to our loyal members, but also to folks who were not currently members," Wohl said. "We wanted to see what was out there, not just what our local competitors were offering."
"Our competition is not local or regional, it's what people have in their wallets."

— Peter Wohl, SEFCU Chief Performance and Innovation Officer
Ongoing data governing product design and rewards come from outside providers as well as SEFCU.
"Where we can rely on vendors, we do, but we supplement that information with data from our in-house group, where we do some analytics and try to be predictive where possible," Wohl said.
The numbers continue to support the soundness of SEFCU's original decision-making regarding the rewards strategy for the SEFCU Lightning Credit Card®. "Everyday spend categories were the ones that popped up most with us," Wohl said. "And although nothing indicates that those trends have changed much, we do monitor them on an ongoing basis."
The result is a rewards portfolio for the SEFCU Lightning Credit Card® that falls squarely in the wheelhouse of what its members and prospects in SEFCU's service area can benefit from most.
SEFCU: Leading by Example & Living the Credit Union Mission
SEFCU hesitated to put a lot of promotional energy into its unsecured loan products until the creation of the SEFCU Lightning Credit Card®.
"Not having the data we have available to us today, we didn't know if it was best," Wohl said. "We were fairly careful because we never want to sell people a product that could worsen their financial situation. That's not who we are."
Data has revealed, as Wohl put it, that "this is a product people want."
As successful as the SEFCU Lightning Credit Card® has been, however, it's only part of the picture at SEFCU. It could even be said that the card produces some of the fuel powering the institution's larger mission.

"We're incredibly involved in our communities," Wohl said. "We give back between 20% and 25% of our income. Having worked management positions in the private, public, and nonprofit sectors, I've never felt more engaged in the community than I do working at SEFCU."
Organizations in need of funding or volunteer assistance can find request forms ready and waiting on the SEFCU website. SEFCU's elective Giving for Good program automatically transfers a minimum of $1 per month from a member account to area charities. Some SEFCU giving initiatives, like the Holiday Sharing Program, stretch back decades and have become community traditions.
In addition to its community and volunteer engagement work, SEFCU also offers educational resources for individuals and organizations.
"In the areas we serve and beyond, we're providing all sorts of educational content around financial responsibility and well-being," Wohl said. This March, in fact, the Credit Union National Association recognized SEFCU with its Desjardins National Award for its commitment to youth financial literacy.
"I think we're just a phenomenal institution, and I would love to see more institutions take on our model," Wohl said. "We hope to lead by example in being everything credit unions were supposed to be when, years ago, the movement created them."
Advertiser Disclosure
CardRates.com is a free online resource that offers valuable content and comparison services to users. To keep this resource 100% free, we receive compensation for referrals for many of the offers listed on the site. Along with key review factors, this compensation may impact how and where products appear across CardRates.com (including, for example, the order in which they appear). CardRates.com does not include the entire universe of available offers. Editorial opinions expressed on the site are strictly our own and are not provided, endorsed, or approved by advertisers.