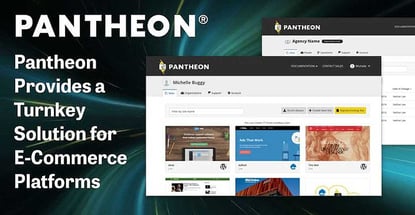 In a Nutshell: With so many options available, companies may have a difficult time determining where to turn for their web hosting needs. While some catch-all web hosting services provide the basics, services like Pantheon set companies up for success with a speedy and highly scalable infrastructure. Pantheon emphasizes security and maximum uptime and works to understand the unique needs of its clients, which allows companies to focus on sales and not worry about technical issues. And, in the event that any issues arise, Pantheon prioritizes customer service with 24/7 support and multiple support conduits available to clients.
When Donald Trump was elected president of the United States, many Americans, various civil rights groups, and other organizations stood poised to oppose any human rights violations that would result from the administration's actions.
So, the American Civil Liberties Union (ACLU) was prepared when — just a week after taking office — Trump enacted a travel ban that barred citizens from seven predominantly Muslim countries — including Syrian refugees — from entering the U.S.
Over the course of 48 hours following the travel ban, the ACLU received more than $24 million in online donations, according to The New York Times, almost seven times more than it had received in all of 2015. The ACLU website also received 8,500% of its normal traffic volume during that time.
The ACLU worked hard to position itself as an organization through which Americans could oppose what many viewed as harsh policies. But, there's a good chance it wouldn't have been able to reach such impressive numbers without its web hosting service, Pantheon.
Before it enlisted Pantheon, the ACLU had struggled to maintain a smooth online experience under normal web traffic. A huge spike like the one that occurred over that January weekend would have likely taken the site down, and the organization would have lost out on millions of dollars in donations.
Josh Koenig, Co-Founder and Head of Product at Pantheon, said he's seen it happen before with other companies that weren't prepared. And, that is why it is crucial for businesses that depend on monetary transactions for profit or funding to have the right e-commerce solutions in place.
"It was a huge success for the ACLU to be able to move that quickly and capture the energy of the moment," Koenig said, "and for us to be a part of that story — as a platform that was able to support them in making some quick changes and handling the surge of traffic in stride."
Reliable Hosting Plays a Key Role in E-Commerce Success
Koenig said partnering with a quality web hosting service can be crucial to a company's success, as the ACLU case demonstrated.
"As a company, you want to choose a host that knows something about your use case and the world you inhabit," he said. "If you go to one of the generic, one-size-fits-all hosting services, they don't really know or care about your specific case, and they don't add much value."
He said companies can get into a cycle of minimizing expenditures in every possible way, which could include using a cheaper web host to save tens of dollars a month.
"The people making these decisions don't realize how that perceived cost savings is impacting their profits significantly," Koenig said. He compared it to a brick-and-mortar store that has a front door to the business that opens very slowly and can only let one customer in at a time. "It just doesn't make sense," he said.
That also leads to the scalability consideration, he said. Many businesses can't afford to miss that big opportunity that comes with a bump in traffic due to a moment of notability, so it is important for them to be certain their host can support an increase in volume.
Another huge consideration for any business with an online presence, and particularly one that relies on e-commerce, is how quickly a page loads.
"The abandonment rate is 30% if a user doesn't see content within the first second of clicking a link," Koenig said. "We can all relate to that. You click onto a page and if you don't see something immediately, you get bored and move on to the next thing."
Pantheon Provides Optimized Speed, Security, and Uptime so Companies Can Focus on Sales
"Pantheon is a really great suite of value propositions for people or businesses that are really looking to drive conversions and drive sales online," Koenig said.
The company provides an alternate approach to the set of problems web hosting traditionally solves, he said. The standard in the world of web hosting is that a company will receive shared space on a server, a dedicated server, or some combination of servers.
"Our approach is really different," Koenig said. "We start with looking at the applications you need to run. We support WordPress and Drupal — the world's two leading content management systems — and deliver this in a serverless-type of way."
He said companies that employ Pantheon essentially don't ever have to worry about servers ever again.
"We deliver the platform on demand," Koenig said. "It's a turnkey solution — it just works."
Koenig said within e-commerce, Pantheon focuses on three components that are extremely important.
He said, first, the company makes sure that every website that is powered by Pantheon has very high performance rates from a UX standpoint.
"There is an endless array of studies that correlate the time you wait for your experience to the likelihood of abandoning it," Koenig said. "When your experience is getting someone to put something in a shopping cart and finalizing the transaction, that speed directly ties to your revenue."
He said the next important component is how Pantheon addresses scalability. Where servers are a finite resource Pantheon is excellent at handling sudden increases in visitors and transactions due to a viral spike in traffic or a successful promotion.
"We maintain the high performance of your website through those types of internet scale traffic events," Koenig said. "It's really about a one-two punch of high speed performance and high scalability. You need both if you're serious about operating an e-commerce front."
And, finally, Pantheon is designed to support rapid iteration in what the company calls an agile process, he said.
"You can quickly design, launch, and optimize campaigns to boost performance and accelerate growth," according to the Pantheon website.
Koenig said that this means the platform lets clients iterate on the whole experience.
"What is the user experience around product discovery? What is the checkout flow? When do you introduce the notion of an upsale?" he asked. "These are things that need to be managed at the code level, and Pantheon suggests rapid iteration on that range of functionality and design."
Pantheon's Priority on Quality Customer Support Puts Site Owners at Ease
Koenig said Pantheon strives to provide top-level customer service, which includes handling security considerations as well as quick and thorough customer support.
"We handle everything from a security standpoint, so our customers don't have to worry about it," he said. "They don't have to be concerned with keeping their stack up to date or who has access to their website."
He said, Pantheon also lets customers migrate a copy of their website to Pantheon where they can test it out for free. The company also provides migration support for more complex sites. Once a company decides it wants to move forward with Pantheon, then it pays for the site, which is often already migrated and ready to go.
"We work with a lot of leading digital agencies, and design and development firms that maintain large client bases," Koenig said. "They like this function because they can show their work to a client without having to pay for it up front."
For its general customer support, Koenig said Pantheon offers chat support and can submit support tickets. In general, the company tries to solve any customer problems before a ticket is necessary.
"No robots, no canned responses — real developers and engineers staff our support team," according to the Pantheon website. "These Drupal and WordPress experts are always on deck to quickly identify root causes and recommend solutions."
Koenig said Pantheon offers an option for even more in-depth support for its largest clients.
"Those customers have the option to call directly into our system, which offers a slightly faster turnaround time," he said. "It's like the Batphone to Pantheon."
New Tools Planned for the New Year
Koenig said Pantheon has some exciting developments planned for 2019.
"We have a disaster recovery feature that we are currently piloting, and we will launch publicly next year," he said. "If the bane of every web host's existence happens, like a natural disaster that causes a power failure, we can safeguard websites and distribute them to multiple availability zones."
The company does this through the availability to reach a rich network of data centers across the world.
"It's an unlikely event, but there are some organizations that can't live without this kind of insurance," he said.
Additionally, Pantheon plans to add tools that will allow users to work locally on their desktops or laptops when they are offline, save their changes, and apply them to their website at a later time once they are reconnected.
Advertiser Disclosure
CardRates.com is a free online resource that offers valuable content and comparison services to users. To keep this resource 100% free, we receive compensation for referrals for many of the offers listed on the site. Along with key review factors, this compensation may impact how and where products appear across CardRates.com (including, for example, the order in which they appear). CardRates.com does not include the entire universe of available offers. Editorial opinions expressed on the site are strictly our own and are not provided, endorsed, or approved by advertisers.