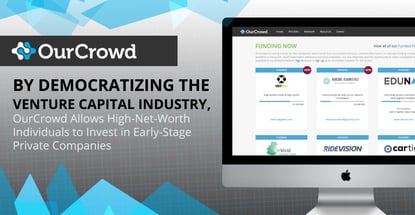 In a Nutshell: OurCrowd allows individual investors to pool their money and make large venture capital investments in startups. More than $1 billion in committments has been received to date and over 170 companies and 18 funds have been invested in since inception  — including early investments in Beyond Meat's recent IPO and the bike-sharing company Jump, which was later purchased for more than $200 million by Uber. Investing through OurCrowd helps democratize angel investing by enabling individual investors to secure preferred shares in private companies that typically only go to the wealthiest investors.
Investing is a fundamental component of building wealth. For decades, consumers around the globe have used their capital to help fund a company's growth, while reaping the financial benefits of that growth to increase their own net worth.
But investing today is nothing like the stock-buying adventures experienced by our grandparents. In many cases, by the time a company goes public with an IPO, the opportunities for truly explosive profits have passed.
Getting in during a company's early ascent can be nearly impossible for most small investors. The global venture capital community wields big money financing. Approximately 14 million U.S. households are eligible to be accredited investors — meaning they have $1 million or more in invested capital outside of their primary dwelling and an annual income of at least $200,000 ($300,000 for joint filers).
But only 1% to 2% of those people have made a venture capital investment or a direct angel investment in a company. Venture capitalists can provide seed money for high-risk startups in exchange for stock ownership in the company. OurCrowd is making it easier for more investors to enter the venture capital investing world.
OurCrowd is an easier way to invest in startup companies before they go public or are acquired by a larger firm. To date, more than 30,000 investors from 180 countries have pooled their investments to become part of the venture capital community.
"Everybody today is coming around to the conclusion that if you wait until Uber or Lyft goes public, or any of these other companies that are coming up, you've waited perhaps unnecessarily too long," said Jonathan Medved, Founder & CEO of OurCrowd. "The smart money is trying to figure out how to invest in these fast-growing companies while they're still private."
Since its introduction to the investment space six years ago, OurCrowd has accumulated around $1 billion in committed funding and invested in 170 companies and 18 funds. Each week, the firm adds new investment opportunities to its website.
Investors can browse these opportunities for free. The only time you pay a fee with OurCrowd is when you invest.
"The number of people or firms who have been able to get into the venture capital world are relatively small," Medved said. "And it's mostly an interlocking directory, if you will. It runs around in Silicon Valley, and there are parts of it in Israel. There are similar circles in China. But even the vast majority of truly rich people have no access to this."
The reason for the exclusivity is that venture capital investments are typically big-ticket items. Truly meaningful investments — the kind that gets you access to the company's board of directors and other vital information — can cost around $10 million.
But when you pool several hundred investors together, as OurCrowd has done, the possibilities and profits can be endless.
Register as an Accredited Investor to Get Started
The minimum investment in a company through OurCrowd is $10,000 and the minimum to invest in venture capital funds is $50,000. Individual investors in the U.S. must have an annual income of $200,000 for the past two years, $300,000 if filing jointly, and $1 million in assets to become an accredited investor on OurCrowd.
OurCrowd aggregates all of the individual investments to form one large investment. This gives the investors greater benefits that startups typically only provide to major investors.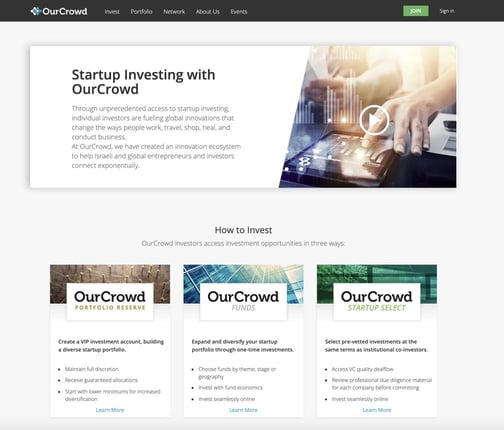 These benefits include preferred shares that come with a liquidation preference that requires these exclusive shareholders get paid back first in both good and bad times. Investors also receive anti-dilution protection, which protects an investor from equity dilution if the company's stock is later sold at a lower price than the investor originally paid.
"When we invest in a company, we're essentially doing it through a single company venture capital fund," Medved said. "So, rather than you being a small fry with $10,000 on a company's cap table with no rights, representation, or information, you actually join in on a real venture fund managed by OurCrowd as the GP, or general partner."
These larger investments also give OurCrowd investors pre-emptive rights, as well as a say on the company's board of directors. OurCrowd manages those rights as part of the management fee investors pay when they enter a pool. These rights are very important because investing in a startup is vastly different than buying public shares from a stock exchange.
"One big difference between investing in private companies and investing in a big public company is that the private companies have no requirement to report information," Medved said. "If you don't have anybody there watching your investment and representing your interests, as well as helping to guide and add value to the company, you're really missing the whole point."
Successful Track Record Includes Beyond Meat, Jump
Fewer words are sweeter to an OurCrowd investor than exit.
We often hear about companies being acquired by larger multinational corporations for billions of dollars. Other successful startups take the route of going public and offering shares on global stock exchanges. What doesn't get reported is how early investors in these companies reap the benefits when these companies exit the private space. OurCrowd experienced 11 such exits in 2018 and expects to beat that record in 2019.
"We participated as a private investor in Beyond Meat before it went to IPO," Medved said. "That's looking like it could be the best IPO of the year, and maybe the last decade. We got in on the last round of funding, just before the IPO, as a private investor."
Prior to the IPO, Beyond Meat was bolstered by private investments by the likes of Bill Gates and Leonardo DiCaprio.
Between April and May of 2019, three of OurCrowd's investments — travel services provider Klook, insurance crowdfunder Lemonade, and weather prediction service ClimaCell — received additional funding from Venture Capital giant SoftBank.
"We also sold a bike-sharing company called Jump a little over a year ago to Uber for $200 million," Medved said. "We got paid partially in cash and the rest in Uber shares that helped us participate in the Uber IPO."
And, as Uber became one of the most anticipated IPOs in recent memory, OurCrowd investors had a front-row seat to the excitement. But even as shares of the ride-sharing company took an up-and-down roller coaster ride, the early investors continued to reap profits since they got in at a much lower price point.
"People are reading about all of these investors who made a killing with Uber," Medved said. "They could have gotten involved by investing in our bike-sharing company and earned Uber shares that way"
Investing in Companies that Invest in the Greater Good
If you've been following along, you likely see a trend with the companies OurCrowd chooses to invest in. Vegan food options, ridesharing companies, electric bikes, weather prediction — they're all a part of the firm's overall plan to invest in startups that serve a greater purpose to the world.
"We believe strongly that technology can be used as a force for good," Medved said. "Technology can tackle a lot of the global challenges facing the planet, whether it's hunger, healthcare, education, or financial inclusion."
To further the cause, OurCrowd joined Tmura — Israel's Public Service Venture Fund — to put more money into companies serving the greater good.
"We found that the social good resonates well with our investor base," Medved said. "We've become strong proponents of the double-bottom line — where you both do good and make money at the same time without sacrificing one for the other."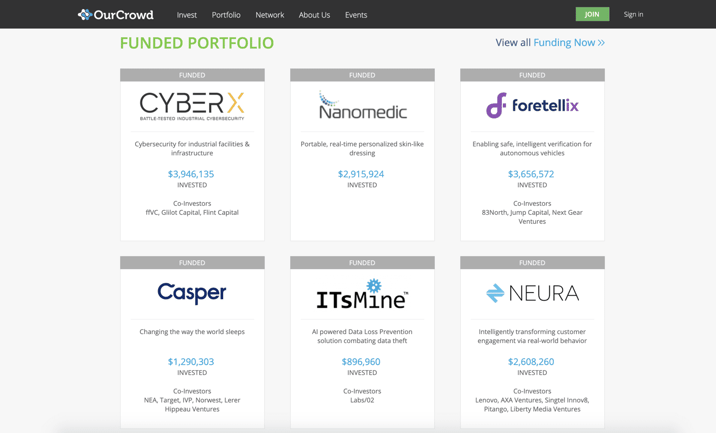 OurCrowd and Tmura also say they earn from making large investments in startups to encourage these companies to give back to the communities they serve. Medved said that, to date, tens of millions of dollars have been raised for non-profit charities.
"Just like a company gives stock options to its employees, this fund encourages companies to give stock options back to the community by making a stock option grant to this fund," Medved said. "The company can then decide where the funds go or we can take part in deciding if the company doesn't want to choose."
This ideology allows OurCrowd investors to be both altruistic and capitalistic at the same time — reaping profits while contributing to worthwhile causes. Medved said that it's that melding of personal and community responsibilities that makes OurCrowd a truly revolutionary investment platform.
"We're essentially proving our model and showing that the rest of us can get into deals with the same terms and at the same price and same kind of share structure as the biggest investors in the world," Medved said. "That's exactly what we set out to do."
Advertiser Disclosure
CardRates.com is a free online resource that offers valuable content and comparison services to users. To keep this resource 100% free, we receive compensation for referrals for many of the offers listed on the site. Along with key review factors, this compensation may impact how and where products appear across CardRates.com (including, for example, the order in which they appear). CardRates.com does not include the entire universe of available offers. Editorial opinions expressed on the site are strictly our own and are not provided, endorsed, or approved by advertisers.