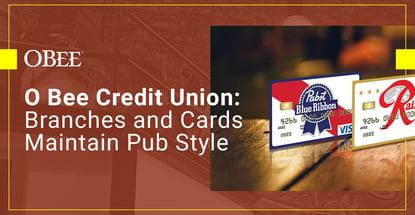 In a Nutshell: The Olympia Brewing Company was a leading employer in Washington state for decades, and was affectionately known as O Bee Co. When an employee started a credit union for its workers in the 1950s, he decided to memorialize that name. Today, O Bee Credit Union is open to everyone who lives or works in Washington, but the credit union hasn't forgotten its roots. Its pub-style branches and unique card designs connect members with local history and make O Bee Credit Union's commitment to members and communities even more apparent.
Before major beverage brands began to consolidate, beer lovers around the U.S. were loyal to their own regional favorites.
In the Pacific Northwest, Washington state's Olympia Brewing Company was the brewery of choice for decades. It was especially popular in the 1950s through the 1970s when it was a major employer in Tumwater near the capital city of Olympia.
In the 1950s, workers would often refer to their employer using the shorthand O Bee Co. So when brewhouse worker Ted McGill had the idea to start a credit union for Olympia Brewing Company employees and their families, it was natural for him to use that nickname for the new institution.
Since then, O Bee Credit Union has carried on the Olympia legacy in Washington, even as times changed and the Olympia Brewing Company became a legacy brand under the Pabst Brewing Company umbrella.
Its heritage lives on in the memories of people in the Pacific Northwest — and in the credit union that grew out of it.
Today, O Bee Credit Union is open to everyone who lives and works in the state. It offers products and services that help more than 30,000 members achieve their financial goals while maintaining a community commitment that reaches beyond personal service.
O Bee Credit Union also markets its products and services in ways that draw on its brewery heritage and sets the credit union apart from the crowd.
"It's great to have stories we can tell from the brewery point of view," said Lee Wojnar, O Bee Credit Union VP of Marketing. "We call it pub-style banking. It's an immersive banking experience that transports you back to the days of the old Brewery."
Signature Cards Feature Iconic Beer Brands
Tumwater is located on the crystal-clear Deschutes River, and the brewery's slogan, "It's the Water," captured Olympia Beer's chief selling point. Bottles and cans featured a distinctive logo that anyone who drank beer in Washington in those years would remember.
Members love that they can get that logo on an O Bee Credit Union credit card. An arrangement with Visa also allows O Bee Credit Union to feature a unique set of four iconic beer brand logos in its card lineup, allowing cardholders to carry on the spirit's regional heritage.
That is one reason why Forbes recognized O Bee Credit Union as the best in Washington State in 2019 and why Showcase Magazine readers ranked it as its best credit union in 2020.

"Our philosophy is that we want to connect with people on an emotional level," Wojnar said. "To be effective in the marketplace, it's about positioning ourselves differently."
O Bee Credit Union credit cards provide a range of financial terms, with its Visa Classic positioned as a low non-variable APR offering. Its Visa 1.5% Cash Back card offers a straightforward cash back program for all eligible purchases, and the Visa Rewards card earns cardholders points that don't expire.
According to Brand Manager Martha Guilfoyle, the best aspect about the O Bee Credit Union card lineup is that it's a mix and match experience. Cardholders can get any of the four available beer logos on any of its cards. They may also choose a logo that evokes the natural beauty of Washington State.
"Often with financial institutions, you get a certain look with a certain card. If you're taking the cash back card, then you're maybe going to get something that has a little dollar sign on it," Guilfoyle said. "But at O Bee, it's pick-your-card and pick-your-program."
Youth Financial Literacy Programs Highlight Outreach
O Bee Credit Union's pub-style approach taps into its brewery heritage in other ways, too. For example, Marketing Coordinator Chrys Bean said that before the COVID-19 pandemic, O Bee Credit Union enjoyed hosting brewpub-style members events at its own branches.
"We'd close the branch, bring in a local brewery, have some local talent playing music, and hold raffles — it was lots of fun," Bean said. "Now, as things open back up, the plan is to partner with breweries and hold events at their facilities."
Bean also spearheads financial literacy outreach at O Bee Credit Union. The credit union works in partnership with the Berenstain Bears® children's literature franchise to enable kids 12 and under to open Cub Accounts to learn about money management.
O Bee Credit Union also reaches out to adult members with community-minded financial content through a partnership with the Consumer Financial Protection Bureau. An interactive literacy platform is also in the works.
"The goal is to help more members make sound financial decisions," Bean said. "Because members making sound financial decisions are members that are going to stay with O Bee."
Back in the branches, O Bee Credit Union opened up for appointment banking earlier than some of its peers. But during the worst of the COVID-19 pandemic, it also used its beer connections to raise money for local food banks and families, Guilfoyle said.
"We put our beer and Berenstain Bears logos on masks and asked members for a $5 donation," Guilfoyle said. "People were coming in and giving $100 for a mask, and it turned into something quite wonderful because we were able to give back so much."
"We raised $60,000 for our communities," Wojnar said.
Connecting with History to Reach and Retain Members
Now that its branches are getting back in full swing, members can enjoy more of O Bee Credit Union's pub-style banking approach. Its branches feature beer taps, brick walls, neon signs, and even chalkboard menus displaying credit union product specials as if they were craft beer selections.
"We're touching a nerve with people," Wojnar said. "It's another way of telling the stories that differentiate us as a financial institution in this country."
Those branches continue to resonate with members as O Bee Credit Union keeps growing. When the pub-style transition began under Wojnar a little more than a decade ago, the institution had $100 million in assets. Today, it has $400 million in assets and counting.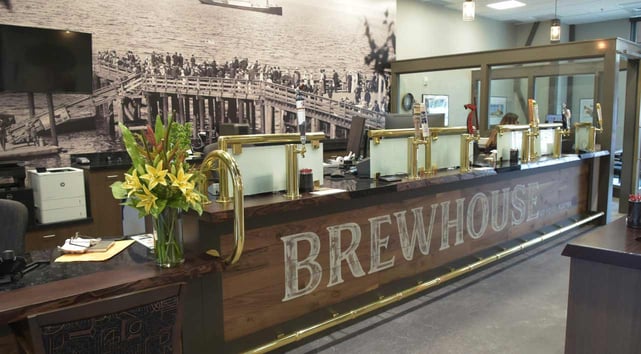 "We were one of the fastest-growing credit unions in the country before the pandemic," Wojnar said. "We just keep rolling."
It helps that O Bee Credit Union cards reinforce its connection with the past. In addition to a VISA card with the Olympia Beer design, credit union credit cards carry designs of other favorite beers, including Rainier Beer, Lone Star, a Texas brand that Olympia once owned, and Pabst Blue Ribbon, the flagship brand of the company that eventually bought out O Bee Co.
"For our members, the Olympia card is very traditional. It's about remembering that first beer you had with your dad," Wojnar said. "And Rainier is for all the outdoor enthusiasts we have around here."
The Pabst Brand has taken on a life of its own, and the card for Pabst-owned Lone Star also has broad appeal. It all ties into how O Bee Credit Union aims to connect with members and nonmembers in so many different ways.
"We're unique — and we've been proving it," Wojnar said.
Advertiser Disclosure
CardRates.com is a free online resource that offers valuable content and comparison services to users. To keep this resource 100% free, we receive compensation for referrals for many of the offers listed on the site. Along with key review factors, this compensation may impact how and where products appear across CardRates.com (including, for example, the order in which they appear). CardRates.com does not include the entire universe of available offers. Editorial opinions expressed on the site are strictly our own and are not provided, endorsed, or approved by advertisers.