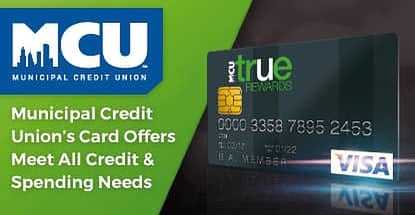 In a Nutshell: As part of its commitment to serving more than 400,000 members, Municipal Credit Union offers a variety of credit cards for consumers with any type of credit score. The institution's offerings not only have some of the lowest interest rates on the market and great benefits, they are available to those with excellent credit as well as those with blemished or no credit history. Based on customer feedback, MCU added its new TRUE Rewards Cash Back Visa to go beyond its three tiers of Visa cards with competitive interest rates. Other offerings include the MCU² Visa, which is ideal for students looking to establish credit, and its Secured Visa, which allows members to earn interest on the money they use to set a credit limit on the account. //
In today's world of digital payments, credit cards are a near necessity. You can't rent a car, book a trip, or build a solid credit history without one.
A lot goes into approving or denying a credit card application. The length of your credit history, amount of current debt, and recent payment track record are just the tip of the iceberg that forms your creditworthiness. Something as simple as a lapsed payment on an old gym membership could tarnish your credit score in the eyes of some lenders.
New York's Municipal Credit Union (MCU)

is an institution that believes there's more to an applicant than his or her credit score. The institution offers a host of credit cards for consumers in every stage of their financial journeys.
MCU's aim is to provide needed credit to as many of its members as possible, while also providing financial education to those just starting out or looking to rebound from prior mistakes.
"We don't call it bad credit, but instead call it less-than-stellar or blemished," said Ahmed Campbell, VP of Lending for MCU. "Life happens."
Ahmed has seen a lot of clients in his 30 years in the lending industry and knows that people are more than just a credit history printout.
"All too often, I see the horror stories of people who did not get the foundations of good financial management," Ahmed said. "It's not taught in school. It's unfortunately taught in the school of hard knocks."
MCU's credit cards range from those for students to cards for retirees, with a tier that fits into most any budget and need. Let's take a closer look at each card and the types of clients who are making use of them for greater financial freedom.
TRUE Rewards Cash Back Visa® Offers 1% Cash Back with No Strings Attached
The TRUE Rewards Cash Back Visa is MCU's latest offering — and first foray into the rewards space. The card was introduced in December of 2016 after the credit union's members requested a card with perks tied to purchases. With 1% cash back on all purchases, provided in the form of an account credit or MCU gift card, the TRUE Rewards Card isn't filled with blackout dates or rule exceptions.
"We knew we had a base of our members who wanted to get something back for their transactions," Ahmed said. "We went back and forth on whether we wanted to go with some of the gimmicky merchandise products where you earn points and so forth. But there's a lot of heavy lifting with those, and we weren't really seeing where our cardholders were getting the best bang for their buck."
With so many options for rewards cards on the market today, MCU looked at the competition and decided to go in a different direction.
"We looked at the travel and airline miles," Ahmed said. "But there's been a whole lot of turbulence on the airline side, in terms of redemption.
"The amount of points one would have to accrue to make it worthwhile seemed like something that would not meet the needs of the majority of our membership, in terms of the type of credit limits they would have and the amount of spending they would have to accumulate in order to make it redeemable."
So instead of prizes or points, the credit union opted for something that no member could disagree with — cash back. On top of the rewards for purchases made, the card features low interest rates between 13.15% and 17.65% and is issued to members with credit scores as low as 600.
"Hence the term, 'True,'" Ahmed said. "You see blackouts on some of these cards and the dos and don'ts — you can do this, but you can't do that. We wanted to remain true to our membership, and that's how the card got its name."
Something for Everyone with the MCU Platinum, Gold, and Classic Visa®
While rewards cards have become the rage of the lending market, MCU has remained loyal to its tried-and-true tiered credit cards, and still offers Classic, Gold, and Platinum Visa cards. To acquire any of the three, consumers fill out a single application. Based on your creditworthiness, one of the three cards could be issued to you.
"They're distinguished based on pricing," Ahmed said. "So the Platinum card — that's our lowest rate offering — has a rate as low as 10.65%. Our highest rate, in terms of the Classic, is 13.65%. They're all really substantially below where the market is, as far as interest rates."
The Classic card, with its low rates, is among the best on the market for new or newly refreshed credit histories.
"You can get the Classic Visa card with a 13.65% APR with a 550 credit score," Ahmed said. "It has a $300 credit line with no security deposit. This is not a bait-and-switch. It's understanding that someone's credit score may not be indicative of their ability to pay."
Ahmed says every three to six months, the credit union reviews its portfolios and offers a graduation program for cardholders with a strong repayment history. Classic cards can be upgraded to Gold, and Gold can move to Platinum, with pre-existing balances being grandfathered into the new, lower interest rate. It's one way that MCU promotes building credit history through responsible credit use.
No Income Requirements Put the MCU² Visa® at the Head of the Class
A huge pitfall for many younger credit builders is the lack of, or a substantially low, income. The MCU² Visa card for students negates this problem by allowing students with no income to build a credit history with the help of a parent.
"We want to provide student members with education about responsible credit use," Ahmed said. "We give them 0% for six months as an intro rate. The regular rate is 12.65%. This card allows parents to sign on as a guarantor if the student doesn't have income so they can gain credit history. If I wanted to let my children sign on as cardholders on my account, they aren't building a credit history from the perspective of the bureaus. But with the MCU² card, the student is the primary account holder."
MCU² cardholders also receive free checking and access to the NYMCU network of ATM machines.
Earn Interest While Rebuilding Your Credit with the MCU Secured Visa®
Credit cards are the easiest way to build good credit, but it can be difficult to get one without a respectable credit score. To fix this conundrum, MCU offers the Secured Visa card with a flexible spending limit. With an initial security deposit that becomes the credit limit of the card, MCU minimizes its risk while allowing consumers to build a positive credit history.
What sets MCU's secured card apart from its competitors is that the credit union takes each cardholder's security deposit and invests it into an 18-month dividend-yielding CD. This allows cardholders to earn interest on money that most institutions hold without reward.
"We found two things that were out in the marketplace: one is that most everyone who wanted a secured card either had bad credit or were rebuilding their credit," he said. "But then there were some who just wanted to have a fixed spending limit. So we gave them the choice."
Ahmed said the secured card is popular among parents who want their children to have access to a credit card without the lure of high limits and the temptation to spend.
"With this card, parents can restrict what their children spend, while still giving them access to the benefits that having a credit card brings," he said.
Educating & Empowering Members for More Than 100 Years
Ahmed said that MCU has one of the lowest delinquency rates in the industry because its cardholders appreciate their credit lines and stay consistent with monthly payments to keep their credit histories improving.
It's part of the education the credit union tries to provide its members. It's also the reason why the institution offers a variety of cards with low rates that could actually lessen the profit potential of the bank. If customers appreciate their cards, and understand the responsibility that comes with them, they're more likely to pay back the debt, minimizing charge offs and increasing the credit union's bottom line.
With five credit card varieties, MCU's next step is increasing its digital offerings. An app-based set of digital tools is currently in development that will allow members to manage their accounts and cards, as well as monitor their credit scores and learn ways to improve their ratings based on their financial behaviors.
"It's important that people see credit as a tool," Ahmed said. "A tool by itself requires training. … That's what we do with all of our products to make them beneficial. It's not enough to just be available. We want something that people can be responsible with, so that it works for their behalf and not against them."
Advertiser Disclosure
CardRates.com is a free online resource that offers valuable content and comparison services to users. To keep this resource 100% free, we receive compensation for referrals for many of the offers listed on the site. Along with key review factors, this compensation may impact how and where products appear across CardRates.com (including, for example, the order in which they appear). CardRates.com does not include the entire universe of available offers. Editorial opinions expressed on the site are strictly our own and are not provided, endorsed, or approved by advertisers.