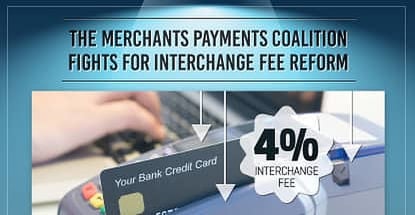 In a Nutshell: More than ever before, consumers are choosing credit as their preferred method of payment for the added security and rewards-earning potential they provide. However, the current fee of up to 4 percent per transaction that the credit card associations — Visa, MasterCard, American Express, Discover — impose each time someone swipes their card has become the second-highest operating expense for most merchant businesses. With credit card associations earning as high as 10,000-percent profit margins on each transaction, the Merchants Payments Coalition is a group of more than 100 trade associations dedicated to reforming credit card interchange fees by fighting for a more transparent credit card system, and has been doing so since 2005. //
When you think of the costs involved in operating a business, one massive expense regularly left out of the equation is the price of accepting credit cards. Something many aspiring business owners and consumers don't realize is that just even being able to accept credit cards as a form of payment is now, on average, the second-highest operating cost of most merchant businesses. 
Western Supermarkets, a locally-owned supermarket chain in Birmingham, Alabama, pays $800,000 a year in what is known to merchants as interchange fees, or credit card swipe fees.
"At the seven Western Supermarkets stores, swipe fees have tripled in just a little more than a decade, becoming our third-largest operating expense, after only labor and rent. Twenty-two years ago we paid nothing in swipe fees; today, at one store, swipe fees exceed rent and common-area maintenance," wrote Darwin Metcalf, President and Chief Operating Officer of Western Supermarkets, just last summer.
The credit card associations — Visa, MasterCard, American Express, Discover — are responsible for setting these fees, which currently hover between 1.75 and 4 percent per transaction and varies among merchants. The trouble with this is that it costs these associations mere cents to process each transaction, and are therefore earning profit margins as high as 10,000 percent each time someone uses a credit card to pay for anything.
The increasing popularity of credit cards over the years coupled with high interchange fees is unintentionally crippling merchants. U.S. swipe fees are seven times higher than the standard European rate, costing merchants $50 billion annually, and the average American family $400 annually.
The Merchants Payments Coalition Consists of More Than 100 National Associations
The Merchants Payments Coalition is a group of more than 100 trade associations dedicated to fighting high credit card swipe fees. The coalition is comprised of associations such as the National Retail Federation, the National Association of Convenience Stores, the National Grocers Association, the Retailer Industry Leaders Association, the National Restaurant Association, and many other groups whose primary focus has been on the legislation and regulatory issues in Washington, said Doug Kantor, Counsel to the coalition.
The Merchants Payments Coalition was formed in 2004 (and officially announced in 2005) after merchants saw an explosion in swipe fees that businesses were paying.
"We knew we had to find some solution to the problem, because it was unsustainable, too much, too heavy an expense load, and it was the fastest growing — and continues to be the fastest growing expense — that these businesses face. We decided to form a coalition and pull our resources together because it was the only way that we might be successful," Doug explained of the coalition's origin. "We set it up to look at every avenue that we could potentially pursue, from business opportunities to legislative opportunities, from litigation options to regulatory options that might exist."
One of the coalition's biggest successes came in the form of the Dodd-Frank Act and the Durbin Amendment, when the Federal Reserve enforced a limit on debit card transaction fees, heavily reducing debit card interchange fees.
According to the official press release, "Under the final rule, the maximum permissible interchange fee that an issuer may receive for an electronic debit transaction will be the sum of 21 cents per transaction and 5 basis points multiplied by the value of the transaction," effective October of 2011. One basis point is equal to 1/100th of 1 percent, or 0.01 percent.
Prior to the amendment, the average retailer was paying 44 cents per debit transaction.
"We pushed hard for legislation and worked toward the debit-swipe-fee reform that passed as part of the Dodd Frank Act that the Federal Reserve wrote regulations on," Doug explained. "With respect to the debit cards, there's been some good success."
Debit-Card Reform Has Created 37,000 U.S. Jobs, Credit-Card Reform Could Support Thousands More
The Merchants Payments Coalition website states that the debit-card reform has saved "billions of dollars and boosted the economy and jobs to the tune of nearly $6 billion per year in consumer savings and 37,000 jobs," simply by "limiting Visa and MasterCard's price-fixing of debit-card swipe fees."
This information is based on a study conducted by economist Robert J. Shapiro, which also states that if similar reform was enacted upon the credit card associations and interchange fees, there would be an even more profound impact on the U.S. economy:
"Our analysis found that if credit card interchange fees on the two dominant, four-party payment networks, Visa and MasterCard, were capped at the maximum $0.24 per-transaction rate set by Regulation II for covered debit transactions, consumers and merchants would have saved an additional $22.4 billion in 2012. Consumers would capture $15.4 billion of those benefits, and their additional spending could support 56,733 jobs. Merchants would likely retain roughly $6.9 billion of the cost savings, and their additional spending and investments could support another 41,918 jobs. Extending Regulation II in its current form to Visa and MasterCard credit card transactions in 2012, therefore, would have produced savings sufficient to support an additional 98,651 jobs."
Doug acknowledged that market conditions may change in bigger ways, so it's not that reforming these fees overrides all other factors in the economy, but did add that "we would do much better than we would otherwise."
"You'd see prices lower than they otherwise would've been, you'd see more purchasing than there otherwise would've been, and you'd see more hiring than there otherwise would've been," he believes.
The debit-card reform was initially proposed to limit each transaction to 12 cents, but this caused heavy lobbying from the financial institutions involved. Had the original proposal passed, the Shapiro study claims consumers would have saved an additional $1.2 billion and created an additional 17,824 jobs.
Join the Fight for Fair Interchange Fees
If, as a merchant, you believe the credit card associations are unlawfully collecting high swipe fees, you can get involved in the trade associations who make up the coalition. "The associations have very active advocacy programs on behalf of their merchants," Doug said. Visit the Merchants Payments Coalition website, UnfairCreditCardFees.com, for a complete list of associations that support swipe fee reform.
Consumers can contact their members of congress and state legislatures to let them know they have concerns about the fees they're paying indirectly through this system.
Advertiser Disclosure
CardRates.com is a free online resource that offers valuable content and comparison services to users. To keep this resource 100% free, we receive compensation for referrals for many of the offers listed on the site. Along with key review factors, this compensation may impact how and where products appear across CardRates.com (including, for example, the order in which they appear). CardRates.com does not include the entire universe of available offers. Editorial opinions expressed on the site are strictly our own and are not provided, endorsed, or approved by advertisers.