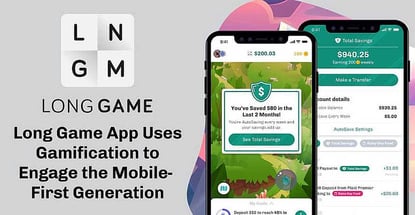 In a Nutshell: The Long Game Savings app was launched in 2015 to help millennials practice healthy financial behaviors by combining two of the demographic's favorite things — mobile games and prizes. The app encourages users to save money by rewarding them with in-app Coins, cash, and cryptocurrency for meeting their goals. They can also play games, participate in drawings, and prepare for the tech-forward financial landscape of the future. Long Game Savings combats poor spending habits while helping the mobile-first generation save for emergencies, achieve life goals, and learn healthy financial habits that stick.
For one excited woman, the Long Game Savings app made her dream of saving $5,000 for her wedding come true. For another man, letting his three-year-old daughter "Spin to Win" on the app one Sunday afternoon put an unexpected $500 in his pocket.
These are the kinds of stories CEO and Co-Founder Lindsay Holden hears when she speaks to Long Game Savings' top winners and savers. And they remind her of the reason she wanted to launch the company in San Francisco in 2015: to make building healthy financial habits fun and achievable — especially for millennials.
The app was launched against a backdrop of poor savings statistics — 63% of Americans don't have even $500 set aside for an emergency — and the lack of engagement with traditional savings platforms by younger generations. Holden understood that young adults still spent plenty of time and money on two things: the lottery and mobile games.
Every year, the mobile gaming industry generates billions in revenue while US adults spend an average $584 per year on the lottery — a total of $70 billion nationwide.
"Half of Americans play the lottery," Holden said. "What if we could take that money and redirect it into a savings account?"
That's the idea behind Long Game Savings. It combines lessons about healthy financial behaviors, including saving money, with fun and rewarding games in which users can win prizes. Long Game can help young adults become more financially responsible without feeling stressed out or bored.
"You can educate people on financial literacy, but it rarely changes their behavior. What we're doing is creating a new way to engage with your finances that is more effective," Holden said. "You're completing the task because it's a game, but you're also succeeding by saving, so it feels good for both of those reasons. It's learning by doing instead of learning that you should be doing it."
A Savings Platform that Gives Users the Chance to Win Prizes
The idea of using lotteries and raffles as an incentive to save money isn't new. It's been around since the 1600s.
"It's a method that governments — mainly in the UK and South Africa — have been using to interest people in buying their bonds," Holden said.
Holden, who has co-founded several successful online businesses, said the motivation to design a gamified savings platform started with her own affinity for the lottery — and the realization of how compelling the concept is to most people.
The US had just passed the American Savings and Promotion Act in 2014, which gave financial institutions the option of holding contests — known as savings promotion raffles — as a way to encourage people to save. Holden took that concept and adapted it to mobile users, incentivizing savings and making promotions more accessible to the average consumer.
"It's no longer some offline government program; it's sitting in your hands," she said.
The Long Game Savings app began as a simple savings platform that gives users a chance to win cash — and that remains a core offering. After downloading the app — on Android or iOS — users open a savings account, link it to their bank or financial institution, and make a first deposit. Users can even schedule automatic deposits on certain days of the month.
Long Game Savings accounts are held with its banking partner Blue Ridge Bank, N.A., FDIC-insured up to $250,000, and offer a flat 0.1% interest rate. Users can withdraw funds at any time, but the larger the deposits and the longer balances are carried, the more Coins the account earns.
"We have an app currency called Coins that you earn through saving. They accrue over time as you maintain a balance," Holden said. "You can use those to play any of our quick games to win cash. Some of the games are instant-win while we do a weekly drawing for others."
Games Make the Journey to Financial Stability More Engaging
Most people on the Long Game Savings team are millennials themselves — including Holden. As the Long Game Savings app grew more popular, Holden noticed that millennials and Generation Z were the core demographic groups engaging with the platform.
"Millennials are just starting out in their financial lives, so it's a great time to start developing these healthy financial behaviors," Holden said. "They're mobile-first, and they like new ideas that are tech-forward. They like games, immediate rewards, and fun visuals."
With millennial users in mind, Holden and the team developed a more gamified experience, taking cues from both video games and other platforms, including Instagram, to give Long Game the look and feel of an intuitive, modern-day mobile app.
Long Game incorporates missions, like making a deposit, to encourage participation, and, when users complete missions, they're rewarded with Coins and other rewards. "We have all kinds of rewards now. There are games of chance, and you can also earn virtual characters," Holden said.
The missions users achieve are displayed on a virtual map, which represents a user's financial life. As they reach financial milestones, they progress into new areas of the map. Along the way, Long Game users have the option of using their earned Coin to play in-app games.
Many users quickly find — and stick to — one game they like the most. For some, such as the man who won $500, it's Spin to Win, or Slot Machine — both instant-win games. Others gravitate to newer games, such as Omega Millions, which is a weekly drawing.
"It's a simple game. You pick six numbers and an emoji, and we have a drawing once a week. We send out a notification that the drawing is coming up and invite users to spend their Coin to enter. The next day we send out another notification that the numbers are in, and there's a big reveal in the app," Holden said.
As the simplicity of these games and features illustrates, it doesn't take much to make savings fun and motivate people to set aside money for emergencies and long-term financial goals.
"That's the platform today, and it's driving savings. We have high engagement and retention, and it's a lot of fun to work on," Holden said.
Educating Users on Cryptocurrency with Prizes, Earnings, and No-Risk Investing
One of the most popular Long Game Savings games — Crypto Spin — allows players to win cryptocurrency rather than a cash prize. While cryptocurrency isn't mainstream yet, Crypto Spin's popularity shows the excitement around blockchain technology — especially among younger generations.
Long Game understands that cryptocurrency could shape the financial sector of the future and uses in-app rewards to introduce people to the currency in a risk-free way.
"If you don't have $500 in savings yet or you're just starting out, you probably shouldn't be saving crypto. But the idea behind Crypto Rewards is to give people a little cryptocurrency and get them excited about watching the market. There's no risk. It's just a reward for saving your own money," Holden said.
In addition to playing Crypto Spin, users can earn Crypto Rewards just as they would Coins — by achieving missions, leveling up, and accomplishing other savings-related milestones. Long Game Savings has chosen four reputable cryptocurrency assets for its platform, including Ethereum Project (ETH), Basic Attention Token (BAT), Ox (ZRX), and Bitcoin (BTC) — the most widely known form. Cryptocurrency tokens and earnings can be saved within a Long Game Savings account or withdrawn to an external cryptocurrency wallet, which works similar to a bank account.
Since cryptocurrency is so new, Long Game Savings also provides FAQs and educational resources that explain how blockchain technology and cryptocurrency work and offers best practices for getting started with investing.
Combining Gaming and Financial Education to Impact the Behavior of a Generation
The team at Long Game Savings sees the impact the app is making in the feedback from millennials and others who are learning how to save money. Members of Long Game also reach out by phone and social media to ask users how they are spending their savings, earnings, and prize money. And while savings strategies can be unique, Holden does see trends.
"Some people are saving for their weddings or vacations while others are saving just to have a little cushion," Holden said.
Ultimately, Long Game Savings envisions its platform as a full-scale financial hub where users can accomplish all types of financial transactions — from banking to investing to taking out loans — while being rewarded for solidifying good financial behaviors and receiving help to prioritize their goals.
"We're trying to make financial management feel good and natural. We help people make progress by, essentially, making saving into a game. That's our goal, and that's why our users love the app," Holden said. "If you're succeeding in Long Game, you're succeeding in your financial life."
Advertiser Disclosure
CardRates.com is a free online resource that offers valuable content and comparison services to users. To keep this resource 100% free, we receive compensation for referrals for many of the offers listed on the site. Along with key review factors, this compensation may impact how and where products appear across CardRates.com (including, for example, the order in which they appear). CardRates.com does not include the entire universe of available offers. Editorial opinions expressed on the site are strictly our own and are not provided, endorsed, or approved by advertisers.