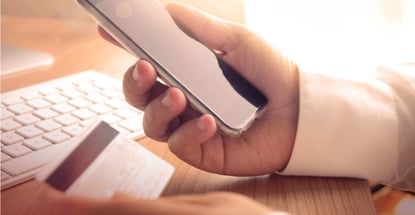 If you're tech-savvy but bank-phobic (I'm looking at you, millennials and zoomers), check out our list of the best prepaid cards with mobile apps. These cards do not require a bank account, do not use credit, and can be managed from your mobile phone.
This kind of card (which some incorrectly call a prepaid credit card) can never hit you with late fees, interest charges, or credit checks, all of which are common risks of credit card ownership. Unlike a credit card, a reloadable prepaid card won't do anything to improve your credit score — if that is of any interest to you.
For the unbanked and underbanked, a prepaid card provides charge card convenience without the hassles, which may be why some folks call it a prepaid credit card. When coupled with killer mobile apps, you may never have to set foot in a bank branch again.
Top-Ranked Prepaid Cards With Mobile Apps
Mobile apps are just about required nowadays, whether for bank accounts, credit cards, or prepaid debit cards. But not all apps are equal, as you'll see as we review the top eight prepaid cards that you can control from your cellphone, digital watch, or tablet.
Unless otherwise noted, all apps work on Android and iOS devices, and message and data rates may apply.
1. Brink's Armored™ Account
This card is currently not available.
| Intro (Purchases) | Intro (Transfers) | Regular APR | Annual Fee | Credit Needed |
| --- | --- | --- | --- | --- |
| N/A | N/A | N/A | N/A | N/A |
With the Brink's Armored™ Account mobile app, you can transfer money, check your balance, receive email and text message alerts, and find the nearest cash reload location. The Mobile Check Load feature lets you make deposits by photographing the front and back of your checks using your smartphone.
You can choose the free, standard check load service or the expedited option with two fee structures: one for the deposit of government and payroll checks and a more expensive service for all other accepted check types. First Century Bank, N.A. and Ingo Money, Inc. provide Brinks with its Mobile Check Load service.
The PayPal Prepaid Mastercard® offers a mobile app that lets you manage every aspect of your account. You can transfer funds instantly between the PayPal prepaid card account and your PayPal account, check your account balance and transaction history, find no-cost cash reload locations, and load checks remotely.
This PayPal prepaid card uses the ubiquitous check load service provided by First Century Bank, N.A. and Ingo Money, Inc. Just snap a photo of both sides of your check — your deposit will be approved in as little as three minutes but may take up to one hour. Fees vary for mobile check load, depending on the handling speed and type of check.
Once you activate your NetSpend® Visa® Prepaid Card and confirm your identity, you can start using the card's mobile app to receive account transactions and balances, send and receive money, get email alerts, find the nearest Netspend reload location, and load checks straight to your account.
It's no surprise that the check load feature on this visa prepaid card is implemented by the third-party combo of First Century Bank, N.A. and Ingo Money, Inc., which seem to dominate the market. The procedure is familiar: After you snap and submit photos of the check's front and back, the deposit will be verified in anywhere from a few minutes to an hour. The fees match those of competitors that use the same third-party check load implementation.
The Mango Prepaid Mastercard® provides mobile account management from your smartphone, not through a mobile app but through a smartphone-formatted mobile portal to your online account page. Wireless alerts add a layer of security through text message notifications whenever you swipe your card, and you can query the portal for the nearest reload location,
You can also use the mobile portal to check your Netspend Prepaid Visa Card balance and transfer money. Unfortunately, the card does not support mobile check load. In fact, you cannot load your card account with a check or money order, although you can add cash at a participating Green Dot retailer, as well as through bank transfers, PayPal transfers, and direct deposits.
The information surrounding the mobile app for the Bluebird® American Express® Prepaid Debit Account is in flux. Apparently, the original version had problems that are being addressed, according to a news release: "We've been hard at work adding the finishing touches to the reimagined Bluebird Mobile App…"
The new app will have Money In and Money Out features for deposits, transfers, and spending, as well as text messaging for certain transactions. It will continue to support mobile check capture, implemented by First Century Bank, N.A. and Ingo Money, Inc., and charge industry-standard fees.
The Greenlight – Debit Card For Kids app is kid-friendly, allowing parents to create in-app chore lists with rewards, personalize the child's debit cards, and automatically transfer cash for a weekly or monthly allowance. The app also provides real-time notifications whenever the card is used.
The app does not support remote check capture but does offer parents many control and management features, including card freeze and unfreeze, ATM withdrawal parental controls, store-level spending limits, and even stock and fund investing, which requires parental approval. The app lets kids access financial education topics and provides an optional automatic round-up of change into a savings account.
The ACE Elite™ Visa® Prepaid Debit Card offers a mobile app that is free to download and simple to use. Functions include transaction tracking, anytime alerts via text or email, funds transfer, and money management. The app also points you to reload locations and can set up direct deposits for your payroll, tax returns, and government benefits.
The app supports the Mobile Check Load feature provided by First Century Bank, N.A. and Ingo Money, Inc., and charges the usual fees for standard and expedited transactions. The fees are deducted from the loaded check amount, and standard text message or data rates may apply.
The FamZoo Prepaid Mastercard is optimized for families with kids. It supports multiple prepaid cards per family and for each individual, all under parental control. The FamZoo mobile app offers access to all important information, including accounts, transactions, checklists, money requests, and reimbursements.
The FamZoo app replicates most of the card's online user interface functionality, including money transfers, automatic allowances, savings goals, budgets and checklists for chores, shopping, to-dos, and homework, among other options. Mobile check loading is not offered.
What Can My Prepaid Card's Mobile App Do?
At the most basic level, a prepaid card's mobile app is an alternative to the card's online user interface. While each app is different, we can point to a common set of functions supported by most of these mobile apps:
Account status: You can use your mobile app to see the card's balance and recent transactions.
Links to other accounts: The app should show and create links between the prepaid card and other accounts, including checking, savings, credit cards, and PayPal.
Money transfers: You should have the ability to use the mobile app to send, transfer, and receive money to family and friends. You may also be able to set up automatic monthly payments.
Receive alerts: Most apps let you receive alerts after each transaction. You may also be alerted to a small balance or unusual spending.
Set up deposits: You may be able to set up direct deposits on the app. Several apps also support third-party implementation of mobile check deposits.
More cards: Ordering additional or replacement cards (fees usually apply).
Two prepaid cards, the Greenlight – Debit Card For Kids and ACE Elite™ Visa® Prepaid Debit Card, are specialized for families, and so are their apps. They provide extra functionality that exposes children to financial concepts and practical capabilities, including:
Separate subaccounts for spending, saving, and giving.
Checklists for chores, homework, etc.
Automatic allowances.
Freeze or unfreeze a child's card.
Setting spending limits.
Investing in stocks and funds, subject to parental trade approval.
While app functionality is certainly a convenience item, it may not be your primary basis for choosing a prepaid card. Typically, prepaid cards represent a tradeoff between costs and capabilities, each with an array of fees for just about every contingency.
When choosing a prepaid card, you'll want to check out the fees for the services you are most likely to use. You can also look for specific features, such as cash back rewards, monthly versus per-use fees, methods of loading the card with cash, reload fee rates, and so forth.
Do All Prepaid Cards Have Mobile Apps?
Seven of the eight prepaid cards in this review have true mobile apps. One, The Mango Prepaid Mastercard®, uses a mobile portal rather than a stand-alone app.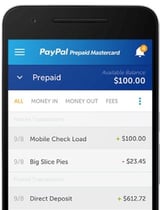 A mobile portal is an app that reformats the card's online user interface for your mobile device. This way, you can use the online functionality with screens optimized for your smartphone or tablet.
With dozens of prepaid cards on the market, we wouldn't be surprised if some did not offer mobile capability. This may or may not be important to you, given your comfort (or discomfort) with technology.
The fact is, you don't need a mobile app to use a prepaid card. You can register and manage your card online at the card's website. Many people load their cards with cash at designated locations and seldom need to use the online or app interfaces.
Which Prepaid Cards Allow Mobile Deposit?
Most prepaid cards allow mobile check deposits. Simply take a photo of the front and back of your check to have the money deposited directly into your prepaid account.
Of the cards in this review, the ones that allow mobile check deposit are:
Interestingly, all five apps work with the Check Load system offered by First Century Bank, N.A. and Ingo Money, Inc. The bank is nationally chartered, ensuring your money is handled according to federal regulations.
Ingo provides the mobile app, reviews and approves checks, and guarantees payment. The Ingo app was launched in 2013.
You can use Ingo to cash a check in a series of steps:
If the prepaid card app hasn't already done so, download the Ingo Money App for iOS or Android.
Enroll and create your user profile.
Link your prepaid cards to your Ingo account.
Take a photo of the front and back of the check.
Decide whether you want the check proceeds expedited (fees apply) or can afford to wait about 10 days to get your money for free.
There are no deposit holds on your check. After your check is approved and your account funded, you can spend the money with guaranteed safety.
The Ingo Money App accepts checks from $5 to $5,000 of the following types:
Attorney checks
Business checks
Cashier's checks
Handwritten payroll checks
Insurance checks
Money orders
Payroll and government checks with a pre-printed signature
Rebate checks
Refund anticipation checks
Two-party personal checks
The check must be drawn on a U.S. bank account and must be made out to you. You must endorse the check. Limits are $5,000 per check, $5,000 worth of checks per day, and $10,000 worth of checks per month.
It is Ingo, rather than the prepaid cards, that charges for the check load service. The fees are:
Standard: Delivery within 10 days, no fee.
Expedited government or payroll check: Greater of 2% of total check amount or $5.
Expedited other check types: Greater of 5% of total check amount or $5.
Expedited checks are usually processed within an hour. Ingo subtracts its fee before forwarding the money to your reloadable prepaid card account, and data rates or standard message charges may apply.
Are There Any Prepaid Cards with No Fees?
Fees are how prepaid card issuers make money, so there will always be some set of fees attached to a prepaid card. The most prevalent types of prepaid card fees include:
Activation or purchase fee: This is a one-time fee you pay when you first get the prepaid debit card. The typical cost is around $3 for cards purchased at a retail location, or free for cards acquired elsewhere.
Plan fee: There are usually three types of plan fees, the basic one being Pay As You Go (PAYG), which charges a transaction fee (usually around $1.50) for each purchase. A Monthly Plan charges a flat fee, usually around $10/month. There may also be a Reduced Monthly Fee Plan, usually costing about $5.00/month, on accounts that receive a set amount of direct deposits in any month.
ATM balance inquiry: A nuisance ATM fee is usually around $0.50, in addition to any ATM fee charged by the machine operator, such as the operator of a MoneyPass ATM.
Cash withdrawals: You can siphon cash from your prepaid card for a fee. Examples include a bank transfer from your financial institution (about $3), reload locations (about 2.75%), and ATM withdrawal transactions (about $2.50).
Adding money: This covers cash reloads at designated locations (about $4) or via an app (discussed earlier). Most prepaid cards charge a reload fee.
Transferring money: You can transfer money between your card and another account. Typical fees include Western Union Money Transfer (fees vary), customer service agent (about $5), and transfers from your card to your bank account (about $3).
Foreign transaction fee: Some prepaid cards charge a foreign transaction fee, usually about 1% to 3% of the total transaction, for every purchase a cardholder makes in a foreign country.
Declined transactions: These are fees charged when an ATM (including MoneyPass ATM units) or electronic payment transaction is declined (about $1).
Replacement card: It costs about $10 for a replacement card or $5.00 for a custom card. Expedited delivery can cost $20 to $25.
Other nuisance fees: A card may charge about $6 when you request a check or when you don't use your card for 90 days in a row.
Many other fees are possible but are often waived.
The Bluebird® American Express® Prepaid Debit Account is probably the card with the fewest fees. Its fees include:
Obtaining a new card at a retail location.
Adding funds at certain locations.
Using out-of-network ATMs.
Picking up cash via Ria®.
All other fees are waived, including the activation fee, online purchase fee, monthly and annual fees, and most fees for spending money, withdrawing funds, sending money, and inquiring upon account information.
You can reduce the net costs of a prepaid card if you choose one that pays cash back rewards, such as the ACE Elite™ Visa® Prepaid Debit Card and the PayPal Prepaid Mastercard®. The amount earned through cash back is unlikely to counteract all the card's fees, but it may save you a few dollars (or more) each month.
How Do You Put Money on a Prepaid Card?
We've already discussed how to use a mobile app to load a check to your prepaid card account. But there are many other ways to pump up your card's cash balance:
Bank teller: If you have access to a bank that issues prepaid cards, you can make a deposit at a teller's window.
Debit card transfers. If you happen to have a bank account, you can use your associated debit card to transfer money to your prepaid cards at retail locations or online.
Direct deposit: This is a safe way to deposit checks without fear of loss or theft. It usually doesn't cost anything to make a direct deposit.
Electronic funds transfers: You should be able to wire money from your checking account to your prepaid card without paying a fee.
Reload packs: You can purchase a uniquely numbered reload pack for cash at designated locations. You must then go online to transfer the cash from the reload pack to your prepaid card.
Retail locations: You can add cash, and sometimes checks and money orders, at designated retail locations. Some cards work with specific merchants to provide free reloading. For instance, the Bluebird® American Express® Prepaid Debit Account doesn't add a fee when you reload it at any Walmart checkout register. Other retailers may charge a fee.
Western Union/MoneyGram: You can transfer money from MoneyGram to your account at a MoneyGram agent location or kiosk. Western Union Reload+ lets you reload your prepaid card at an agent location.
Before deciding on a prepaid card, check the different ways it accepts reloads and the fees for each method.
What is the Best Prepaid Card to Get?
There is much to consider when deciding which prepaid card is best for you. You may want the card with the least fees, but there are other reasons to select one card over another:
App: Although it may be a matter of personal taste, we think that the app accompanying the Brink's Armored™ Account is hard to beat. It is easy to use and includes Mobile Check Load for easy depositing.
Cash back: Kudos to the ACE Elite™ Visa® Prepaid Debit Card and the PayPal Prepaid Mastercard®, These cards give you cash back rewards on eligible purchases.
Different payment options: Some cards offer two or three payment plans, including pay-as-you-go and a monthly fee plan. We give a high rating in this regard to the NetSpend® Visa® Prepaid Card. As a Visa card, you can use it wherever Visa is accepted.
Direct deposit: The PayPal Prepaid Mastercard® is a good choice for direct deposits, especially because the card can shave two days off the time it takes to receive your money. Although you don't need a PayPal account to use this card, you can transfer funds between a PayPal account and your card.
Family finances: If you have children and want them to learn about money, consider the Greenlight – Debit Card For Kids and ACE Elite™ Visa® Prepaid Debit Card. They both have many kid-friendly features that can help your family learn about money from an early age.
Financial tools: Some prepaid cards offer financial tools to help you stay on top of your money. We like the tools offered by the app accompanying the Bluebird® American Express® Prepaid Debit Account that lets you limit and track your spending.
Savings: We think you should earn interest on the excess funds in your prepaid account. We like that The Mango Prepaid Mastercard® lets you earn up to 6% APY if you satisfy certain requirements.
These are just suggestions, and you should feel free to make your own judgments before choosing the card that works best for you.
Compare the Best Prepaid Cards With Mobile Apps
Our review of the best prepaid cards with mobile apps shows some good choices for consumers who aren't afraid of smartphones. While we don't necessarily think these apps are the most important factors when choosing a prepaid card, they may sway some of our geekier readers who insist on the best software. To find out for yourself, click on the APPLY NOW links to see the total package each card offers.
Some folks compare a prepaid card to a secured credit card since both require you to deposit money. But a secured credit card offers credit, whereas a prepaid card does not. If you want to avoid overdraft fees and late fee headaches, choose a prepaid card over a secured card.
Advertiser Disclosure
CardRates.com is a free online resource that offers valuable content and comparison services to users. To keep this resource 100% free, we receive compensation for referrals for many of the offers listed on the site. Along with key review factors, this compensation may impact how and where products appear across CardRates.com (including, for example, the order in which they appear). CardRates.com does not include the entire universe of available offers. Editorial opinions expressed on the site are strictly our own and are not provided, endorsed, or approved by advertisers.