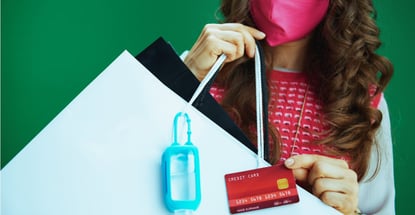 Could the COVID-19 pandemic have resulted in something positive? The answer is yes if you focus on the amount of revolving balances consumers are carrying now.
The August 2020 Federal Reserve report revealed that credit card debt in the United States is down by more than $2 billion, dropping from a total of $996.8 billion in May to $994.7 billion in July. The less high interest debt you owe to creditors the better because the finance fees won't be eating into your cash flow.
However, reduced credit card use also means declining confidence in the economy's future. You may have less money to spend on the things you may want or need and are concerned about the stability of your job or industry. Credit card issuers are also reacting to the retracted and unstable economy, making some key changes.
Credit Card Debt is Falling
The drop in overall credit card debt is a strong indicator that the pandemic has affected consumer spending habits. Several factors have contributed to the lower debt, most notably:
Fewer purchasing opportunities. When the pandemic hit, brick-and-mortar stores, shopping malls, bars, restaurants, cinemas, music venues, and so much more were forced to close. Not only did the business suffer from the lack of customers, but consumers simply didn't have a place to spend their money and use their credit cards. In fact, consumer spending, which accounts for more than two-thirds of U.S. economic activity, fell a historical total of 12.9% in April, according to the August 2020 Bureau of Economic Analysis report. Consumer spending rebounded in May to 8.6% but experienced declines in June and July of 6.2% and 1.9%, respectively.
Suspended travel. Shelter in place mandates also extended to travel, of course. Most people use credit cards for their travel expenses, from airline tickets to hotels and dining. All that ground to a halt in March 2020. The U.S. Travel Association reported that the travel industry will have experienced an estimated $505 billion in losses through the end of 2020.
Unemployment. A recent Bureau of Labor Statistics survey paints a grim picture of COVID-19's effect on how people earn a living. Of the 16.9 million people unemployed in July, 57% — or 9.6 million people — were unable to work because their employer closed or lost business due to the pandemic. With less (and in some cases, no) money coming in, less money can go out.
Uncertainty about the future. Whipping out a credit card to pay for something in installments makes sense when people feel comfortable with the upcoming payments. It doesn't make sense when they don't have a level of certainty about the future. Therefore, many people have chosen the route of austerity rather than a more liberal approach to spending and borrowing.
Debt repayment. Many people who had debt before the pandemic and received money from the government to get by decided to use the funds productively. "We noticed that people are paying their debt down due to the stimulus checks," said Angelo Alessio, head of operations at Harvest Platform, a financial firm that helps consumers negotiate bank fees and reduce debt. "They wanted to get rid of the debt and pay less in interest."
Consumer Savings is Rising
Then there's the flip side of debt: setting money aside for a rainy day. The U.S. Bureau of Economic Analysis found that the personal saving rate shot up to 33.7% in April 2020. This is a stark increase from the average personal savings rate of 7.6% in 2019.
Skyrocketing savings isn't a surprise, even under tightening economic conditions.
"Many people had a catalyst, which was the unexpected stimulus checks," said Alessio. "It made sense to pay their debt down with it, but also to boost savings. I would definitely say there is a greater propensity to save money right now. People want security."
When deciding to sock money away or repay debt during this time, Alessio pointed out that driving high APR balances down is the better strategy.
"If you want to increase your net worth, it may make sense to add to your savings, but not when you have credit card debt. The rate you get for saving money is always less than what the card companies are charging."
How Credit Card Issuers Are Reacting
Meanwhile, credit card issuers are making their own changes. If you were used to ultra-high credit lines, you may be in for a surprise.
According to the Fed's July 2020 Senior Loan Officer Opinion Survey, 15% of the lenders that responded said credit limits for prime borrowers are near their tightest levels, while close to 43% of lenders said credit limits for subprime borrowers are near their tightest. With the economy yet to correct, lenders are taking action to minimize risk. Trying to control outstanding balances protects against harder economic times and bankruptcy.
The same Fed survey also discovered that just over half of lenders are requiring higher credit scores from new customers.
"Credit scores weren't structured for black swan events (extremely rare unpredictable scenarios that cause severe consequences) such as a pandemic," said Alessio. "Banks needed to raise the credit scoring standard because they couldn't take the risk of lending to someone who hasn't proven to be a very low-risk borrower."
Rewards programs, too, are being overhauled. Mercator Advisory Group's Credit Card Rewards 2020: Another COVID-19 Victim? report outlined the many ways that credit card reward programs have and will change because of the pandemic:
Cash back cards will be more prolific than those that offer points and miles, which are typically for travel.
There will be more rewards for grocery shopping, ecommerce, and delivery, and fewer for retail and restaurants.
Bonus periods will be extended. If you're in the market for a new card that gives a large sum of points for spending a certain amount in a few months, you may have extra time to hit that minimum spend.
An emphasis on flexible redemption points, making the card more attractive to new customers.
How Consumers Can Benefit
Keeping an eye on what is going on with your own credit and money situation while monitoring what is happening in the world and the econony helps you adjust your borrowing behaviors accordingly.
If you're looking for new credit card accounts, the credit card business is highly competitive, and consumers with good debt management skills are prioritized. Use this time to increase your credit scores by making sure your payments are always in on time and pay off your debt so it's well under the credit limit.
Keep established credit card accounts active. Even if you're not using your credit card, keep the credit card account open so your credit score doesn't take a hit. Closing a credit card account often hurts credit scores because it can impact your revolving utilization ratio, which accounts for up to 30% of a credit score. Keep your credit scores strong so a credit card issuer — even one with exceptionally high standards — would like to have you as a cardholder.
As you're searching for a new account, review many cards that are a good match for your credit scores. The benefits may have changed, and you'll want a card that's advantageous not just in the upcoming months, but for years.
Consider the type of expenses you may be making once things return to normal. If you're craving travel and will be out and about as soon as possible, investigate the new breed of travel cards being developed, and understand how you can earn the card's most generous rewards.
Cash back cards are appealing because you can use the money for anything. By charging a lot to the card and keeping the debt at zero, you're guaranteed to come out ahead financially.
Finally, if you currently owe a balance on your credit cards and are one of the millions of Americans who are doing what it takes to get into the black, stay the course. When the pandemic eases up and life returns to some semblance of normal, having no or very little debt to deal with will set you on a successful path to the future.
Advertiser Disclosure
CardRates.com is a free online resource that offers valuable content and comparison services to users. To keep this resource 100% free, we receive compensation for referrals for many of the offers listed on the site. Along with key review factors, this compensation may impact how and where products appear across CardRates.com (including, for example, the order in which they appear). CardRates.com does not include the entire universe of available offers. Editorial opinions expressed on the site are strictly our own and are not provided, endorsed, or approved by advertisers.