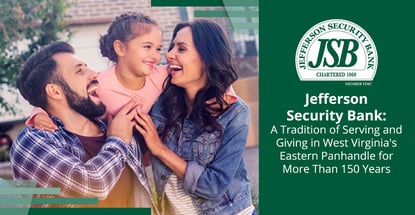 In a Nutshell: Jefferson Security Bank, based in West Virginia's history-steeped Eastern Panhandle, recently celebrated 150 years of service by hosting a good old-fashioned street party. The well-attended event culminated a campaign of community giving called 150 Days of Random Acts of Kindness, with the bank and its employees contributing their time and resources in a myriad of creative ways. JSB has a long tradition of service in its communities that has earned the bank our Editor's Choice™ Award for Community Commitment.
What's a bank to do after 150 years of serving families, small businesses, local nonprofits, and area schools? If you're the team at Jefferson Security Bank in West Virginia's Eastern Panhandle, you say thank you.
West Virginia was a brand-new state when JSB originated in 1869 — a product of the complex politics of the Civil War and the only state to come into being as a result of secession from an existing state. During the war, Shepherdstown was the site of an important battle, and hundreds of Confederate veterans are buried in the town cemetery.
Jefferson Security Bank was so small when it started in 1869 that it operated out of a private residence. The bustling business environment of the post-Civil War era led to quick growth, however, and soon the bank moved into a business office. Expansion continued through the 20th century, and in the 1980s, JSB opened its first branch. The bank now operates five branches in addition to its main office in Shepherdstown, offering a full range of financial products and services to individuals and small businesses throughout the Eastern Panhandle.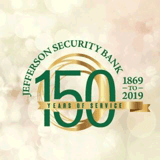 As Director of Marketing and Community Relations Sara Wasson notes, JSB's 150 Days of Random Acts of Kindness campaign didn't happen in a vacuum. The bank has a long tradition of fundraising and volunteering that has directly impacted the West Virginia communities it has served for generations.
"The list of local organizations we support is pretty lengthy," she said. "Although every year we support local schools and tons of nonprofits, we wanted to put an even bigger focus on giving back to the community this year as we celebrate our 150th."
The campaign culminated May 19, the day of JSB's formal 150th anniversary. "We held a big event at the Shepherdstown Fire Department, and everything was free to the community," Wasson said. "Over 400 people came. We had food trucks, a band, bouncy houses and face painting for the kids, and more.
"We wanted to thank our community and celebrate the anniversary with them because they're the reason we're still here, 150 years later," Wasson said.
Golf Classic Raises Funds for the Shepherdstown Volunteer Fire Department
Small towns often rely on volunteer fire brigades to protect lives and property from fire, and the history of volunteer fire protection in Shepherdstown stretches all the way back to 1792 with the formation of the Shepherdstown Fire Department (also known as SVFD). It's fitting that JSB held its anniversary celebration there because the fire department has been one of JSB's longest running community support effort.
JSB's SVFD/John D. Lowe Jr. Memorial Golf Classic has generated funds for the Shepherdstown Fire Department and helped keep Shepherdstown and its environs safe for 29 years and counting.
The event, which has raised more than $100,000 for the SVFD, was started by John D. Lowe Jr., who had long served on JSB's Board of Directors. Members of the JSB community come together every May in friendly competition, with JSB handling all hosting responsibilities.
"The bank does everything," Wasson said. "We organize the tournament, provide the gifts and prizes, and organize the dinner. And then all the proceeds go directly to the Shepherdstown Fire Department."
"Each year the amount of training increases, the call volume increases, and the amount of money needed to fund the organization increases," reads a history on the SVFD website. "Yet, these dedicated volunteers continue to do whatever they can to meet our creed "To Provide Our Best Possible Service, on Our Customers' Worst Day."
Thanks, in part, to the support generated by the Golf Classic, SVFD's large firehouse located just outside Shepherdstown has been renovated to allow volunteers to live there continuously. Essentials including the station's alerting and lock systems, its HVAC and fans, and even the sign on the outside of the building have been upgraded.
"Where our money goes is different every year depending on what their needs are," Wasson said.
Duck Buck Race Anchors Partnership with Area Schools
Shepherdstown is situated along the Potomac River in an area where there are a lot of natural springs. In the town's earlier years, all that water made the town a good site for smiths, tanners, potters, and other artisans.
Today, the springs still feed a small river, known as the Town Run, that meanders through Shepherdstown and serves as the location of the Duck Buck Race. A more than 20-year tradition, the race rewards students at Shepherdstown Elementary School for good behavior during the school year.
"We've had a longstanding partnership with Shepherdstown Elementary School and Shepherdstown Middle School. It's within walking distance from our office, so it's really great to be able to support them, whether it's helping out the teachers by bringing them lunch or volunteering our assistance," Wasson said.
Over the course of the school year, kindergartners and first- and second-graders are awarded points for good behavior. Those points earn the children rubber duckies to participate in a race down the Town Run at the end of the year.
More good behavior points mean more ducks, and a better chance to win.
"We dump all the ducks in and they race to the end of the Town Run. We pick a first-, second-, and third-place duck, and those students receive prizes. And we give prizes to all the students just for completing another school year," Wasson said.
"It's funny, we'll have people come to us and say they remember when we did this when they were kids, and now it's being carried on with their own children. So it's a pretty cool event that we do for the schools," Wasson said.
While high school students don't get to participate, they do get the chance to compete for one of two $1,000 scholarships JSB awards to graduating seniors every year. And they along with Shepherdstown's middle schoolers undoubtedly benefit from the many other ways, large and small, that JSB supports education in its communities.
Serving with Random (and Not-So-Random) Acts of Kindness
The anniversary giving campaign 150 Days of Random Acts of Kindness wasn't actually all that random. It was a concerted effort on the part of JSB to focus even more on giving back to West Virginia communities.
Beginning in December, 150 days before the bank's formal 150th anniversary in May, the bank as a whole participated in one major campaign, while each branch took part in smaller, more localized acts of kindness.
"We kicked off in December by giving 150 toys to children through three local organizations — Toys for Tots, a family shelter called The Bethany House, and Shenandoah Women's Center," Wasson said.
Bank employees and customers donated the toys through dropboxes in each branch — and the bank itself purchased another 150 toys. The toys were distributed equally among the three selected charities, helping make the holidays a little better for struggling families.
JSB also donated canned food to two area food pantries, personal and household items to a homeless shelter, and donated money to a child legal advocacy group, among other community assistance.
"For our big act of kindness, we tried every month to partner with a community to get them involved as well," Wasson said.
There was structure at the branch level, too. "Each office was given a monthly budget where they could do whatever they saw fit," Wasson said. "We did everything from taking donuts to local teachers at schools to taking lunch to local sheriffs' departments to donating money to help Shepherdstown Middle School purchase uniforms for their track team."
In a press release announcing the 150 Days campaign, JSB President and CEO Cindy Kitner explained JSB's commitment to the community as an outgrowth of the personal relationships the bank has maintained over generations.
"The key to our success over the years has always been the close connection we've had with the people in the communities we serve," she said.
And although the anniversary party has come and gone, the giving will continue for what the bank hopes to be another successful 150 years.
Advertiser Disclosure
CardRates.com is a free online resource that offers valuable content and comparison services to users. To keep this resource 100% free, we receive compensation for referrals for many of the offers listed on the site. Along with key review factors, this compensation may impact how and where products appear across CardRates.com (including, for example, the order in which they appear). CardRates.com does not include the entire universe of available offers. Editorial opinions expressed on the site are strictly our own and are not provided, endorsed, or approved by advertisers.