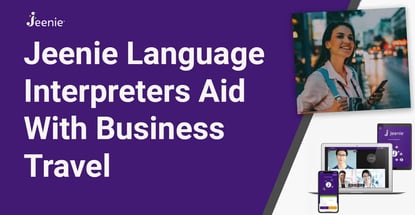 Our experts and industry insiders blog the latest news, studies and current events from inside the credit card industry. Our articles follow strict editorial guidelines.
In a Nutshell: When travelers need to communicate in a foreign language, they usually rely on basic translation tools that are prone to error, or deal with the high cost and inconvenience of hiring a personal translator. Jeenie is a platform that solves both issues. The company's app allows users to get translations in real time from a live interpreter through audio or video calls. Jeenie's service also caters to a range of scenarios, including healthcare, legal, business, and banking, among others. In recognition of its innovation, CardRates.com has bestowed Jeenie with our Editor's Choice™ Award.
Travelers often face language barriers when visiting foreign countries, which can make it difficult for them to communicate accurately with locals and navigate the region.
This, of course, has created the need for innovative ways to access interpretation, and, in the modern digital age, that usually means going online and using some type of translator tool, which can't effectively translate complex conversations, capture nuance or pick up on cultural cues. Travelers can also go the traditional route of hiring a native interpreter. But that can become very costly in the end.
The interpreting market has remained fairly unchanged over the last 20 to 30 years, The most recent adaptations during that time would be organizations that connect individuals to an interpreter via a call center or operator model.
Both the use of translation tools and the hiring of interpreters have their limitations. Translation tools struggle with accuracy while hiring interpreters can be prohibitively expensive. That's where Jeenie comes in, as it provides access to live interpreters in over 300 languages through its mobile app.

The idea behind Jeenie was to create a more tech-forward model that connects the individual to an interpreter in an instantaneous manner.
Jeenie enables travelers to easily access a live interpreter through their mobile device, giving them the ability to communicate more effectively and overcome language barriers.
Jackson Dodge, Jeenie's Head of Growth, described the platform as a direct interpretation model. "We have a single platform, no matter what the modality is, whether that's a web-based connection, an audio call, or a video call. There's a single infrastructure in the background, automatically routing those calls to an interpreter without the need for operators or call centers," said Dodge.
Offering A Wide Range of Language Options
Jeenie is designed to make it easy to connect remotely with an interpreter, which can be especially useful for travelers on the go or in remote locations. The platform enables users to schedule an interpreter in 300 languages and offers access to interpreters on-demand in 70 languages, including rare and indigenous languages.
One of the most overlooked aspects of language is that accents, dialects and cultural variations matter. For example, there's a significant difference between Spanish spoken in Spain and Spanish spoken in various Latin American countries and regions.
As of now, AI-based translation tools, such as Google Translate, cannot pick up on the subtleties between dialects and often result in inaccurate translations. Only a native speaker or a professional interpreter would be able to mitigate such issues.
Time is also a critical factor when it comes to translations, and a five- or 30-minute wait time for an interpreter to come on the line can be a stumbling block most businesses can't afford. In business, that lost time can greatly affect the outcome of a project and leaves the company constrained by interpreter schedules and booking demands. Jeenie's Direct to Interpreter (D2I) model enables users to instantly connect to an interpreter and results in average wait times of 13 seconds or less.
Dodge said that time spent connecting to interpreters can grow exponentially when interpreting in multiple languages or dialects is required. For instance, a business meeting in Delhi, India, where people predominantly speak Hindi, may also require a Punjabi and an English interpreter.
"Coordinating multiple interpreters through a call center or for an in-person session would require tremendous amount of effort, time, and expense. Whereas with a tool like Jeenie, each person could have a personal interpreter for their language or dialect all in real time, and at a significantly lower cost," said Dodge.
He also noted that some AI-based tools will commonly show bias to certain languages and usually do a better job of translating from English than translating from another language into English. A recent study conducted by Mass General Brigham Hospital compared translation accuracy between AI translation tools and human interpreters, and demonstrated that AI tools were 72% accurate when interpreting from English into Mandarin, and only 30% accurate when translating from Mandarin to English.
By using Jeenie, this breakdown in communication can be avoided thanks to the help of live interpreters available on demand.
The Benefits of Real-Time Interpreting
The norm in the translation industry has been to directly employ some interpreters and sub-contract others from third-party staffing companies. Dodge says this results in a lot of "cooks in the kitchen" and very slow scaling.
Jeenie, on the other hand, directly contracts its almost 14,000 interpreters. "By directly contracting our interpreters, we remove all intermediary steps, which allows us to control quality right down to the individual interpreter and interpreting session," said Dodge.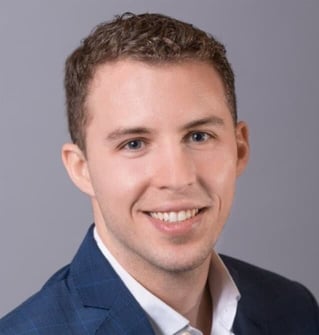 This is also reflected in Jeenie's interpreter pay scale. Dodge said that Jeenie's model of contracting interpreters directly, allows it, to eliminate middlemen and operate more efficiently. The money saved in administrative costs is then reinvested in interpreter pay.
There are several benefits that come with becoming a Jeenie interpreter.
"We are able to pay our interpreters significantly more than the industry norm, which has allowed us to recruit the highest quality interpreters and recruit them quickly. Interpreters also benefit from Jeenie's flexible workplace model, access to Jeenie's training and professional development programs and the direct feedback they receive from clients on every interpreting session," said Dodge.
Another benefit of using Jeenie is that users have the option of connecting to an interpreter via a video or an audio call. While most language service providers charge premium rates for video remote interpreting, Jeenie charges the same low rate for both video and audio. Since around 70% of communication is non-verbal, having an interpreter on the screen, viewing body-language, gestures and other non-verbal cues, greatly enhances the quality of the interpretation.
Dodge said that Jeenie's enterprise customers love this functionality because it can easily result in savings of 20 to 30%. "Video offers many of the benefits of in-person interpreting without the high cost and wait times associated with using an in-person interpreter. And you get greater flexibility and operational efficiency with on-demand access to a wider variety of languages," he said.
Uses For Various Industries
At its inception, Jeenie was the first consumer-facing interpreting platform that provided live interpreters, and the focus was mainly on travel tourism and business travel.
Jeenie's current business model caters to a number of industries, including healthcare, legal, and banking, among others, that would benefit from its proprietary D2I interpreting model.
Dodge said that after COVID-19, Jeenie's focus started to shift toward keeping people healthy and safe. And so the company's healthcare business has exploded over the years as it works with hospitals, clinics and provider groups.
He also pointed out that ensuring clear and accurate interpretation in healthcare is extremely important for both patients and for healthcare providers.
For example, Dodge recounted that one of Jeenie's advisors went on holiday and tried to use Google Translate to explain a specific food allergy he had. Unfortunately there was a miscommunication in translation and he ended up in a clinic.
Since Jeenie can help avoid those types of scenarios, Dodge said the app keeps travelers and B2B clients at ease.
One big area where Jeenie has seen an uptick recently is in community banking, where the bank can provide the Jeenie app to its employees to help them communicate with a diverse clientele.
Dodge said that having clearer communication through Jeenie can now help banking customers feel more supported, gain greater trust in their financial institution, and be more willing to come into the bank.
Jeenie can also help bank employees communicate with other employees, in situations where some may not be fluent English speakers or may be deaf or hearing impaired and require an American Sign Language interpreter.
As travelers and businesses become more eager to go abroad, the need to break down language barriers will become more paramount. "Our goal is that Jeenie will become ubiquitous and that language is no longer a barrier to communication," said Dodge.