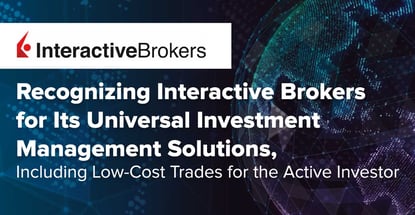 credit card news
Our experts and industry insiders blog the latest news, studies and current events from inside the credit card industry. Our articles follow strict editorial guidelines.
In a Nutshell: Traders today have a lot of options when it comes to how they choose to execute their buying and selling activities. And Interactive Brokers, with its long-standing reputation as a low-cost broker, is one platform definitely worth considering. The company offers access to markets from all around the world, and in multiple currencies, all with a single account. And Interactive Brokers considers itself a technology company that happens to be in the trading business, so clients can be assured they have access to cutting-edge trading tools and resources. Additionally, the company provides users with an array of free educational tools, including online lessons, videos, and quizzes. For its innovative approaches in delivering value to clients, we are recognizing Interactive Brokers with our Editor's Choice™ Award for being a top low-cost broker.
Active stock traders have an array of approaches they can take to make the best investments and smartest trades. These days, exchanges offer individuals more capabilities to execute trades than they have in the past. This may sound appealing to some, but going through a broker comes with some distinct and undeniable advantages.
Since its founding more than 40 years ago, the mission of Interactive Brokers has been to "Create technology to provide liquidity on better terms. Compete on price, speed, size, diversity of global products and advanced trading tools."

Of course, the world of trading was very different then than it is today. Technology has changed drastically, yet Interactive Brokers has continued to evolve its offerings to remain innovative and stay true to its mission.
"We offer several competitive advantages that I think separate us from the rest of the brokerage industry," said Steven Sanders, the Executive Vice President of Marketing and Product Development at Interactive Brokers. "We offer everything at the absolute lowest cost, which means low-risk conditions."
The company's origins go back to 1977 when Thomas Peterffy, Chairman of the Interactive Brokers Group, became a member of the American Stock Exchange. By the following year, Peterffy established T.P. & Co. to expand trading activities to several other members, and the firm was the first to use computer-generated fair value sheets printed daily. Over the years, Interactive Brokers has remained a technology-driven broker that prioritizes delivering low costs to its clients.
We are recognizing Interactive Brokers with our Editor's Choice™ Award for being a top low-cost broker and its continued mission to innovate and serve its clients.
Providing Direct Access to the World's Markets from a Single Investment Account
Interactive Brokers conducts business in more than 125 markets around the world.
"In its broker dealer agency business, IBKR provides direct access ('on line') trade execution and clearing services to institutional and professional traders for a wide variety of electronically traded products including stocks, options, futures, forex, fixed income, and funds worldwide," according to the company website.
The group, along with its affiliates, execute more than 828,000 trades each day. The company is headquartered in Greenwich, Connecticut, but maintains 1,400 employees in the U.S., Switzerland, Canada, Hong Kong, the U.K., Australia, Hungary, Russia, Japan, India, China, and Estonia.
This worldwide distribution is part of what helps Interactive Brokers best serve its clients, which include active traders, sophisticated investors, and institutions such as brokers, hedge funds, and advisors, Sanders said.
"We offer stocks, options, forex, futures, bonds, and funds, all from a single account," he said. "So, one can trade all around the world from this single account in multiple currencies."
Sanders provided a real-world example of how this works.
"If I wanted to buy BP stock in London, I can put dollars into my account and buy the U.K. stock in one of two ways," he said. "Either I can convert the dollars to pounds at the best possible rate and buy the stock, or I can take out a margin loan against my U.S. dollars by borrowing the pounds."
Interactive Brokers clients gain access to 125 markets in 31 countries using 24 different currencies with a single account. Clients can also access market data 24 hours a day, six days a week.
As a Technology Company in the Trading Business, IBKR Develops Leading-Edge Tools
Sanders said another one of Interactive Brokers' competitive advantages is its technology-friendly philosophy.
"We're really a premier technology company in the trading business," he said. "We've been offering our competitive advantages for many years."
Information available on the company's website certainly supports Interactive Brokers being heavily ensconced in the tech world.
"IB Group has been building online trading technology that provides competitive pricing, speed, size, diversity of global products, and advanced trading tools to our clients for 41 years," according to the website. "Year after year, our robust technology supports record numbers of Daily Average Revenue Trades."
Sanders said this is important because, where the average trader may execute 10 to 15 trades per year, Interactive Brokers clients tend to trade in the range of 400 to 450 per year.
And the company offers clients convenient and efficient ways in which to conduct their trading activity.
"Optimize your online trading speed and efficiency with our market maker-designed Trader Workstation (TWS)," according to the website. "Trade your IB account on-the-go from just about any mobile device with IBKR Mobile. Use our HTML-based WebTrader, a clean and simple interface that works from behind a firewall."
Interactive Brokers also provides advanced online trading tools to help users discover and implement optimal trading strategies. For example, its Probability Lab offers traders practical ways of thinking about options without having to deal with complicated mathematics.
"Real-time risk management and real-time monitoring provide a comprehensive measure of risk exposure across multiple asset classes around the globe and real-time data that gives you the edge you need to react quickly to the markets," according to the website.
Delivering Educational Resources Through Traders' Academy to Help High-Volume Traders Make Smart Decisions
Interactive Brokers not only delivers the technology and tools to execute high volumes of trades, but it also provides the educational resources to help users get the most out of the platform.
"Even the most experienced traders need to keep learning to stay ahead," according to the website. "Traders' University provides information about IBKR products and services in many different ways."
The educational service is intended for financial professionals, investors, educators, and students seeking a better understanding of the asset classes, markets, currencies, tools, and functionality available on Interactive Brokers' Trader Workstation, IBKR Mobile, Account Management, and TWS API applications.
Traders' Academy (under the umbrella of Traders' University) offers 24 diverse courses, from TWS for Beginners to more in-depth options such as Python TWS API or TWS Algos.
The complementary courses use a combination of lessons, videos, quizzes, and notes to help clients gain a better understanding of the tools and capabilities available to them.
"We think it's very important for people to come in and be educated, especially on the more complicated types of issues," Sanders said.
The company also provides an extensive offering of free trader webinars.
"Watch, listen, and ask questions from your home or office computer as our webinar instructors clearly describe our technology, trading, and markets around the world," according to the website. "Our webinars are also recorded so if you can't attend a live webinar, you can experience it on demand at your own convenience."
Another handy tool is an in-depth Trader's Glossary. New and experienced traders can sift through nearly every acronym, term, or strategy in the trading industry with ease.
IBKR's Stock Yield Enhancement Program Goes One Step Further to Maximize Profits
Sanders said Interactive Brokers also offers a Stock Yield Enhancement Program that can serve as an extra revenue generator for traders.
The program "offers clients the opportunity to earn additional income on their full-paid shares by lending those shares to IBKR for on-lending to short sellers that are willing to pay to borrow them," according to the company.
Once a trader is enrolled in the program, the activities are completely managed by Interactive Brokers and do not require any further action from enrollees. Clients maintain full control of loaned shares with no impact on market exposure, the ability to sell at any time, hedges, representation of holdings in statements, and cost basis.