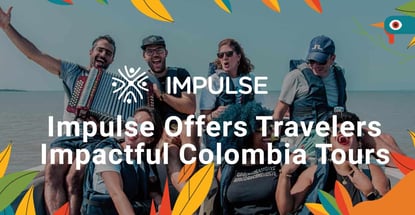 Our experts and industry insiders blog the latest news, studies and current events from inside the credit card industry. Our articles follow strict editorial guidelines.
In a Nutshell: Although Colombia has been mired in internal conflicts for decades, the tourism industry is beginning to blossom there. The effort to help the country turn a new page has been led, in part, by Impulse Travel. The travel company promotes tourism that not only helps Colombians but also gives travelers a unique experience. One of Impulse's most popular trips is a raw and real visit through the rougher neighborhoods of Bogota guided by reformed gang members. To give back to the community, Impulse has a sister non-profit called Collective Impulse that supports local entrepreneurship.
Colombia is a country full of natural beauty, lush biodiversity, deep cultural heritage and a rising technological industry. And while tourism has been on a steady rise recently, that wasn't always the case.
Since the 1960s, Colombia has been rocked by political strife and internal armed conflicts tied to the production and trafficking of cocaine. During that time, several groups have vied for power including the Colombian government, crime syndicates and guerrilla militant forces like the Revolutionary Armed Forces of Colombia (FARC) and the National Liberation Army (ELN).
While violence and crime are still considerably high, the country has seen vast improvements since the 1990s. And many are hoping the current boom in the tourism economy will help Colombia transition further away from its tumultuous past.

In an effort to accelerate the improvement of Colombia's socio-economic conditions, Impulse Travel looks to be an example of how leadership and cultural responsibility can guide a better future for all.
Impulse is a travel company that highlights cultural preservation, peace-building and uplifting transformation as its main objectives.
The company recognizes the important role it can play as a business in improving the lives of the Colombian people. Through its tours to locations like Bogota, Cartagena and Macarena, the Impulse team shares its knowledge with travelers on the connection these places have with the local populations.
"What we are doing at Impulse is to change firstly the reality of our country by working together with communities and projects that are generating an impact in their territories and then showing these efforts externally with our expert travel knowledge and curated cultural experiences, so that these 'tours' will stay in the memories of the persons that choose to travel with an Impulse mindset" said Felipe Cadena, Commercial Leader at Impulse.
Authentic Experiences in Colombia
Impulse promotes tours of Colombia that carry an authentic perspective while sharing unique stories through food, music, art and history.
"Basically, we work with travelers that are maybe more interested in getting to know the real culture, get in touch with the locals, and would like to have an impact on their travels, and something that will actually change their behaviors," said Cadena.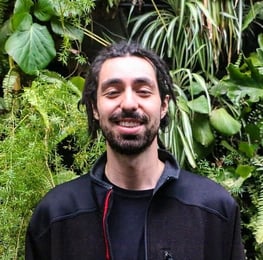 Travelers can choose from an array of destinations, including the beaches of La Guajira, the forests in El Guaviare or the bustling cityscapes of Bogota. Regardless of the destination, Impulse makes it a fully immersive experience that travelers will never forget.
One particular type of experience is told through a powerful musical journey rooted in Colombia's history called the Sounds of Colombia. Guests will go on a seven-day tour with a professional musician guide who will take them on a trip that includes live musical performances, workshops, and opportunities to play instruments and be part of the experience.
"You will get in touch with at least five different rhythms and have completely immersive music performances along with instrument craft workshops, live music, gastronomy, in beautiful destinations such as Cartagena and other smaller towns that are along the way," said Cadena. "It's like a whole route, and you will learn everything about these rhythms and the origin of the country. Most of them are associated with African roots."
"You will get instruments for yourself so you can play along with the musicians. It's a very compact tour and, definitely, life transforming."
Earn Rewards Through International Flights
Traveling options with Impulse range from short day trips to week-long tours that can vary in price from around $2,000 to $3,000 depending on the type.
Impulse accepts many types of payments, including all credit cards. The company doesn't have any card partnerships, but since the tours do not include airfare, travelers have the freedom to make their own flight purchases and accumulate or redeem reward points in the process.
Travel credit cards often have annual fees, but they offer cardholders the opportunity to earn points to redeem for rewards. There are several card companies that are associated with specific airlines, and , cardholders can enjoy a number of different features depending on the card they select.
Cardholders usually accumulate reward points through incentive purchases like dining, travel, hotels or gas. Airline miles are usually maximized through travel-based purchases. But it's important for consumers to check which services and benefits specific travel credit cards offer.
Transforming Local Economies Through Travel
What Impulse describes as "meaningful travel" involves letting visitors see current social problems in Colombia and helping them understand how they can be part of the solution. Impulse's HEART experiences are designed to show how local people, rather than places, are the real destination.
"What differentiates us from other organizations is that we actually offer experiences working together with local projects that are involved in the peace building, negotiations, or are aiming at resolving the armed conflict in difficult regions as well," said Cadena.
"In Bogota we have our most wanted, and tourists called it 'Breaking Borders,' which takes you to a dangerous neighborhood in the eastern top of the heels of the country, which has an amazing view around the city, but it was well known for the gangs that still have a lot of power there."
"So former members of these gangs started to create a touristic experience to show outsiders their neighborhood because it's a very nice neighborhood and is one of the oldest neighborhoods of Bogota," said Cadena.
As it gives back to communities, Impulse helps replace Colombia's internal war economy with one that is vibrant, peaceful and transformative. It is a process that Impulse hopes will become a win-win economic model for future generations in the region.
Impulse also has a sister non-profit organization called Collective Impulse that offers access to funding and technical and other educational programs to strengthen community entrepreneurship. Collective Impluse uses the business entrepreneurs' stories to create connections with universities and the private and public sectors to generate legal income and opportunities for growth.
By developing a powerful network of leaders for change composed of social and environmental entrepreneurs, Impulse can inform travelers about how these groups are making an impact in Colombia.
If travelers feel touched by these HEART experiences, they can go one step further by sending a donation for the cause.
Cardena mentioned that Colombia still has a way to go to improve the social conditions. There are still narco traffickers and other risks in the region, but, at the same time, these shadier elements are more hidden away.
"It's not easy to be around these places. You will have to get yourself into a very difficult situation to see this reality, but everybody knows that it's there," said Cadena.
Despite the present reality of persistent criminal activity, Impulse is on a mission to show a better future for the country through the power of culturally enriching tourism that does not exploit the local inhabitants.
"We are trying to show from these projects, what they are doing and how we are working together to offer a different vision," said Cadena.