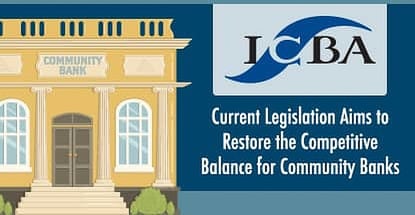 In a Nutshell: A journalism professor once told me that no one likes the process of writing, but everyone loves the outcome of having written. The same goes for buying a home. Mortgage applications, and the endless paperwork at closing, can be daunting — but well worth it once it's over. That paperwork is just as burdensome for the small banks that dedicate tremendous resources to compliance and processing departments to approve loans. Current legislation aims to help community banks by lessening the paperwork obligations so they can compete with larger institutions that typically process more loans. The Independent Community Bankers of America (ICBA) is fighting for this and other rights of nearly 5,700 community banks of all sizes and charter types through effective advocacy, best-in-class education, and high-quality products and services. //
Anyone who has ever purchased a home likely remembers how stressful and long the mortgage process can be. I'm still occasionally rubbing the soreness out of my hands from all the paperwork I signed when I purchased my current home more than a year ago.
But while the process can be tedious for consumers, it is equally costly for the community banks that extend mortgage loans. The tremendous amount of paperwork and compliance that goes into issuing a single loan can be so complex that smaller banks simply bow out of the mortgage business to avoid the hassle.
This affects consumers, who can sometimes struggle to find a competitive home loan with fewer lenders in the space. Banks that stick with issuing mortgages often dedicate such a large portion of their resources to doing so that they neglect other loans — like small business lending and auto loans.
Recent legislation signed by President Trump aims to make it easier for smaller community banks to compete with their larger national competitors. The Economic Growth, Regulatory Relief, and Consumer Protection Act (S.2155) amends the Truth in Lending Act (TILA) to allow a depository institution or credit union with assets below a specified threshold to forgo certain overly prescriptive documentation requirements regarding residential mortgage loans when they chose to hold those loans on their books.

The Independent Community Bankers of America's (ICBA) dedicates itself exclusively to representing the interests of nearly 5,700 community banks of all sizes and charter types through effective advocacy, best-in-class education, and high-quality products and services. The organization lobbied extensively to see S.2155 become a reality.
"Basically, the impetus for the legislation was to better help consumers at the retail level attain community bank services nationwide," said Paul Merski, Group Executive Vice President, Congressional Relations and Strategy at ICBA. "A lot of the focus of the legislation is on mortgage lending and small-business lending."
Merski said the legislation makes it easier for individuals to use their local community bank to secure a mortgage without the many rules and regulations that often prevent the bank from offering a loan.
"A lot of the focus is on reducing the onerous paperwork burden often involved with opening up a loan or a mortgage," he said. "It also helps banks increase their capital levels and allows them to process less paperwork on customers' loans."
Without the oppressive paperwork requirements, banks will have greater resources available to approve more loans — which will only strengthen the communities these banks work in.
"Overall, the bill is very pro-consumer," Merski said. "And the more credit that is flowing into local communities, and the more competition there is among financial service providers, the better it is for the consumer to access that credit."
Streamlined Mortgage Lending Opportunities Help Banks Extend More Financing
Merski said that current regulations put community banks at a disadvantage because the rules are evenly applied to all institutions, regardless of size. Since larger banks have more staff and often greater budgets, they're able to approve more mortgages — often at non-competitive rates.
"But many of the reduced rules under this bill have more banks getting back into mortgage lending because it isn't as cumbersome, burdensome, and costly to do mortgage lending," he said.
As these institutions return to the lending space, the added competition brings down rates and increases consumers' options and access to credit. The legislation also greatly reduces the amount of data gathering and reporting for community banks required by recent changes to the Home Mortgage Disclosure Act (HMDA).
"All of the existing HMDA requirements are still in place, but the new and additional reporting requirements aren't implemented for banks that make less than 500 mortgages a year," Merski said. That excludes many of the smaller community banks from the traditionally difficult process.
"With more streamlined mortgage lending opportunities, these banks will be able to extend more credit," Merski said. "That will make it easier for the consumer to fill out the paperwork needed to get a mortgage, and it'll be easier for the bank to process it and provide credit within the community."
Small Businesses Should Receive Greater Access to Capital
Any parent of a newborn baby understands how focusing on just one task can leave a lot of important jobs neglected over time. The lending arm of many community banks also tends to fall victim to this siloed mindstate when it gets bogged down with excessive paperwork.
But S.2155 frees up these institutions to provide more loans to a greater number of consumers with varying needs.
"I think small business lending will get a boost as banks spend less time, money, resources, and staff on compliance to satisfy regulatory paperwork needs," Merski said. "They'll be able to focus more on what they do best, and that's working in the community to put out small business loans and extend credit."
Merski said that many small banks are now able to bring on more loan officers instead of compliance officers, which was rarely the case in the past. "That's a positive for anyone who is looking for a loan," he said.
How Consumers Can Support ICBA's Efforts
The ICBA's work lobbying for legislation that evens the playing field for smaller community banks to compete against larger institutions never ends. With nearly 5,700 independent community banks nationwide, the organization is constantly looking for new ways to help these banks thrive.
But for as much as the ICBA can do, much of the work in supporting these smaller institutions also falls on the laps of consumers.
"The best thing to do is shop around for your financial needs," Merski said. "You don't have to go with the trillion-dollar national institution. Many of your local institutions will provide you with better service and better rates and actually work with you on a one-on-one basis."
ICBA makes finding independent banks easy with its online locator, which locates banks by ZIP code.
Most people use the tool to shop around and find the best rates before accepting a loan for a major purchase. With more small banks getting back into the lending game, Merski said there's never been a better time to be a lender or a borrower.
"This is an excellent time for the financial institutions to be offering credit," he said. "It's also an excellent time for anyone who is seeking credit to apply for credit because of all of the offerings out there. You can really look at your local market and tap into that to get the best possible deal."
Advertiser Disclosure
CardRates.com is a free online resource that offers valuable content and comparison services to users. To keep this resource 100% free, we receive compensation for referrals for many of the offers listed on the site. Along with key review factors, this compensation may impact how and where products appear across CardRates.com (including, for example, the order in which they appear). CardRates.com does not include the entire universe of available offers. Editorial opinions expressed on the site are strictly our own and are not provided, endorsed, or approved by advertisers.