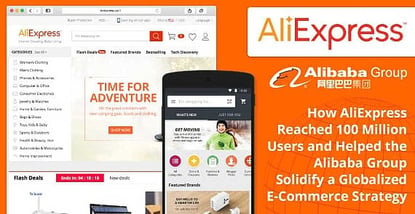 In a Nutshell: With 100 million users worldwide, AliExpress supports the globalization strategy of Alibaba Group, which is developing the infrastructure to make global e-commerce a reality. Alibaba Group is not only to bringing China to the world, but it is also bringing the world to China with the goal of serving 2 billion consumers and while supporting 10 million entrepreneurs. And AliExpress has plans to grow with Alibaba Group into the next century by providing a platform for brands and distributors in China to sell to the world.
Since Alibaba Group was founded in 1999, the company has been clear about its vision to build a globally connected online marketplace for business-to-business and business-to-consumer transactions. That vision also deviates substantially from the standard five, 10, or even 20-year plans that businesses put together.
That's because Alibaba has a 102-year plan.
Before the company's IPO in 2014, Founder and Executive Chairman Jack Ma wrote a letter to potential investors in which he said: "We have helped millions of small businesses to achieve a brighter future, and we hope to do this for at least 102 years." The significance of lasting 102 years is that the company, on reaching that milestone, would have conducted business in three different centuries.
With the success that Alibaba Group has achieved in its first 18 years, the 102-year goal doesn't seem all that lofty. The company continues to expand a digital foundation for future generations of online transactions.
The site launched in 2010 and granted worldwide consumers access to popular brands in China. Recently, AliExpress surpassed 100 million users, a milestone that speaks to its global popularity.
AliExpress is part of the group's overall globalization strategy to connect businesses to consumers everywhere. Through AliExpress, small businesses in China have been able to reach shoppers across the world, but Alibaba Group is building the infrastructure to empower true cross-border commerce on a large scale.
AliExpress Marketplace Connects Consumers Directly to Chinese Brands & Distributors
AliExpress has been a boon for small Chinese businesses — many of which focus on manufacturing and distributing. The marketplace connects those businesses to consumers in many different countries, with the US, Russia, Spain, France, and Brazil among its key markets.
The success of AliExpress can be attributed to a simple, but highly compelling value proposition: connect, buy direct, and pay less. Users can sign up for an account quickly and open a direct retail pipeline to China.
"We are committed to creating a frictionless process for both buyers and sellers," said Leo Shen, General Manager of AliExpress. "For buyers, we now support more than 20 kinds of payment methods, VeriSign SSL encryption, and one-click payment. And sellers don't need to worry about foreign exchange issues and fluctuations. The product is the only thing that sellers have to focus on."
Brands and distributors that make up much of the AliExpress marketplace have also been able to grow, not just by the number of customers they reach, but also by learning how to sell their products more effectively.
Helping Brands Market Their Products to an International Customer Base
When AliExpress began, many of the small businesses that joined were original equipment manufacturers (OEMs) that don't have much experience selling products directly to consumers. When those OEMs partnered with AliExpress and began selling to a worldwide customer base, they needed some guidance.
"Initially, they were just manufacturing the product, not focusing on building their brand," said Candice Huang, Manager of International Corporate Affairs for Alibaba Group. "Increasingly, we see their desire to market products, and AliExpress works with them to foster that next level of product establishment."
AliExpress answered those needs by creating tools to help sellers market their goods.
"Internal marketing tools, such as platform campaigns, store promotions, RTB (Real Time Biting) and banner display systems, enable the seller to connect with their potential target audience," Leo said. AliExpress also offers tools to help with external marketing, data analysis, and brand awareness, helping sellers come up with broad strategies.
It helps that the marketplace's reach is so vast, and consumers in more than 220 countries and regions are shopping with AliExpress through traditional and mobile channels. AliExpress participated in Alibaba Group's 11.11 Shopping Festival — held on November 11, or Singles' Day — where it saw 35.78 million orders placed in 2016, 58% of which were from mobile devices. As a company, Alibaba Group saw a staggering $17.8 billion in sales during the 24-hour span.
For small businesses in China, access to a global, mobile-friendly marketplace is encouraging brand growth in ways they couldn't have imagined before AliExpress.
Feedback From Buyers and Sellers Leads to a Better Platform
Online reviews and ratings are often critical to a consumer's buying experience, but the AliExpress feedback system improves on the typical review process by making it more transparent.
Many times, reviews come only in the form of stars and don't always paint an accurate picture of a retailer. One business could have five stars but only three reviews, while another has four stars but thousands of reviews. That can be misleading if one of those businesses has a more established record, but they are both judged on the same one-dimensional criteria.
With Alibaba, feedback is more robust, showing not only stars but also an in-depth picture of both buyer and seller history. Profiles show the percentage of positive feedback (4-5 stars) received in the past six months, as well as an all-time score represented by medallions, diamonds, or crowns, based on the number of positive reviews received.
A buyer with five positive reviews would be rated with one medallion while a seller with more than 40,000 positive reviews would get five crowns. It is an easy, visual way for buyers to identify reputable sellers and for sellers to determine the reliability of customers.
And beyond reviews between buyers and sellers, AliExpress relies on feedback from all of its users to keep improving its platform.
"We really value our customers' feedback and find it instrumental in improving our products and services," Leo told us. "Feedback comes from various channels including email, surveys, and one-on-one communication with our service department. This type of direct feedback is our main source for optimizing our platform.
Building E-Commerce Infrastructure to Support Over 10M Entrepreneurs Worldwide
Not many companies begin with the goal of conducting business in three different centuries, but that is just one of the many facets that make Alibaba Group unique. AliExpress has three primary objectives: connecting the world to China, connecting China to the world, and the establishment of a world e-commerce platform.
"Jack laid out that in the next 20 years, Alibaba aims to support 10 million profitable merchants and serve 2 billion customers globally," Leo told us. "Key to supporting this globalization initiative is AliExpress' ability to help consumers from around the world access quality products from China."
Alibaba Group has brought the world to China through Tmall, China's largest platform for brands and retailers, to allow businesses from around the globe to sell to Chinese consumers. China has a large and growing middle class of more than 300 million consumers, which is expected to grow to 500 million in next 5 years. More than $150 billion in cross-border e-commerce sales in China are expected by 2020.
Alibaba's cloud and media assets infuse businesses with the tools to succeed in China. Brands, distributors, and small businesses in China now have access to global customer bases. With its reach, Alibaba Group has proven global e-commerce works on a massive scale and is laying the groundwork for a more substantial platform.
Alibaba Group is a proponent of establishing an Electronic World Trade Platform (eWTP) to eliminate barriers to e-commerce around the world. Businesses would drive it, and with governmental support, could work out ways to speed up customs clearance times and lower import duties.
The long-term goal for Alibaba Group is to serve 2 billion consumers worldwide and help 10 million entrepreneurs become profitable, and it is already laying the infrastructure to achieve it. In light of what it has accomplished since its founding in 1999 through its numerous ventures, it should be interesting to see what Alibaba Group's goals will look like in 2101.
Advertiser Disclosure
CardRates.com is a free online resource that offers valuable content and comparison services to users. To keep this resource 100% free, we receive compensation for referrals for many of the offers listed on the site. Along with key review factors, this compensation may impact how and where products appear across CardRates.com (including, for example, the order in which they appear). CardRates.com does not include the entire universe of available offers. Editorial opinions expressed on the site are strictly our own and are not provided, endorsed, or approved by advertisers.