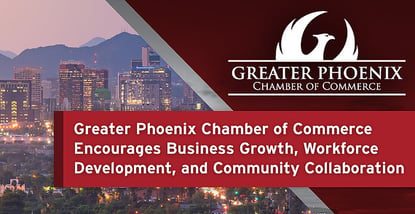 In a Nutshell: Chambers of commerce are long-standing, trusted networking organizations, but their traditional roles are evolving to help business leaders adapt to changes in today's commercial environment. The Greater Phoenix Chamber of Commerce (GPCC) is one of those modern organizations helping members address barriers to growth. The GPCC provides leadership training, promotion, legal advocacy, and economic development through the Phoenix Forward initiative and Workforce Development Collaboratives. Surveys show that GPCC's efforts are boosting retention and helping equip Phoenix businesses for future expansion. By meeting the changing needs of a diverse business ecosystem, GPCC is building both a stronger Phoenix economy and community.
The first US chamber of commerce was founded in New York City in 1768, laying the foundation for local networks as reputable advocates for small business. Today, chambers of commerce continue to play an important role in attracting new businesses to their communities, providing networking opportunities, and offering resources to local entrepreneurs.
Small businesses face new challenges — including the rise of big-box retailers, e-commerce, and global digital transformation — that call for a deeper level of involvement. But entrepreneurs need more than a supportive network to help them compete and succeed — they need connections and resources to foster growth.
The Greater Phoenix Chamber of Commerce (GPCC) — Arizona's largest and oldest business organization, founded in 1888 — recognizes the importance of not only attracting new companies to the Phoenix area but looking for ways to retain and grow established businesses.
"We focus on helping businesses already here in Arizona grow and expand since 80% of all jobs come from existing companies," said Janelle Tassart, Director of Community Relations for GPCC.
Picking up where many chambers of commerce leave off, GPCC works to help small and large businesses take the next steps and strives to create a supportive environment in which all can thrive.
At the government and community level, GPCC lobbies for fair business legislation and coordinates events that foster business connection, recognition, and development. In the commercial sphere, GPCC heads an ongoing initiative to support business growth in key verticals and address the needs of the future workforce.
Working with organizations, professionals, and business leaders, GPCC is tangibly supporting Phoenix-area businesses and helping the Greater Phoenix community experience sustainable economic growth.
Focusing on the Business Impact of Local Politics
GPCC's membership includes 2,400 diverse businesses ranging from large banks and utility companies to mom-and-pop stores within the city of Phoenix and surrounding communities. "We strive to be a great resource for all those members because they have different needs," Janelle said.
Besides filling a traditional role as a hub for business connectivity and professional development, the GPCC concentrates its efforts into two additional focus areas: public policy and economic development.
As is the case with any chamber of commerce, GPCC has no direct role in generating or passing civic legislation, but it does actively advocate business-friendly public policies. "Our vice president of public affairs, Mike Huckins, lobbies on behalf of the interests of the business community," Janelle said. "Not every member attends policy meetings, but we do have a dedicated staff monitoring legislation and lobbying on behalf of the business community to ensure that what passes creates a business-friendly environment."
Under the leadership and vision of GPCC's President & CEO Todd Sanders, the Chamber conceptualized Phoenix Forward — its economic development initiative — in 2015, after benchmarking its business attraction and retention practices against other cities. Phoenix already had a strong agency to recruit new businesses to the area, but GPCC saw the need for more work on the retention and expansion side. The initiative focuses on three specific industries that show the greatest potential for job growth — bioscience, health care, and transportation/logistics.
"We make sure that we're focusing on areas that are high-growth," Janelle said. "Because we're working within these areas to help them grow and create jobs that contribute to the economy, it translates into more business for the retail industry and across the valley."
GPCC Vice President of Economic Development, Jennifer Mellor, and the Industry Leadership Councils determine the most urgent needs of businesses with the help of data from the Economic Development Team's business outreach. The ultimate goal of Phoenix Forward is to remove barriers to business success by providing timely resources — operational guidance, finances, expansion plans, training and career development, social media, and other forms of promotion or advocacy.
GPCC conceptualized Phoenix Forward, but partnerships with the City of Phoenix, Maricopa County, and the Arizona Commerce Authority support its efforts. "We're the one common place that can connect businesses, educational leaders, and government officials and get them to come up with tangible solutions," Janelle said.
Hosting Events for Development, Education, & Networking
The GPCC offers local businesses many events and programs to network with other business leaders and government officials, develop their careers, and gain visibility within in their communities.
Members receive discounted entry to its larger Signature Events. These include awards programs, such as the IMPACT Awards — recognizing businesses that have had an exceptional impact on the community — and the ATHENA Awards Luncheon, which recognizes those who help women achieve professional excellence.
The annual IMPACT Awards are split up into categories for large businesses, SMBs, and nonprofits. Duet Partners in Aging, the 2017 nonprofit recipient, shared with GPCC how the award allowed the organization to expand its network.
"More people know about them because of the recognition they received from the chamber, and they've been able to bring on new volunteers," Janelle said.
The GPCC also hosts networking events — including morning clubs, luncheons, and after-hours mixers — to provide flexible options for chamber members to gather and forge important connections. The chamber also fosters professional development for business leaders of all ages and experience levels through groups such as the Professional Women's Alliance and Valley Young Professionals — a program to help leaders from 25 to 39 enter the business community and access the chamber's resources.
Several GPCC programs and forums are designed explicitly for small business leaders, who are recognized as the drivers of Arizona's economy. "We're launching our SMB master series, which will be a bimonthly program on areas of interest," Janelle said. "We talk with professionals and give them tips to grow their business. One session may be more policy focused, and the next may be more marketing and branding focused. We want to keep topics relevant and provide these resources at a discounted rate."
GPCC boosts civic involvement through events such as the Legislative Kickoff Reception, the mayor's state of the city address, and talks between members and elected officials. "At our Council Connections, we brought together close to 100 small business employees and leaders and split them into focus groups with City Council members," Janelle said. "They talked about topics such as economic development, transportation, and water — things of interest to our members. We try to break down some of those barriers and give our members access to leaders."
To build awareness of larger trends in the Phoenix economy, GPCC holds an economic forecasting event every fall in which experts share predictions for the job market on a global, national, and local scale.
Through these events, GPCC demonstrates its focus on providing existing businesses with the recognition, connections, and knowledge to help them grow.
GPCC Foundation Provides Business & Community Resources
Since launching Phoenix Forward, GPCC has seen one consistent pain point for business leaders — talent acquisition. "We have the university system here that provides a lot of talent, but there are still gaps," Janelle said. "So we started some employer-led workforce development collaboratives that are focused on solving those industry-specific talent issues."
These five Workforce Collaboratives — Compliance and Risk Management, Construction, Cybersecurity, Financial Services, and Hospitals — are housed within GPCC's nonprofit organization — the Greater Phoenix Chamber Foundation (GPCF), founded in 2016.
Workforce Collaboratives analyze demands in the job market and connect these needs with existing training programs — or help develop new ones — and make new workers aware of opportunities in growing industries.
"For employers, we offer turnkey materials they can use to enhance their wellness program or launch a new one. A few times a year, we run an eight- to 12-week program called the Wellness Wonders of Arizona, which builds community pride and highlights all the ways Arizona is a great place to live and work." — Janelle Tassart, Director of Community Relations for GPCC
The GPCF also serves as a deeper resource for the education, health, and wellness needs of the Phoenix business community. GPCF's Wellness A to Z program teaches businesses and individuals how to take advantage of all Arizona's health and wellness offerings.
"For employers, we offer turnkey materials they can use to enhance their wellness program or launch a new one," Janelle said. "A few times a year, we run an eight- to 12-week program called the Wellness Wonders of Arizona, which builds community pride and highlights all the ways Arizona is a great place to live and work."
Helping Businesses Succeed to Build a Stronger Community
Small and large companies across the US face many barriers to growth in a disruptive commercial market, and their needs are no longer fully met by traditional chambers of commerce. GPCC is one chamber that's adapting to these changes in the economic environment to move businesses — and the Phoenix area — forward.
GPCC recognizes that Phoenix's existing businesses are key to the city's continued growth and strives to help them keep their doors open. But the chamber also equips them to take the next steps for growth and expansion — primarily through the economic and workforce development efforts.
Since the launch of Phoenix Forward in 2015, the Economic Development Team has completed more than 2,500 business visits, and the feedback they've received highlights the initiative's success. In the final quarter report of 2017, nine out of 10 companies projected an increase in business revenue in the upcoming year, and 98% of respondents rated the current economic environment as either good or excellent. Phoenix businesses also reported adding more than 674 new jobs, channeling revenue into the local economy.
As it continues to work with Phoenix businesses, GPCC's approach remains simple. "We strive to provide exceptional programs for everyone involved, as well as to strengthen the community," Janelle said. "We have a lot going on, but we want to make sure that businesses are getting what they need."
Advertiser Disclosure
CardRates.com is a free online resource that offers valuable content and comparison services to users. To keep this resource 100% free, we receive compensation for referrals for many of the offers listed on the site. Along with key review factors, this compensation may impact how and where products appear across CardRates.com (including, for example, the order in which they appear). CardRates.com does not include the entire universe of available offers. Editorial opinions expressed on the site are strictly our own and are not provided, endorsed, or approved by advertisers.