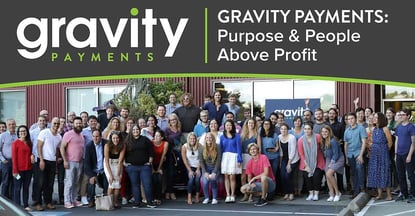 In a Nutshell: Gravity Payments is not your average credit card payments processor. Since its Founder and CEO Dan Price started the company at the age of 19, Gravity has been about giving clients a seamless payment solution without the headaches and fees of other processors. Gravity works closely with clients and identifies needs to get them up and running so the companies can stay focused on the day-to-day of running their own businesses. Price's honest approach and strong sense of integrity permeate Gravity's workforce to create a unique culture in the payments world, benefitting employees and clients.
Credit card processing companies don't often grab big headlines in the news since they tend to operate in the background. And for many businesses, one payments processor is as good (or bad) as the next.
But, Gravity Payments is different.
The company's Founder and CEO Dan Price made national headlines in 2015 when he announced his plan to implement a minimum salary of $70,000 for every employee at Gravity. Price has never been a typical CEO, and it's his unique vision that has set the company apart since its inception in 2004.

As a high school student, Price was playing guitar in a rock band — mostly regional gigs in rural southwest Idaho where he grew up. He learned that his friend Heather, who owned one of the coffee shops where his band played, was barely keeping the business afloat, in part, because of what Price saw as excessive fees imposed by her credit card processor.
"I discovered through my dad, who worked as a consultant, the world of credit card processing," Price told Forbes. "So I offered to help Heather with her business and was able to get her a better deal on her processing. And because of that, she told people about me."
That was also when Price's mission in life became clear. He had seen Heather and other friends being taken advantage of by their payment processors and decided to fight against the big companies bullying the independent businesses he cared about.
Reports of Price's passion spread by word-of-mouth to other independent businesses and helped his young company's reputation. After being hit hard by the 2008 recession, the company regrouped and has been steadily growing ever since.
We recently spoke with Gravity's Director of Finance, Edwin Dutton, to learn more about what sets Gravity apart, its payment solutions, and the company's unique culture.
Gravity Offers Seamless Payment Solutions at a Fair Price
Gravity Payments got its start with its credit card payment processing solutions, but with the rise of online shopping, mobile transactions, and other e-commerce use cases, business needs have evolved a lot over the past 15 years. The company has expanded its service offerings to keep up with the evolving payment ecosystem and offers a full range of payment solutions focused on small businesses.
"At the end of the day, payment processing is something that businesses need, but it's not something they should worry about," Dutton said. "They should be able to spend their time focusing on the business."
These days, Gravity offers a full range of solutions to meet the payment needs of small businesses in the modern payment world.
The company's credit card processing service includes mobile payment processing, the acceptance of card-not-present transactions, and hosted payment acceptance forms.
"Our credit card processing solution provides and integrates with a wide variety of terminal and software options, including the latest mobile and EMV solutions," according to Gravity's website. "We accommodate existing systems with ease, regardless of your current situation."
Potential clients can find out whether they are paying too much with their current credit card processor by using the rate calculator on Gravity's website.
"We also have a portion of our business that has integrated products along with our services," Dutton said. "In those cases, we're serving our point-of-sale partners as well as our merchants."
For businesses that only deal in online transactions, Gravity's e-commerce payment solution is available as a separate service as well. The same goes for its mobile payments solution. Dutton said the company's services can be mixed and matched to best meet the client's needs.
Gravity also offers personalized, branded gift cards and loyalty programs to help gain new customers and boost repeat visits. These services were once only available for big businesses but now smaller businesses can take advantage of them as well.
Finally, Gravity's Working Capital program can help businesses get a leg up with some extra cash.
"We're able to provide our clients with extra funds, when they need it, to make improvements or expansions to their businesses, and they don't have to go through the process of dealing with traditional bank loans," Dutton said. "We go through the numbers with them and advance them the money, and they pay it back over time through their processing fees."
Meeting a Wide Variety of Needs with a Highly Consultative Approach to Servicing Clients
Rather than having a tiered payment and service offerings like many companies, Gravity wants to make sure clients are truly getting the best services for their needs, so they take each client on a case-by-case basis.
"We don't really have set pricing structures," Dutton said. "With our consultative approach, we try to do whatever is best for the business. We have some clients on flat-rate plans because that's what they prefer and others on cost-per-transaction plans because it's what they want."
He said Gravity has a very high touch sales process, so the team can walk through any and every detail with the customer.
Additionally, Dutton said customer support, in general, is a huge deal for Gravity.
"Our focus on the customer is what the company was built on and remains one of our biggest values," he said. "We offer 24/7 support with virtually no hold time on the phone. If we can't figure it out over the phone we can send someone to the business or ship equipment overnight."
This strong focus on support is echoed on the company's website.
"All members of our Support Team are honored to serve the independent business in our communities. They'll do anything possible (at any hour of day or night) to help them achieve success," according to the website.
Gravity also provides in-depth analytics so its clients can know where to focus their efforts to improve or grow their businesses.
"Clients can see analytics on their customers' purchasing habits," Dutton said. "Maybe they can identify areas where they have less penetration so they can target those areas and shape some marketing around that."
Disrupting the Payments Industry Internally and Externally with a Strong Focus on People
Price did not make the decision to raise Gravity's minimum salary to $70,000 lightly. He spent sleepless nights pondering the idea and poured over numbers to see how to make it work. He even took his $1.1 million salary down to $70,000 to help implement the plan.
When he announced the plan in 2015, it made waves not only across the world of payment processors but across the business world in general. Price's decision grabbed national headlines, started many CEO-level debates, and even landed him as a guest on "The Late Show with Trevor Noah." Inc.com described the reaction to the announcement as tsunamic.
But Price didn't do it for the attention. It was simply an extension of the progressive point of view from which Gravity was born.
Price told Forbes he wanted to help ensure that Gravity employees could live a normal life without having to worry about covering the basics. Despite a few naysayers, the policy has been an overwhelming success by just about any measure.
Dutton said the increased minimum salary has led to more Gravity employees becoming first-time homebuyers. And, in the past, Gravity employees had maybe one baby per year, but now there are about 20 babies born to Gravity employees each year.
Gravity's approach to employees goes beyond just a living wage.
"Take care of your team, and they'll take care of your clients," according to Gravity's website. "Gravity Payments recognizes the value in establishing an entrepreneurial, goal-oriented, rewarding, honest, and innovative culture, which is what makes our company such a remarkable place to work."
After the living wage policy was implemented, revenue has grown at twice the previous rate and profits have also doubled. Customer and employee retention also increased.
Dutton said Gravity Payments will continue down the path forged by Price for the foreseeable future, with a commitment to its communities, clients, partners, and merchants.
Advertiser Disclosure
CardRates.com is a free online resource that offers valuable content and comparison services to users. To keep this resource 100% free, we receive compensation for referrals for many of the offers listed on the site. Along with key review factors, this compensation may impact how and where products appear across CardRates.com (including, for example, the order in which they appear). CardRates.com does not include the entire universe of available offers. Editorial opinions expressed on the site are strictly our own and are not provided, endorsed, or approved by advertisers.