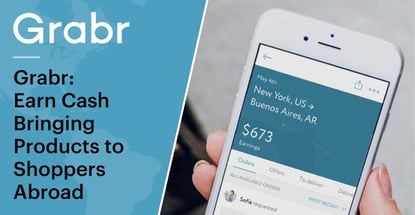 In a Nutshell: If you've ever been traveling abroad and had friends ask you to bring back items unavailable where they live, Grabr is the platform for you. Since 2016, Grabr travelers have earned more than $5 million USD delivering products to shoppers in 75 countries. First, shoppers publish orders they'd like delivered. Then, travelers make offers on the orders they'd like to bring — personally choosing and setting their reward for each. Travelers purchase and pack the product, and meet the shopper on the trip to deliver it. Once the shopper has received the delivery, the traveler gets paid. Most leisure travelers earn $200/trip on average along popular routes, but there are no limits to how much you can earn with Grabr. The platform also presents a great opportunity for travelers to rack up credit card points with their Grabr purchases.
Husband and wife entrepreneurs Artem Fedyaev and Daria Rebenok were both born in Russia but lived in cities all over the world growing up and as married adults. When they decided to settle down in San Francisco's bustling tech community several years ago, Fedyaev and Rebenok quickly began to miss their favorite international products not available in the U.S.
Conversely, when the couple would go abroad, they often took American products with them to deliver to friends and family.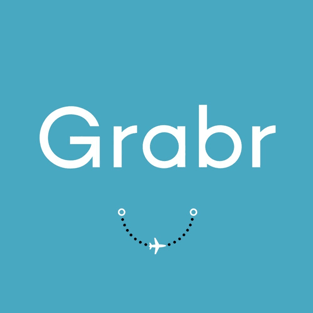 "In San Francisco, you're exposed to all of these on-demand services," Rebenok said. "We get delivery of nearly anything we want within an hour with one click of a button."
Then, something else clicked for Rebenok and Fedyaev — the idea for Grabr.
Grabr is a peer-to-peer platform that connects shoppers who want to purchase items in other countries to travelers who can buy the products and hand-deliver them to the shoppers.
The couple founded Grabr in 2015 and have helped numerous shoppers acquire otherwise out-of-reach products — while often saving them money — and helped travelers earn a few extra bucks to deliver the goods.
Not only can travelers earn extra money with Grabr, but the platform also makes it easy to rack up credit card points and rewards. Travelers simply use their cards to make their Grabr purchases and pay their balances when they receive payment from the shoppers.
Rebenok said Grabr plays into the couple's love of travel and the convenience of being able to get beloved products from overseas — even basic items that are readily available in every European supermarket but are not carried in U.S. stores.
Supply and Demand in the Grabr Ecosystem
"Whether craving macarons from Paris or the latest gadget from New York, Grabr offers a faster and friendlier way to shop the globe, and at the same time, empowers travelers to monetize extra space in their suitcases," according to the Grabr website.
Rebenok walked us through how the Grabr platform works for both shoppers and travelers.
"It works very simply. The basic idea is just how all marketplaces work," she said. "When there's demand from the international shoppers — the people who want a product from other countries — we tell them to find the product online and paste it to Grabr."
Rebenok said Grabr also allows the shopper to fill in additional details such as size and color for clothing items or specific colors for electronics like iPhones. The shopper also submits where they want the product delivered and when.
Grabr recommends a price to the shopper based on what the item is selling for on the website and other considerations, including applicable taxes and service fees.
The product request is posted to Grabr's community of travelers, and travelers who are going to be in the shopper's city will place bids to deliver the item. Once a price is agreed upon between the two parties the order is solidified. The traveler then purchases the item with his or her own money.
Finally, the traveler and shopper will coordinate a time and public place to meet. Grabr asks shoppers to confirm the delivery of their items so the traveler gets paid. Shoppers will receive a full refund if their orders are not delivered for any reason.
"It's really important for the traveler to buy the product with their own money and pack it in their suitcase and deliver it themselves, for safety and security as well as legal compliance," Rebenok said. "The traveler has to buy the product and legally own it."
This provides a great opportunity for travelers to use credit cards to make purchases and earn points that can be applied toward airline miles for their future trips, Rebenok said.
A Trusted, Transparent Community
Rebenok said the safety of Grabr users is extremely important.
"We inform everyone not to go to anyone's house or meet with someone if you don't feel safe," she said. "But also, we're doing financial verification and security checks both for the shoppers and the travelers, to avoid such situations."
Grabr users also receive ratings that help with accountability.
Rebenok said more than 500,000 items have been delivered via Grabr, and she has not heard of any cases where a shopper or traveler felt unsafe.
Nevertheless, Grabr displays a code of conduct on its website to reinforce the importance of respect and safety among the Grabr community.
The company has also compiled valuable information about the process on the Trust and Safety page of its website.
"Grabr users must complete a 2-step verification process to ensure that all parties are real people. You will be asked to verify your account via email and SMS," according to the website. "This helps protect our community from fake accounts and spam. Your email address and phone number will be kept private."
Additionally, the company has a no-tolerance policy for harassment or illegal activity of any kind.
"We may take action if a user does something to diminish trust within the community, such as canceling multiple orders or deliveries, transacting outside of Grabr or spamming accounts," according to the website.
Rebenok said the company actually wants to go beyond simply making users feel safe; Grabr wants to foster a healthy community among its users and help create new connections between people.
"Grabr is also built on the idea of community because we are actually encouraging people to meet up in person," she said. "We've actually heard a lot of stories where people met and then did things like barbecue together. There's one story of Grabr users taking a ski trip together in Chile."
Grabr Shoppers and Travelers Attest to the Benefits and Effectiveness of the Platform
Grabr's website is packed with glowing testimonials from satisfied users, and the app has 4.8 out of 5 stars in the Apple iOS store with more than 800 reviews.
"I delivered all my grabs within two hours. I chose the lobby of my hotel because it was in a central part of the city and the most convenient place for me," wrote Scott Eddy, who earned $530 using Grabr. "I lived in Asia for more than 12 years, so I know just how impossible it is to get what I'd consider 'everyday' items."
Emmanuelle Tamaru saved $2,000 by ordering her YSL handbag through Grabr. And Ksenia Sokolyanskaya was able to get her favorite Arizona tea flavor delivered to Moscow by a Grabr traveler. She wrote that, otherwise, having the tea shipped to Moscow would have cost as much as flying to the U.S. and back to Russia to buy it.
Grabr currently has 1.4 million users, including 68% of those being men and 32% being women. The company's top markets include the U.S., Peru, Brazil, Argentina, Russia, Thailand, and Vietnam.
Grabr membership also comes with a number of perks that may be appealing to frequent travelers.
"We've partnered with companies around the world to make your travels even better. Available to all members of the Grabr community," according to the company website.
These perks include special rates or discounts at Meliá Hotels International, Mine Hotel Boutique, Urbanica The Hotels, and the Alma del Plata Buenos Aires Hotel. Grabr users are also eligible for a £15 discount on Uber in the U.K.
So, whether you're planning a trip overseas and have room to spare in your suitcase and need some extra cash, or if you're longing for those exotic cookies you had on vacation last year that you can't find anywhere, Grabr may be just what you're looking for.
Advertiser Disclosure
CardRates.com is a free online resource that offers valuable content and comparison services to users. To keep this resource 100% free, we receive compensation for referrals for many of the offers listed on the site. Along with key review factors, this compensation may impact how and where products appear across CardRates.com (including, for example, the order in which they appear). CardRates.com does not include the entire universe of available offers. Editorial opinions expressed on the site are strictly our own and are not provided, endorsed, or approved by advertisers.