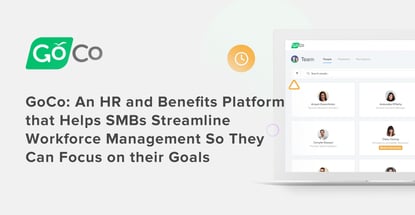 In a Nutshell: SMBs juggle many priorities when launching and charting a successful course, and effective workforce management often gets pushed to the bottom of the list. But neglecting HR and benefits administration can result in a significant loss of potential. More than 10,000 SMBs turn to GoCo to integrate their HR management workflows and responsibilities while offering a seamless experience, no matter the industry. GoCo helps small HR teams spend less time filling out forms and sending files and more time helping employees — and bottom lines — grow.
Nir Leibovich and his colleagues Michael Gugel and Jason Wang launched two successful companies and saw both through to acquisition. But the group's third venture set out to help other businesses by sharing what they had learned from starting the first two.
GoCo is an HR and benefits platform that helps more than 10,000 small businesses take better care of their most important investment — their employees.
In the rush to get up and running and on a steady growth trajectory, companies often put HR far down their list of priorities. But GoCo helps SMBs simplify workforce management, so owners and managers can spend less time filling out forms and more time creating a successful company.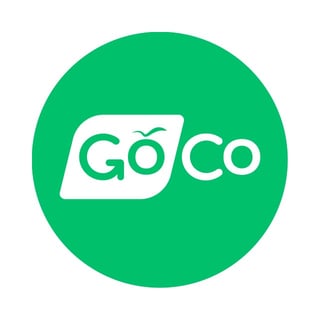 The team's first venture was a gaming platform that was acquired by Zynga in 2011. With that company, the team learned how to create beautiful and engaging user experiences at scale. Later, they started a business that focused on distilling massive amounts of data into usable forms.
That company was also acquired, with Leibovich serving as Chief Business Officer of the combined organization. And it was while addressing challenges at that company that the idea for GoCo began to take shape.
"After several years of operating that business with a hundred or so employees, I noticed that every department was accelerating. The salespeople had their CRM, the marketing people had their analytics tools, and the finance people had their accounting software," Leibovich said. "But every time I walked into the HR department, I saw filing cabinets, stacks of paper, and even fax machines. You start scratching your head and wondering: 'The world has changed, why hasn't HR?'"
GoCo helps those businesses modernize their operations through simplified HR tools that give small operations enterprise-level capabilities.
Helping Administrators and Employees Overcome Common HR Obstacles
Leibovich wanted the HR team to have more time to spend on talent management, recruiting, and engagement instead of bogging itself and everybody else down with administrative tasks.
"It was basically impossible for them to do anything that was of higher value," he said.
To address those pain points, Leibovich looked at the HR platforms on the market and found a lot of room for improvement. When it came time for Leibovich and his partners to start another company, he kept coming back to GoCo.
"It was a solution to a problem we were all passionate about solving," he said.
GoCo, founded in 2016, still operates around that original inspiration of helping SMBs modernize and streamline their day-to-day HR. But it also draws on user experience and scalability lessons learned building a gaming platform and developing data analytics solutions.
"We wanted it to be a delightful experience on both sides — easy from an administrative perspective and modern and slick from an employee self-service perspective," Leibovich said. "So the time spent between HR and employee is high-value time, spent on improving careers and helping people be the best they can be."
GoCo serves as a gathering place for all employee records. It follows hiring and onboarding, time-off requests, performance reports and feedback, offboarding, and includes self-service-enabled benefits.
What's more, GoCo integrates with third-party payroll platforms and partners with several preferred providers, which helps businesses maintain regulatory compliance and streamline operations.
"We're not here to replace HR departments — we're here to empower HR professionals so they can do more with the human connection," Leibovich said.
Flexible Plans to Fit Unique SMB Workflows
The global COVID-19 pandemic is leading SMBs to rewire themselves and operate in virtual environments. More HR departments are dispensing with paper forms, and digital tools are now imperative to business operations.
But smaller firms don't always have a dedicated tech solution for integrating payroll with HR. Most small HR departments, especially those with no management system, can struggle to keep up with rapidly changing employee regulations and workplace procedures.
"We're not trying to get companies to choose us over someone else but instead to choose us as a better way to do things," Leibovich said.
GoCo makes onboarding easy, especially with all of the integrations the platform provides.
All GoCo plans include hiring, onboarding, employee self-service, and document management modules. From there, GoCo implementation teams work with clients to customize other functionalities.
"Having existing templates, workflows, and approval processes sometimes discourages teams from moving to a new system because they don't want to break what already works," Leibovich said. "They want something that will accept them as they are, not force them to conform to a system. So we take the forms, the documents, the data flows — the entire process — and breathe digital life into it."
Free product tours are available for firms interested in taking GoCo for a test drive. And annual and multi-year contracts bring additional savings.
"We lower the threshold and the barriers for companies to get up and running without having to change what they do and how they do it," Leibovich said.
GoCo: Streamlined Businesses are More Competitive
GoCo frees HR professionals to do more of what they're trained to do, which is bringing out the best in people.
"HR is, in a lot of ways, the heartbeat of a company," Leibovich said. "The amazing people who go to school to get certified around HR don't wake up to push paper. They're in the business because they love people, they love those moments when they can help someone strive to be better, to build their career, to find where their strengths are."
And when a company can serve as a source for that type of professional development, employees are happier. GoCo makes that possible while also transforming the routines that remain into more refined versions. Companies that cling to outdated methods and processes risk losing out on efficiency and market share.
"Many of the millennials entering the workforce have never filled out a paper form," Leibovich said. "They're looking at their employers and saying, 'I just got off the elevator for my first day, I got here via Uber, I order my groceries from Instacart, and now you're giving me 25 pages to fill out with a pencil?' That's pushing employers to change the way things are."
When a tech platform can help an organization exceed its current potential, it's a win for everyone involved. And GoCo customers often recommend the platform to other companies.
"We don't want to cause any interruption for your HR team. We just want to bring them into the modern digital age," Leibovich said.
Advertiser Disclosure
CardRates.com is a free online resource that offers valuable content and comparison services to users. To keep this resource 100% free, we receive compensation for referrals for many of the offers listed on the site. Along with key review factors, this compensation may impact how and where products appear across CardRates.com (including, for example, the order in which they appear). CardRates.com does not include the entire universe of available offers. Editorial opinions expressed on the site are strictly our own and are not provided, endorsed, or approved by advertisers.