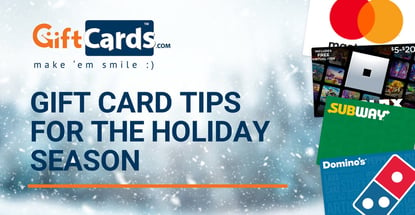 In a Nutshell: Trying to come up with the perfect gift idea for a friend or loved one can be difficult, but gift cards can be an ideal gift for nearly anybody. We spoke to Shelley Hunter, aka the Gift Card Girlfriend of GiftCards.com, who gave us some valuable tips on how to approach giving gift cards. The key is to put yourself in the shoes of the recipient. And while some people may think of gift cards as being too impersonal, adding a personal note or other indication about the thought that went into purchasing the card can go a long way.
Buying gifts for friends and family members during the holidays can be challenging. Some folks are simply happy to be thought of while others are likely to give you a shopping list complete with prices and where to find the gifts.
A couple of weeks ago a friend asked me for gift ideas for her husband. I suggested a gift card to a particular store, but she was hesitant because she thought a gift card seemed too impersonal.
While a random gift card can seem less intimate, there are many ways to give a gift card that is personal and meaningful.

I for one appreciate gift cards because they give me an opportunity to pick out something that I might not normally buy for myself. Like, say, if someone reading this — such as my wife — gave me a gift card to buy some new guitar-related gear, I would be forever grateful.
We recently had an opportunity to chat with the Gift Card Girlfriend, Shelley Hunter, of GiftCards.com to learn more about how to give the perfect gift card and what GiftCards.com has to offer.
Hunter told us that she got into the gift card game in 2009 when she launched her blog, Gift Card Girlfriend, as an easy-to-use consumer guide.
"I loved the presentation of gift cards but I knew that some people hesitate in giving them, so I started the blog to show how great gift cards can be," she explained.
After a couple of years gaining traction with her blog, Hunter's Gift Card Girlfriend content officially became part of the long-running GiftCards.com. Since then, she has continued producing her Gift Card Girlfriend posts while being a part of the GiftCards.com team.
Making Gift Cards Thoughtful and Personal
The real trick to giving gift cards is knowing your audience.
"The most important thing is knowing that it's not about you — it's about the idea," Hunter said.
She said sometimes people will try to send a message with their gift card, such as giving their dad a card to Nordstrom because they think he could use some nicer clothes.
"If Dad is not that kind of a dresser and you give him that gift card, it's just kind of forcing him into something, or the card's just not going to get used," Hunter said. "So really put yourself in the mind of the recipient and get them what they would want."
Think about where the person likes to go, what kind of things they like to do, she said.
"The second thing is, if you really don't know what they want, I love these multi-brand gift cards because you don't worry about an expiration date but you can pick a collection," Hunter said.
These types of cards can be used at one of several places in which certain brands are associated with one another, such as Marshall's, TJ Maxx, and HomeGoods.
"If you can look at one of those multi-store cards and say, 'I think Mom will like at least three of these brands then that's a good choice," she said.
Hunter said that at GiftCards.com, people can purchase Giving Good cards where 3% of the purchase price goes to charity.
"That's a nice choice if you have somebody who's charitably minded like that," she said.
It's also important to give a gift card in a usable amount so the recipient doesn't have to spend their own money to actually purchase something with it, Hunter said.
"So you pick the right card, you pick the right amount. The next thing is the presentation" she said. "I like bundling that gift card with something. If I'm going to be there in person, I like putting a movie gift card with movie snacks. I like putting a bowling gift card with socks — anything related to the kind of experience they'll have."
Hunter's expertise runs deep — she knows how to make seemingly any gift card special.
"I challenge people to tell me the most impersonal gift card they can think of," she said. "Maybe, a gas station gift card. But if I wrote on it, 'I would go anywhere with you,' now it's super personal. That could be the sweetest gift you received all Christmas."
It all comes down to putting yourself in the mind of the recipient, Hunter said.
GiftCards.com is a Popular One-Stop-Shop for Purchasing Cards Online
Hunter also discussed GiftCards.com, including the company's long history in the market and what it currently has to offer.
The company launched in 1999 as directcertificates.com and sold gift certificates from more than 150 merchants. Hunter said the company pivoted in 2003 to sell only Visa gift cards rather than merchant gift certificates. That's when the company took on the moniker and domain GiftCards.com.
GiftCards.com expanded its offerings in 2008 to include Mastercard and Discover gift cards as well. And, in 2016 the company came into its current iteration when it became part of Blackhawk Network.
"Blackhawk Network is a trailblazer in the gift cards industry — pioneering ideas and practices like placing an array of gift cards in high-traffic retail locations such as grocery stores," according to the company. "To provide customers with the best, most comprehensive service in this niche, Blackhawk Network has partnered with and acquired several prominent gift card companies."
The result is, essentially, that GiftCards.com is now a go-to hub for all things gift card-related. It's the highest-ranking and most visited gift card website on the internet, according to the company.
And it truly has something for everyone. From its multi-store cards that Hunter discussed to niche cards for video gamers, food lovers, or just about any other area of interest, GiftCards.com has something to offer.
The website makes it quick and easy to search for the perfect gift card, and it offers a variety of personalization options. Individuals can upload a photo to be printed on a card, and small businesses can even order gift cards that include their logo on it.
The website also offers eGift cards.
"Buy an eGift card from GiftCards.com and earn G-Money* points on select cards," according to the website. "eGift cards are bought online, personalized and emailed directly to the recipient."
When You Receive Gift Cards, Keep Them Handy
While it may seem simple enough to be a gift card recipient, Hunter also had some pertinent advice to keep in mind when we are the giftee rather than the gifter.
The most important tip? Use your gift cards.
Certain gift cards, such as Visa cards, come with an expiration date.
"In general, you have like seven years to use these cards, but you have to use them at least once per year," Hunter said. "So, for the first year, you have to use it before 12 months passes in order to stop inactivity charges from coming on. If you have a $100 gift card and you don't use it for a year, $5 is going to come off the card — something like that."
Watch on
And that amount will continue to come out of the card each month until it's used. If you wait long enough — maybe just 20 months for a $100 card — the money will be gone from the card before it actually expires, she explained.
In fact, $3 billion worth of gift cards go unused every year.
"I've heard people say they are saving it for a rainy day," Hunter said. "In most cases, a gift card was given to you as a gift. You don't get a sweater and say, 'Well, I'm going to put in on a shelf because I want to just honor it, and maybe wait until I'm really cold enough to use this. But some people will treat their gift cards the same way."
But, even for gift cards that don't expire — use them, Hunter said. The cash is on the card to be spent.
"The tip I give everybody is that when I receive gift cards I never put them in a drawer or something," she said. "I literally stick them in my wallet right next to my debit card. Wherever I go, if I reach for the debit card, the gift card is right there as well. And I'll use it until it's gone."
Hunter said sometimes she puts rubber bands around her gift cards as well, as an extra reminder to use it rather than paying out of her own pocket.
Whether you're purchasing a gift card for a loved one or hoping to rake in a few yourself over the holiday season, GiftCards.com and the Gift Card Girlfriend blog can help guide you along the way.
Advertiser Disclosure
CardRates.com is a free online resource that offers valuable content and comparison services to users. To keep this resource 100% free, we receive compensation for referrals for many of the offers listed on the site. Along with key review factors, this compensation may impact how and where products appear across CardRates.com (including, for example, the order in which they appear). CardRates.com does not include the entire universe of available offers. Editorial opinions expressed on the site are strictly our own and are not provided, endorsed, or approved by advertisers.