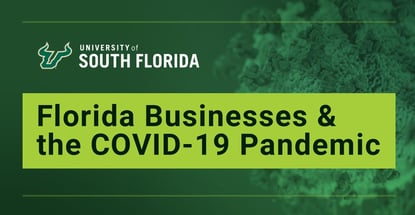 In a Nutshell: The COVID-19 pandemic has impacted the bottom lines of businesses around the country, including Florida's tourism-dependent commerce. We spoke with Bill Burnham from the Florida Small Business Development Center (SBDC) at the University of South Florida Muma College of Business to learn just how Florida businesses have been affected by the pandemic and what resources are available to them. Burnham discussed federal programs, including the Paycheck Protection Program and Economic Injury Loans as well as local assistance programs. The Florida SBDC at USF also provides a variety of resources on its website and offers access to COVID-19 Preparedness Plans and safety assessments. Certain financial institutions have also stepped up to reduce interest rates or defer payments on business lines of credit.
When the COVID-19 pandemic began spreading across Florida, schools and businesses in the state — like so many around the country — were quick to close their doors to help prevent further spread of the virus.
Now, five months later, some of those businesses will, unfortunately, close their doors forever. Two of my favorite restaurants in the Florida town I call home were not able to sustain enough business to outlast the pandemic.

Other local businesses have fared better, thanks to federal and state programs — including loans and lines of credit — that helped them stay afloat through this unprecedented time.
We recently spoke with Bill Burnham from the Florida Small Business Development Center (SBDC) at the University of South Florida to gain a better understanding of how the pandemic has affected Florida businesses and the options available to them.
The Florida SBDC at USF is associated with the USF Muma College of Business and is tasked with providing businesses the expertise and resources needed to succeed. SBDCs across the country are hosted by universities and state economic development agencies, and are funded, in part, through a partnership with the U.S. Small Business Administration.
Burnham said that, since the pandemic began, he's personally spoken to close to 300 small business owners, and one of the most common sentiments over these past few months has been uncertainty.
The Hospitality Industry is Among the Hardest Hit in The Sunshine State
"Early on, it was difficult — people were scared. They didn't know what was going to happen, and they were worried about their futures," Burnham said. "A lot of us assumed that this would not be a long-term thing."
He said that, if someone had asked him on March 15 when everybody would be safely back to work, he would have guessed by the end of April.
"Obviously, that didn't happen," Burnham said.
Florida boasts hundreds of miles of beaches and is home to plenty of other popular destinations, including Disney World. It almost goes without saying that the hospitality industry is a huge driver for the state's economy. And Burnham said that industry has been among the hardest hit in the pandemic.
"You can break it up into two segments — the restaurant portion, which has definitely been impacted to a tremendous degree," he said. "Then, if you look at the bar segment of that, it's virtually wiped out. And my personal opinion is that the restaurant industry may never be the same."
Some restaurant owners have been met with challenges coming from numerous directions. In some cases, employees have been unwilling to return to work because they don't feel safe, while customers are also hesitant to go to restaurants for the same reason.
Burnham said daycares, nail salons, and other businesses that require a high degree of proximity and interaction are among other industries that have felt the brunt of the economic impact.
On the other hand, certain online businesses have managed to do well in recent months.
"My daughter has had an online business about four years now, and the best four months for her business have been the last four months since the coronavirus," Burnham said.
The Florida SBDC at USF and Its Business Disaster Recovery Assistance
Congress passed the CARES Act in March to help businesses stay afloat during the COVID-19 pandemic, and the Florida SBDC at USF offers guidance on how to access these relief programs.
Two of the main components of the CARES Act are the Paycheck Protection Program (PPP) and Economic Injury Disaster Loans (EIDL).
The PPP, which had a deadline of early August, offered short-term, potentially forgivable loans to help small businesses keep employees on the payroll while the businesses were temporarily closed or suffering from lack of income.
And the EIDL program offers "Long-term, low-interest working capital disaster loans for small businesses that suffered substantial economic injury due to COVID-19," according to the Florida SBDC at USF website.
The Florida SBDC at USF website offers a range of valuable resources for businesses, including its Preparedness Plan for Reopening Template, Guide to Business Resiliency in Times of Disaster, and the Small Business Guide to COVID-19.
The organization also provides specialized services such as work from home assessments, expanded consulting services, and access to COVID-19 preparedness plans.
"Professional consultants are available to assist with detailing how you will implement the following, at a minimum: infection prevention measures; prompt identification and isolation of sick persons; engineering and administrative controls for social distancing; housekeeping, disinfecting and decontamination; communications and training for managers and workers; and provision of management and supervision necessary to ensure effective implementation of the survival plan." — Florida SBDC at USF
Burnham said there is also assistance available on the local level.
"In Hillsborough and Pinellas counties, they have grant programs specifically for the small business community," he said. "In Hillsborough County, for example, one of the programs was specifically geared toward educating their workers on proper hygiene and making improvements to their facilities."
The program also addresses issues like proper signage and installing plexiglass to help prevent the spread of germs.
Burnham said some of these small businesses are already working on tight profit margins, so every bit of assistance is valuable.
"There's no doubt the programs have been effective. There are many businesses that would not have survived had it not been for those programs, whether it's a state program with a bridge loan or the PPP," he said. "There's no question about it."
Some Financial Institutions are Helping Out by Reducing Rates on Their Business Lines of Credit
While the loans and grants on the federal, state, and local levels have proven extremely valuable to many small and medium-sized businesses, seeking lines of credit may also be an option to help weather the economic storm.
Accessing lines of credit is a common tactic for businesses to make ends meet and stay afloat during times of economic hardship.
And some banks have reduced their rates on business lines of credit, specifically to help small business owners get a handle on their finances that have been impacted by the pandemic, according to a Forbes article.

"For example, U.S. Bank stands out in this regard, offering its Cash Flow Manager program," according to the article. "They've temporarily lowered rates on new secured and unsecured on-demand lines of credit, with credit lines ranging from $10,000 to $250,000."
In this program, businesses can potentially qualify for interest rates on lines of credit that are 1% lower than usual rates.
The Mutual Savings Association is another institution that has lowered its interest rates for lines of credit extended to small businesses affected by the coronavirus, according to Forbes.
Other banks have allowed small businesses to temporarily defer payments on lines of credit.
"For example, Fifth Third Bank is offering a payment deferral program for up to 90 days with no late fees on a range of loan modification options," according to Forbes. "Similarly, TD Bank is offering deferment of payments on small business loans and lines of credit."
Florida businesses should check with their local financial institutions to see if they are offering similar modifications to their credit policies during this time.
Burnham said it's understandable that the COVID-19 pandemic has taken many small and medium-sized businesses by surprise.
"You could have never created a playbook for this situation because you would never imagine something like this could ever happen," he said. "Very, very unusual times."
Advertiser Disclosure
CardRates.com is a free online resource that offers valuable content and comparison services to users. To keep this resource 100% free, we receive compensation for referrals for many of the offers listed on the site. Along with key review factors, this compensation may impact how and where products appear across CardRates.com (including, for example, the order in which they appear). CardRates.com does not include the entire universe of available offers. Editorial opinions expressed on the site are strictly our own and are not provided, endorsed, or approved by advertisers.