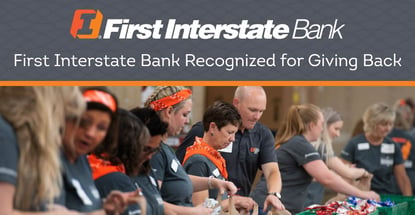 In a Nutshell: First Interstate Bank maintains more than 150 branches across six states in the Northwest, yet it holds strong to its community bank identity. The bank takes a long-term approach to helping maintain healthy, thriving communities. Financial education is one of the main ways it does this, with financial literacy programs designed to reach children and adults. The institution also reinvests in its communities with lending, investing, and service efforts that have earned it an "Outstanding" rating for CRA banks for the last eight years. It also encourages giving and volunteering with impressive matching programs that directly help nonprofits. These initiatives are just a few of the reasons we are recognizing First Interstate Bank with our Editor's Choice™ Award for Community Commitment.
The story of First Interstate Bank begins in 1968 when the bank's founder, Homer Scott, Sr., purchased the Bank of Commerce in Sheridan, Wyoming. Scott's vision was to create a premier community bank that was dedicated to not only providing high-quality customer service but maintaining a long-term commitment to serving the community.
Just two years later, Scott purchased the Security Trust and Savings Bank in Billings, Montana. The two banks formed the foundation of a long-standing financial institution that has seen impressive growth and made significant positive impacts in its communities over the years.

By 1984, the 10-bank company franchised the "First Interstate" name and in 1996 it obtained an exclusive license to use the name and logo. By the end of the 20th century, First Interstate had grown to 42 branches. And its growth has only accelerated in the past two decades.
Today, First Interstate Bank comprises more than 150 branches throughout Montana, Wyoming, South Dakota, Washington, Oregon, and Idaho. All the while, the bank has maintained its mission and values that demonstrate its commitment to its customers, employees, and communities.
We recently spoke with Kelly Bruggeman, Vice President of the First Interstate BancSystem, to learn more about the bank's extensive community service initiatives. Bruggeman, who is also the Executive Director of the First Interstate BancSystem Foundation, illuminated the impressive work the bank is doing when it comes to giving back, including financial literacy efforts, reinvesting in the community, and promoting volunteerism among its employees.
"We're a community-centered bank and our employees are leaders in those communities," Bruggeman said.
We are recognizing First Interstate Bank with our Editor's Choice™ Award for Community Commitment for its long-standing and steadfast dedication to supporting and giving back to the communities it serves.
Delivering Quality Financial Literacy Resources to All Age Groups is a Top Priority
First Interstate Bank understands the importance of laying a strong foundation when it comes to financial knowledge, which is why the bank provides an array of initiatives to deliver financial literacy to children and adults.
For starters, the bank has participated in Teach Children to Save Day every April since 1997. The national event, which is coordinated by the American Bankers Association Education Foundation, raises awareness about the important role financial institutions and financial experts play in helping young people develop healthy saving habits.
"Healthy financial practices can be taught at every age, and teaching children to save is just one of the ways First Interstate Bank employees act on their commitment to the communities we serve," according to Bruggeman. "Not only is it a great way for our employees to share their knowledge of banking, it is an opportunity to make a difference in childrens' lives."
Bruggeman said First Interstate Bank also leads a mini-bank program for certain schools within its communities.
"Currently, we've got about 1,167 savings accounts, and all the banking activity takes place at the school," she said. "These students have saved over $1,280,800 million — which is just amazing — and we give them 4% interest."
With its high interest rate, Bruggeman said the mini-bank program doesn't necessarily benefit First Interstate Bank, and that's ok. Rather, the point is to have an interest rate that's impactful for small amounts so the students can see the value of saving and growing interest.
Bruggeman said the bank also participates in Get Smart About Credit Day and elder financial abuse awareness.
"Each year, First Interstate bankers volunteer their time and expertise to educate young adults ages 15 to 25 with lessons on how to use credit wisely," Bruggeman said. "Changes in the economy and new legislation have influenced the mechanics of obtaining credit. For young people, having credit won't just be new, it will be new and different."
And, senior citizens lose an estimated $6.2 billion each year due to elder financial abuse, according to the First Interstate Bank website. Bank employees make efforts to educate people of all ages about signs of elder financial abuse, which deprives senior citizens of their resources and ultimately their independence.
Earning an Outstanding Rating for its Community Reinvestment Act Performance
Another major component to First Interstate Bank's community support strategy is to put money directly back into the community, following the guidelines of the Community Reinvestment Act.
"The Community Reinvestment Act (CRA) was enacted by Congress in 1977 and amended in 1995," according to the bank website. "The Act was created to encourage financial institutions to meet the credit needs of the communities in which they operate, including low- and moderate-income neighborhoods, consistent with responsible banking operations."
Bruggeman said First Interstate Bank has received a rating of "Outstanding" — the highest rating possible — based on its CRA bank exam.
"It really speaks to how we work so individually in our communities," Bruggeman said. "We work to make sure that we're engaging in financial education and that we're contributing dollars to those organizations that are CRA-qualified. They are going to be organizations that are focused on low-to-moderate populations in each of our communities."
The CRA criteria include the areas of lending, investing and service.
That means that, in addition to those actions that may be directly viewed as community service, the bank also meets goals in lending and investing — both of which make a very positive impact on the community.
CRA loans include those made specifically for the purpose of community development, including affordable housing, improved community services, and economic development for distressed or underserved populations, according to the bank website.
And the bank's investing efforts are supported by First Interstate Bank Foundation grants for community and economic development programs.
Bruggeman said some of their green initiatives focus on recycling, building LEED-certified structures, encouraging the adoption of electronic statements, and a handful of other sustainability-related efforts. Going green also directly correlates to the Bank's overall commitment to community and community development goals, enriching lives across First Interstate's six-state footprint.
Gift-Matching Employee Donations to Nonprofits and Incentivizing Volunteerism
As if its extensive financial literacy efforts and outstanding CRA ranking weren't enough, First Interstate Bank also shines when it comes to encouraging its employees to give back to communities as well.
"One of the initiatives that we have at center stage is our employee gifts and volunteer matching program," Bruggeman said. "So, when our employees give to a nonprofit in certain communities, we match dollar-for-dollar up to $5,000 per employee."
And for those First Interstate Bank employees who like to get even more hands-on through volunteering, the bank offers a healthy incentive. The First Interstate Bank Foundation actually matches employee volunteer efforts at a rate of $10 for every hour donated, with a 10-hour minimum, according to the bank website.
"We know that one of the best things we can do for a nonprofit is to volunteer our time, whether it's to help them with fundraising or using a person's skills," Bruggeman said.
The bank also launched the Neighbors Feeding Neighbors initiative in 2009 as a way to help focus funds from the Foundation in a highly impactful way.
"Through the Neighbors Feeding Neighbors program, the Foundation will offer a double match of funds directed to the tables of our neighbors affected by food insecurity," Bruggeman said. "Each employee and Director of the Board who donates to a nonprofit that has an established food program during a specified time is eligible to receive a double match for their dollars and time."
The bank also hosts an annual coat drive.
"First Interstate Bank branches promote and serve as drop-off locations for new or clean, gently-used coats and other items that help to warm our neighbors during the winter months," Bruggeman said. "These items are donated and distributed by agencies in the local communities."
The bank has collected and distributed 39,746 coats, free of charge, to those in need.
Of course, it's not unusual to see a community bank that runs a handful of initiatives that are meant to give back to its communities. But First Interstate Bank takes the idea of giving back to a whole new level, with its extensive financial literacy efforts, strong CRA program, gift-matching, and volunteer efforts.
Advertiser Disclosure
CardRates.com is a free online resource that offers valuable content and comparison services to users. To keep this resource 100% free, we receive compensation for referrals for many of the offers listed on the site. Along with key review factors, this compensation may impact how and where products appear across CardRates.com (including, for example, the order in which they appear). CardRates.com does not include the entire universe of available offers. Editorial opinions expressed on the site are strictly our own and are not provided, endorsed, or approved by advertisers.