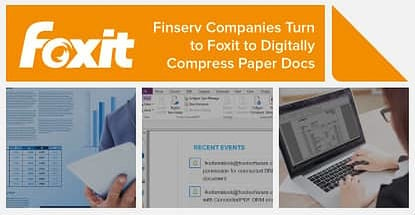 In a Nutshell: FDIC's records retention laws and other federally issued mandates require financial service providers to retain thousands of everyday business documents each year. The documents, if kept in their original paper form, can take up a lot of real estate in an office or branch building. To meet modern document storage needs, Foxit has partnered with hardware giant Panasonic to offer its industry leading PDF compression and archive solutions in scanners available worldwide. The PDF Compressor software, which can be purchased as a standalone product, is capable of converting documents into a common digital format that takes up less hard drive space than traditional files. All documents can be placed in a single searchable archive that can find a word or phrase within seconds. //
Most entrepreneurs start a company with the dream of placing their brand's name on the tips of consumers' tongues worldwide. Others forego the name recognition and opt to place their products on the tips of consumers' fingers instead.
Billions of consumers use Foxit's PDF rendering and compression software every year. If you've ever viewed a PDF document through Google's Gmail or Chrome browser or read a book on any of Amazon's popular Kindle devices, you've used Foxit's software.
Amazon recognized the company's potential and invested in it in 2011. Despite numerous accolades and awards, the company doesn't have the household name recognition of competitors like Adobe.
"I go to conferences all the time and ask the attendees to raise their hands if they've ever heard of Foxit," said David Ronald, Foxit's Director of Marketing. "Most of the time, only a few hands come up. Then I ask if anyone has ever read a PDF on Gmail, Chrome, or the Kindle. Every hand in the room raises. It's amazing how billions of people can use your product and never know it."

Foxit's innovation in PDF compression and archiving tools started in 2001, when the company was founded as an alternative to Adobe's groundbreaking PDF software. Today, the company's focus is on pushing the limits of PDF capabilities beyond where its competition can go.
"Adobe created the PDF back in 1993 — before the internet was even around," Ronald said. "The company worked hard to get it standardized, which enabled companies like ours to come in and tap into the format. But Adobe has grown and added more business units and mostly stopped innovating in the PDF area of their company. We've stepped up to try and move PDF forward."
In January 2018, Foxit announced a partnership with Panasonic to provide its enterprise-grade compression and archiving solutions to Panasonic scanners in the form of PremierCOMPRESSION.
"Many governments or other large organizations need to convert large amounts of paper into a digital format or they have multiple digital formats that need to be condensed into a common format," Ronald said. "PremierCOMPRESSION, with our PDF Compressor product, does just that. The scale can be up to thousands of documents each day that go through that process."
The PDF Compressor program is also available as a standalone product on Foxit's online storefront.
Scan and Compress an Unlimited Number of Documents into a Common Format
Ronald told the story of a German Savings & Loan company that uses PDF Compressor to digitally organize the government-mandated 10-year retention of all loan records. Thousands of documents that once filled an entire office in the institution's building were reduced to a single, searchable digital archive with a common formatting and naming system.
"The lender told us that if you took all of the paperwork they had and stacked it one on top of the other, it would be more than a kilometer (0.62 miles) high," Ronald said.
Foxit's software has many uses to financial service providers and allows businesses to maintain a clean record of transactions without requiring large amounts of real estate for storage. Foxit's products are designed to help insured institutions comply with strict FDIC record retention laws.
"The software really helps for enterprises that have a routine of needing to do compression and conversion tasks," Ronald said. "That could be banks or other financial institutions who have a lot of paperwork that needs to be stored for years."
Search an Entire Archive of Documents in Seconds
The ability to search scanned documents adds to the ease of use and functionality of Foxit's PDF compression and archive solutions. Many Finserv companies retain thousands of new documents each year. While some are never recalled, the process of finding a required document can be like finding a needle in a haystack.
Foxit's products include Optical Character Recognition (OCR) that makes it easy to search any number of documents for specific words or phrases in a matter of seconds.
"The software can identify phrases and has the intelligence to understand the structure of the document," Ronald said. "You can search for particular words, and the software is smart enough to pick up the instances where those words are being applied."
Ronald compared the tool to using the "Find" feature in a Microsoft Word document. The process has saved time and headaches for many Foxit solution users.
"That's a major benefit of our PDF Compression software," Ronald said. "If you were to manually go through a stack of documents looking for particular phrases, it would be madness. But with OCR, once a document is scanned in and converted to digital, it takes seconds to search an entire archive."
Compression Solutions for Businesses of Any Size
Although Foxit's Enterprise Automation solutions earn the company acclaim, Ronald says its products are not only for large-scale businesses.
"Anyone who needs to do compression could be a candidate," he said. "But we sell alternative programs for businesses of all sizes. Our software will even allow you to take a picture of a document and put it through our software to compress and archive it."
The company's latest partnership with Panasonic will place its software in millions of scanners worldwide, expanding the brand to enterprises that may have overlooked the company before.
Heading into the next stage of Foxit's evolution, the company plans to expand the reach of its solutions by offering products on-demand to consumers worldwide.
"An interesting future advancement will include putting PDF Compressor and other types of software in the cloud," Ronald said. "That's one of the areas we're looking at to enable our customers to access our products from anywhere. That should happen within the next 12 to 18 months."
Along with its tools, Foxit's popular line of Software Development Kits (SDK) that provide solutions for developers may also make their way into the cloud in the near future.
"We want to take the SDKs that people are using off the shelf and create custom instances in the cloud," Ronald said. "Not only documents and applications, but also the tools."
With the expansion of Foxit's products and tools, as well as future plans to increase accessibility to consumers and businesses around the globe, there may not be much of an excuse in the coming years for not knowing the company's name.
Advertiser Disclosure
CardRates.com is a free online resource that offers valuable content and comparison services to users. To keep this resource 100% free, we receive compensation for referrals for many of the offers listed on the site. Along with key review factors, this compensation may impact how and where products appear across CardRates.com (including, for example, the order in which they appear). CardRates.com does not include the entire universe of available offers. Editorial opinions expressed on the site are strictly our own and are not provided, endorsed, or approved by advertisers.