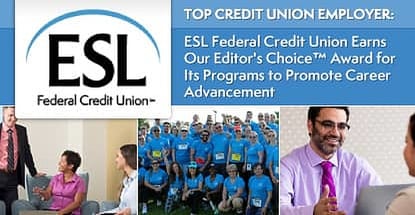 In a Nutshell: ESL Federal Credit Union has developed a reputation for putting people first, a concept rooted in the generous spirit of its founder George Eastman. The company started as a bank in 1920 for George's factory employees and evolved into a credit union when it changed its charter in 1996. Since the institutional shift, ESL has prospered thanks to a commitment in investing in employees. ESL benefits include pensions, 401(k) matching, tuition matching, internal-promotion opportunities, and employee access to an on-site fitness center and wellness programs. For its efforts in fostering talent and promoting work-life balance, ESL Federal Credit Union has earned our Editor's Choice™ Award for Top Credit Union Employer. //
Based in Rochester, New York, Eastman Savings and Loan (ESL) Federal Credit Union has always been an institution that prioritizes people.
It was founded in 1920 by George Eastman as a bank for the thousands of workers he employed at his Eastman Kodak Company factories. George had popularized mainstream photography through his company's production of roll film, and the goal of his bank was to provide mortgage loans to the people who worked for him.
"One of the prime objects of the Eastman Savings & Loan Association," he once wrote, "is to encourage and aid as many as possible of our employees in purchasing and owning a home."
That objective was quickly reached, as 3,500 employees signed up as customers in the first week of the bank's existence. The spirit of George's goodwill toward employees and the community continued over the next 75 years, and in 1996, ESL changed its charter to become ESL Federal Credit Union.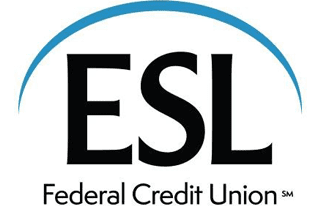 The company has grown quickly since opening its doors to all of Rochester and beyond, with membership now totaling more than 330,000. Twenty branches and 735 employees later, ESL is now the largest locally owned financial institution in the Greater Rochester Area and is among the top 1% of all American credit unions with assets totaling $6.2 billion.
Credit unions and banks tend to compete on customer service, and much of ESL's growth can be attributed to the resources it devotes to its workforce. After all, front-end employees are the faces of the company as far as customers are concerned. The institution has created its own standards for training staff that goes beyond the new-hire phase, which along with generous benefits, has led to many internal promotions and scores of happy employees.
Led by its five core values of integrity, initiative, accountability, teamwork, and caring about people, ESL has created an atmosphere of family among its staff.
While many workplaces are cutting benefits to save money, ESL offers perks like competitive retirement packages, along with wellness programs, an employee gym with lunch-hour fitness classes, tuition reimbursement, and a set of online training tools that help employees gain promotions at their own pace. For its commitment to supporting the people it depends on, ESL Federal Credit Union has earned our Editor's Choice™ Award for Top Credit Union Employer.
ESL Promotes Personal Training for Vertical Growth
ESL offers a host of educational resources available to all of its employees at any time. iLearn is an online set of tools that allows staff to enhance specific skill sets while working toward a promotion. It's set up in intuitive ways so employees cover the material at their own pace.
iVisit is similar to iLearn in that it allows employees to virtually visit different departments in the company and decide if it's somewhere they'd like to work. The employee can learn what skills are needed to be eligible for potential promotions and put into action the training needed to be on the right path.
Several classroom-based workshops are added for new employees and existing staff throughout the year. New hires are paired with one-on-one mentor coaches at the beginning of their employment to ensure a strong start and a better chance at long-term success.
In all, new-hire training can last between two and three weeks with new skills and information being absorbed gradually, compared to a one-day cram session at most institutions. The bank's growth and success are in part due to its nationally recognized training program. The success of the program has been impressive.
From January until July of 2015, ESL entered 282 business loan applications and created a loan volume of $252,000. In the same period in 2016, it entered 862 applications and booked $2.5 million in loans, a 912% increase in volume and 206% increase in applications — numbers that show employees who learned to be more efficient at their jobs.
"ESL gives its employees a ton of opportunities," said Financial Service Representative, and five-year employee, Shevonne Wroten. "When I first started here, I was working two jobs and was used to always working two jobs. ESL has helped me evolve my career to a point where I now only work one job. This year, I was able to spend Easter with my family for the first time."
But it's not only training and promotions that make ESL stand out as a top-notch employer among financial institutions..
Competitive Benefits & Employee Perks Diminish Turnover
ESL offers many benefits that you'd expect from an employer, but it's the extra perks that set the credit union apart from the pack.
"The traditional benefits are all here," said Barb Clemons, Certified Financial Planner at ESL. "Good medical, good 401(k), generous matching, and a good pension plan, too."
As impressive as those benefits are, all employees are also given free access to a fitness center with classes provided at the company's main headquarters. An on-site cafe offers healthy eating options. Weight Watchers programs and healthy living workshops are regularly scheduled for all employees.
All hires are also eligible for between 10 and 15 paid days off each calendar year, in addition to the 10 bank holidays already recognized, resulting in close to a month of total paid time off each year.
For the long-term welfare of its employees, ESL offers pension plans, bonus incentive plans, and a host of insurance options from life to disability. For its 401(k) plan, the company matches 100% of the first 1% of an employee's contribution, and then 50% of the next 5% of employee contributions, which encourages retirement savings. Part-time employees are eligible for almost all benefits, including ESL paying 65% of those employees' health coverage.
With the company's emphasis on education, it's not surprising that ESL is helping employees further themselves, offering up to $5,250 in tuition reimbursement.
"The company is expanding and growing and looking to serve members better," Barb said. "That's exciting. It provides opportunity for growth for everyone."
In a 2015 Employee Pulse Survey, 95.68% of ESL employees agreed that ESL is a great place to work. Also, 96.2% said they were proud to tell others they work at ESL.
Hiring at All Experience Levels Makes ESL an Ideal Choice for Starting or Continuing a Career
George Eastman was one of the 20th century's great philanthropists. Despite accumulating massive wealth throughout his lifetime, he understood the plight of the common man, giving freely to hospitals, schools, and other charities and never turning his back on an employee in need.
His name and values live on today through ESL Federal Credit Union. The company's dedication to employees and its determination to see them succeed and thrive in their careers is in stark contrast to many places of employment today. ESL not only looks after its employees financially, it also stresses healthy living and education for a long, successful life.
Named as the favorite bank every year since 2002 in the Democrat and Chronicle Rochester's Choice Awards, the credit union has been a mainstay in Rochester and has become one of the largest bank branches in the state of New York.
While the credit union's growth in size and assets are proof of its success, where ESL sets itself apart from the competition is the treatment, training, and benefits it offers employees. For creating a friendly, nurturing work environment, ESL Federal Credit Union has earned our Editor's Choice™ Award for Top Credit Union Employer.
Advertiser Disclosure
CardRates.com is a free online resource that offers valuable content and comparison services to users. To keep this resource 100% free, we receive compensation for referrals for many of the offers listed on the site. Along with key review factors, this compensation may impact how and where products appear across CardRates.com (including, for example, the order in which they appear). CardRates.com does not include the entire universe of available offers. Editorial opinions expressed on the site are strictly our own and are not provided, endorsed, or approved by advertisers.