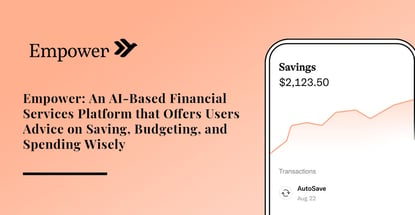 In a Nutshell: Consumers who are just getting started with using financial services might assume they're working for the bank, not the other way around. Empower is changing that dynamic by leveraging AI to automate and simplify the banking experience to work more efficiently for consumers. More than 650,000 account holders rely on Empower's integrated saving, budgeting, and checking tools to manage their money without getting in the way. And Empower also steps in to offer advice and guidance on staying ahead of the financial curve.
In many ways, consumer financial services operate on a two-tiered structure.
Consumers who only know the basics of the financial system are on one tier. All too often, they live paycheck to paycheck, with little money set aside for unexpected expenses. After they set up their checking, savings, and card accounts, seeking out better services and rates isn't generally a high priority.
On the other tier are people who can afford to hire others to manage their finances.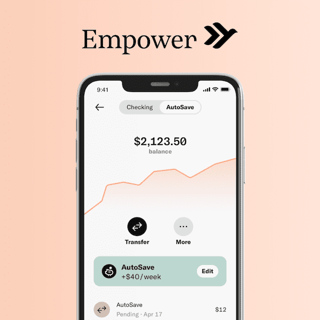 Empower is a checking, savings, and budgeting platform that offers people in the first tier access to many of the same tools leveraged by those in the second tier. More than 650,000 consumers leverage the AI-based Empower app to find ways to save money, lower their bills, spend more prudently, and even earn interest from checking accounts.
Empower works like a personal financial adviser for those who don't have the time or resources to hire one for themselves.
"Our mission is to give everybody access to the best financial products and advice," Empower CEO and Co-Founder Warren Hogarth said. "We use AI to help people make the right financial decisions and build better financial products."
In his previous position as partner at the venture capital firm Sequoia Capital, Hogarth helped build AI-powered startups that helped sales forces, customer success teams, and others in various industries. But he saw a gap in financial services as he surveyed the enterprise landscape.
"No one had brought those tools to the task of making consumer financial lives better," Hogarth said. "So that's what we decided to do."
Reimagining Budgeting and Saving to Help Consumers Make Better Decisions
Hogarth and his team launched Empower in the summer of 2016 and set out to take a fresh look at budget tracking.
While popular apps in the space managed to marshal user data and call for action, the onus was still on the user to figure out what action to take, often leading to frustration. Empower changes that.
"Rather than have people come in and look at a bunch of graphs and have no idea what to do, our goal was to allow our AI to analyze their situation in real time, alert them every time there's something they can do better, and then tell them exactly what it is they can do," he said.
That means Empower detects when a user's credit utilization increases month over month, for example. The app then proposes a plan for paying down that debt, so it doesn't negatively impact the user's credit score.
And with the ability to pick budgeting categories, set spending limits, and receive reports as well as manage alerts, Empower becomes a budgeting tool for people who hate budgeting.
Next on the team's agenda was automating savings — with Empower, users can save hundreds and sometimes even thousands a year by putting the app to work for them. One common strategy for accomplishing that is by setting aside money on payday.
"If you can automatically deposit money in savings when you can most afford to, that can be helpful because many people spend what's in their checking account," Hogarth said. "If you put a little bit aside each week or month or when you get paid, it's still there when you want it, but you're not going to spend it."
A High-Interest Checking Account Integrates with Other Platform Services
The next piece of the Empower puzzle was building a checking service that actually paid users back instead of just extracting fees.
Many consumers pay up to $400 a year to have a checking account, and those accounts often struggle to keep up with technology and have outdated app architectures. Empower stepped in with a 0.25% variable APY offering that carries no overdraft fees, no account minimums, no card replacement fees, and unlimited transfers.
And Empower checking is also easy to use.
"It's just an amazing experience," Hogarth said. "You can open an account in two minutes, and everything is controllable from the app. It's built like a modern banking experience should be rather than like something from a 100-year-old institution."
And for many users, the slick peach-colored debit card seals the deal, Hogarth said.
"We eviscerated the fees, and we provide a much better mobile experience by tightly integrating our checking into all our budgeting and financial advice," he said.
One example of that continued commitment is the current rollout of an Empower cash advance feature that extends the checking account with paycheck-to-paycheck assistance. Empower cash advance acts like an insurance policy to help busy users tide themselves over in times of need, with no credit check, no fees, and no interest.
Users with a valid checking account can initially receive up to a $50 advance. With a good payment history, that amount expands to $100.
"If you deposit your paycheck into an Empower checking account, you can access your advances instantly, 24 hours a day, seven days a week," Hogarth said. "And that also increases your advance amount to up to $150."
Cutting Through the Clutter to Make Banking Easier
Empower leverages AI to transform consumer financial interactions through data intelligence. Smart recommendations from the Empower Assistant weave through its services to create positive user experiences and deliver results.
"I have family members and friends who have fallen prey to the existing financial system, so that's central to our mission," Hogarth said. "We believe in watching out for the best interests of our users."
More than 1 million accounts have been connected to Empower. And the data produced from millions of interactions offers an accurate — and always improving — viewpoint as to what behaviors determine success on the platform. Those insights, combined with outside financial data, enable Empower AI to tailor strategies for each user.
Those insights can help users do everything from paring back unused online subscriptions to renegotiating common payment obligations to cable companies and internet service providers.
"Especially in this very unusual time of coronavirus, we help people put extra money in their pocket — which is quite valuable," Hogarth said.
Empower protects all those interactions with state-of-the-art encryption and security features, including multi-factor authentication. And innovations and improvements are always on the horizon.
"We continue to focus on helping users save a few hundred — if not a few thousand — dollars a year they wouldn't otherwise be saving," Hogarth said. "And if we get that right, we'll do very well — and our customers will continue to thrive."
Advertiser Disclosure
CardRates.com is a free online resource that offers valuable content and comparison services to users. To keep this resource 100% free, we receive compensation for referrals for many of the offers listed on the site. Along with key review factors, this compensation may impact how and where products appear across CardRates.com (including, for example, the order in which they appear). CardRates.com does not include the entire universe of available offers. Editorial opinions expressed on the site are strictly our own and are not provided, endorsed, or approved by advertisers.