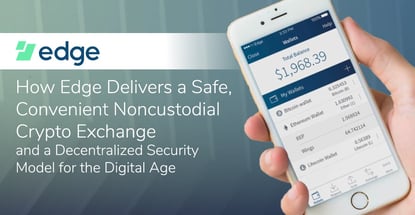 In a Nutshell: Finding ways to make newly developed technology easy for people to use is an important component in its widespread adoption. Edge knows this and aims to make buying, selling, and trading cryptocurrency easier than ever with its noncustodial exchange app. Edge app users can log in and transact in multiple cryptocurrencies with only a username and password rather than juggling multiple keys and entering lengthy passphrases. The company keeps security at its core, and with its Edge Security Software Development Kit, it allows others to take advantage of its decentralized approach to security. Core values of innovation, empowerment, and community help guide Edge as it delivers quality experiences to users.
As cryptocurrencies proliferate and decentralized financial ecosystems hurtle toward becoming household names, ease-of-use and security are rightfully among the top considerations among potential users.
Consumers are increasingly being asked to entrust sensitive financial data to companies they know little to nothing about, whether it's for a banking app or submitting an online credit card application. And the world of cryptocurrencies is no longer confined to developers and cutting-edge tech nerds.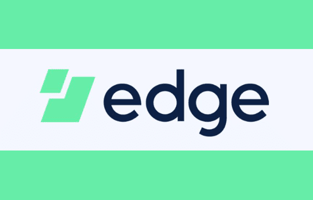 Virtually anybody with a smartphone can begin purchasing cryptocurrency. But newcomers are likely unaware of the best practices when it comes to safety in the decentralized economy.
And although it is relatively simple to buy or sell cryptos on the major exchanges, transferring digital assets and utilizing them in other ways can quickly become complicated (and unsafe) thanks to complex crypto wallet keys and clunky user experiences.
This is where Edge comes in. The company was founded in 2014 under the moniker Airbitz, with a goal of developing a crypto wallet focused on payments, merchant adoption, and the utility of Bitcoin.
"After about a year and a half, merchant adoption was definitely subpar," said Edge (and Airbitz) Co-Founder and CEO Paul Puey. "And it was because a lot of people were simply not looking at spending cryptocurrency — it was kind of a novelty."
Puey said the company refocused its efforts to align more closely with the speculative nature of the cryptocurrency industry.
Today, Edge exists as a wallet — or more accurately a noncustodial exchange in the form of an app — in which crypto holders can quickly and easily buy, sell, and trade multiple cryptos all in one place. And Edge's unique approach only requires users to login with a username and password, rather than lengthy wallet addresses.
The company's broader focus is on security in general. It created the Edge Security platform for developers, which is a decentralized approach to security for the decentralized ecosystem. The goal of Edge Security is to make large-scale data breaches a thing of the past.
The Edge App Allows Users to Store Multiple Digital Assets in One Place Without Cumbersome Pass Phrases
"When we refocused our efforts, we rebuilt 90% of our tech from scratch," Puey said. "We kept the key management system, which is an important component in the Edge app."
Puey said the key management system is a noncustodial model that allows users to control their own funds in a highly secured manner. The company does not have any control over the funds — Edge can't take any funds or stop transactions.
"They don't even need to see or write down a private key," he said. "That was kind of a main feature we wanted to have. The user owns the key but never has to see it or write it down. It's automatically encrypted and backed up to the cloud, and it's synchronized between different devices."
This is an appealing feature when compared with how other cryptowallets function.
"Managing multiple wallets for multiple assets is hard. Add in complicated backups, like long passphrases, lengthy strings of random letters and numbers, and you've got serious usability challenges. Not anymore. Hold all of your assets in one place with Edge—all you need is a username and password." — Edge
Puey said the goal of Edge is to give users 95% of the autonomy, privacy, and security over their funds with 5% of the effort. And although there are some crypto users — including early adopters and cypherpunks — who don't adhere to this philosophy, he said he thinks Edge's approach is what will help lead to more widespread adoption in the long run.
The opposing camp prefers to have every step, including juggling multiple keys, wallets, and long passphrases under their direct control. But with Edge's approach, all the same security measures take place, but they happen in the background so the average user doesn't even have to think about all the technical behind-the-scenes details.
And, because users maintain full control over their private key, even if Edge goes out of business, user assets remain safe on their devices.
Upon Widespread Adoption, the Edge Security Platform Should Eliminate Large-Scale Security Breaches
Security was always a top priority for Edge, even during its early days as Airbitz. In the process of developing top security standards for its own products, Edge ended up with what it calls the Edge Security Software Development Kit (SDK).
The Edge Security SDK is available to developers and has already been implemented into well-known blockchain projects, including Augur, Wings, and OpenLedger.
"A decentralized security model is needed for the emerging decentralized networks of the present and future," according to the company. "For businesses, security can be very challenging. Poor models of security make valuable data vulnerable to theft and breaches of large corporations are reported on monthly."
Securing large databases is costly because of the complexity of such an undertaking. Edge proposed that its decentralized security model is an ideal solution for businesses and individuals because of its customizable usability and high levels of privacy.
"The Edge platform is able to meet the needs of individuals and businesses," according to the Edge website. "We have saved our partners crucial time and resources by providing an effective, convenient solution to data security. Our tested model locally secures the private keys of hundreds of thousands of users across numerous blockchain platforms, providing our partners with peace of mind and radically reduced risk of private key mismanagement."
Again, with just a username and password, users can secure valuable assets in a method similar to that of using online apps.
"Behind Edge's friendly and familiar interface is a package of technologies that will keep your users safe and happy to use your application," according to the company.
Innovation, Empowerment, and Community are the Core Values That Drive the Company
Edge focuses on a handful of values to help guide its efforts in delivering a great user experience for crypto holders and the crypto community.
Value No. 1 — innovation — alludes to the drive to develop cutting edge technology, products, and services that make life easier for users. Examples of how the company has achieved this so far include the invention of the use of Bluetooth Low Energy for Bitcoin transactions.
The company also created the first password recovery method of encrypted data and pioneered a two-factor authentication system that works with the tap of a button.
Edge's second core value is empowerment — the goal to free people from having to rely solely on themselves or a third party. Edge wants to deliver independence to users with a support system that's there when they need it.
This is demonstrated in the automatic encryption and backup of user data in the Edge app and through the company's high-quality customer support.
Community is Edge's third core value.
"Open source, open door, open mind," according to the company. "Collaboration helps build better products and a better ecosystem." Edge's code is open-source and available to be viewed by anyone.
The company also hosts a Cryptocurrency Meetup in its San Diego offices and maintains open lines of online communication with the Edge community.
"We have an open Slack channel that we regularly post updates in, help users, and discuss the latest developments in cryptocurrency, blockchains, and data security," according to the company website.
Evolving Into a Global Non-Custodial Exchange
Puey said Edge will continue to add new currencies to its exchange and has some exciting developments brewing in the coming months.
"I think the big thing that people will be seeing coming out of Edge is really a push to be a global noncustodial exchange," he said. "That means you'll be able to buy and sell from bank accounts all over the world."
This will be achieved through partnerships with a number of different companies.
"It's going to be exciting," he said. "You'll see us covering many parts of the world with different partners, and all inside of the app and all noncustodial."
Advertiser Disclosure
CardRates.com is a free online resource that offers valuable content and comparison services to users. To keep this resource 100% free, we receive compensation for referrals for many of the offers listed on the site. Along with key review factors, this compensation may impact how and where products appear across CardRates.com (including, for example, the order in which they appear). CardRates.com does not include the entire universe of available offers. Editorial opinions expressed on the site are strictly our own and are not provided, endorsed, or approved by advertisers.