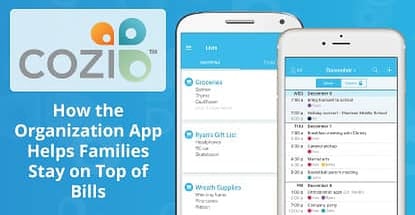 In a Nutshell: Modern life can be overwhelming for families, who must manage commitments, schedules, and bills. Luckily, technology is helping to bridge the gap. Through its shared calendars and grocery lists, Cozi is one such application that has helped its over 20 million users keep their families organized. In addition to keeping everyone on the same page, Cozi also has cost benefits, like cutting back on duplicate grocery purchases and sending reminders to pay bills on time.
It's well-known that smartphones have revolutionized the way we communicate with each other, and their various apps are part of that movement. One app, in particular, called Cozi, has been effective in helping families coordinate activity schedules and stay on top of deadlines.
According to her review on the Cozi site, Deena in Colorado is among the app's biggest fans.
"Before, Cozi, my husband and I kept three separate calendars on our computers that did not sync, as well as a whiteboard calendar on the wall," Deena wrote. "It was hard to keep everything organized for two adults, two kids, and two pets! Now, with Cozi, we keep everything in one place and can check it on the go instead of having to wait until we get home to confirm availability. I also love having access to the shopping and to-do lists from our phones because it saves paper."
Another mother wrote, "With an active family of four, we need it to keep school activities and family activities in check. I travel for my job and my military husband needs Cozi's features to remind him of the daily tasks that occur. If we didn't have Cozi to keep track of all the therapy appointments, doctor's appointments, sports practices and games, school events, school calendars, and general family outings, we would probably forget half the activities and run late for the other half."

By helping families stay organized, Cozi has also been helping these same families save money. After all, you're unlikely to end up with two gallons of milk when you're sharing grocery lists among family members. Kati Chevaux, Head of Marketing at Cozi, told us customer surveys on New Year's resolutions revealed that saving money was second only to staying healthy.
Cozi was founded by a group of family-oriented Microsoft and Amazon veterans, who were looking for new ways to creatively organize their schedules. The group pooled their ideas, and Cozi was born in Seattle in 2005 — about two years before mobile phones became as ubiquitous as they are today.
In the time since, Cozi has become the leading family organization app reaching over 20 million registered users. The vast majority of users are women (86%), the median user age is 39, and 86% of users have one or more children in the household.
"People love the app because it helps them organize everyone in their family in one place," Kati said. "They can access it from wherever — at home, in a store, or at work."
Shared Calendars and Grocery Lists Keep Families on the Same Page
Signing up for Cozi is free, and new users can get started with the various features of the app, which include calendars, shopping lists, to-do lists, meals and recipes, family journals, and learning how to use Cozi in a web format. The two most popular features are shared calendars and grocery lists, Kati said.
"There is one calendar that all members can access from any device (computer or mobile)," Kati said, adding that a calendar would include anything a user added to it — anything from work schedules and sporting events to appointments for doctors or dentists.
Calendars can be color-coded and used to send reminders to certain family members, and other calendars can be integrated into the main family calendar.
With grocery lists, anyone can add items at any time, Kati explained, and the shopping feature helps with meal planning, and ultimately, saving money.
"When someone's at the store, they can see the list, so two people avoid buying the same things," she said.
For US users, Cozi is also compatible with popular Amazon AI assistant, Alexa. People can talk to Alexa directly, giving her instructions about things to add to grocery lists, or bills to pay, and the system can automatically remind them what needs to be done.
While the base level is free and supported by ads, Cozi also comes in a Gold version for $29.99 per year, which includes special features, such as the capacity to see an entire month of appointments on one screen, a calendar search allowing people to see anything they've ever put on the calendar, and an address book with shared contacts.
Beyond the App: The Cozi Blog Features Money-Saving Tips
Apart from the money- and time-saving app, Cozi hosts a blog on its website, full of organizational and money-saving tips. Some current examples include a blog post on visiting the national parks for free in 2018. Another useful blog post is on fruits and vegetables that last a week or more in the fridge. This particularly comes in handy when prepping for big meals, like Thanksgiving, as well as simply knowing which vegetables (kale, carrots, Brussels sprouts) remain fresh longer, which can help in avoiding unnecessary trips to the store.
Another popular money-saving post, "7 Ways to Work Out for Free," lists popular YouTube channels and other apps for specific workouts, such as five-minute home workouts. It also provides resources for scoring free gym equipment.
While its blog is one form of keeping users informed, Cozi's app has other ways to keep everyone's schedules in sync. For instance, the app has the ability to send family members agenda emails, or reminders straight to their phones about appointments and other important information.
"Cozi is doing the work of letting others in the family know what's going on," Kati said. "It's helping out the communications person. In the last couple years, we've focused more on communication. We've been doing more to help people communicate schedules."
Reaching New Users Through Outreach and Word-of-Mouth
Indeed, continued and improved communication is one of the company's goals for 2018, along with reaching new audiences. So far, its best advertising strategy has been word-of-mouth.
"It's one of those things that families aren't necessarily searching for," Kati said. "They think what they use is good enough. When they hear from a friend that this app exists just for families, they get excited about it."
The team behind Cozi is intent on spreading the word about all the ways the app can make life simpler, she added.
"We hear from all sorts of people using Cozi, in all sorts of ways — not just families with kids in school," Kati said. Indeed, the app was called one of "The Apps Every Bride Needs for an Anxiety-Free Wedding" by Marie Claire.
Featured widely in the media, Cozi has received many awards, which have helped get the word out about its usefulness. Babble called it "the number 1 Must-Have App for the Modern Mom." The Huffington Post included it in its list, "6 Apps to Help Parents Manage a Busy Household," and ABC Radio made it a part of its "Back to School: 4 Apps for Busy Parents" compilation.
A nice endorsement also came from Yahoo Finance, which wrote, "Cozi consolidates all of your family's activities into one place, so that your household runs smoothly and stays on budget."
Advertiser Disclosure
CardRates.com is a free online resource that offers valuable content and comparison services to users. To keep this resource 100% free, we receive compensation for referrals for many of the offers listed on the site. Along with key review factors, this compensation may impact how and where products appear across CardRates.com (including, for example, the order in which they appear). CardRates.com does not include the entire universe of available offers. Editorial opinions expressed on the site are strictly our own and are not provided, endorsed, or approved by advertisers.