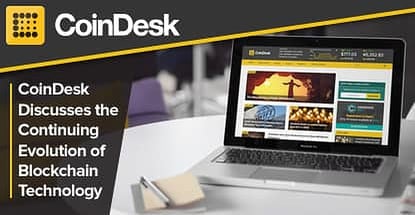 In a Nutshell: First proposed in 2008, the idea of a peer-to-peer based digital currency has slowly been gaining traction for the last eight years. Today, the near-ubiquitous bitcoin — and the blockchain technology upon which it is based — has gained renewed interest as it sees international adoption and investment speculation. From its unique vantage point as the largest digital currency news and research provider, CoinDesk.com has watched as bitcoin has grown from a little-known cryptography experiment into a worldwide financial phenomenon. Since 2013, CoinDesk and bitcoin technology have evolved side-by-side. Today, CoinDesk is the first stop of many bitcoiners, seasoned cryptocurrency users and novices alike, who are looking for the latest information and detailed guides on digital currency. With the addition of major industry events drawing in developers and professionals, CoinDesk truly provides bitcoin and blockchain resources for all. //
Once upon a time, on a mailing list far away, Satoshi Nakamoto published a research paper titled, "Bitcoin: A Peer-to-Peer Electronic Cash System." The 2008 paper described a new type of digital currency, one based on mathematical proofs that lived on a decentralized, peer-to-peer platform — what we now call blockchain technology. Satoshi's paper was followed several months later by the release of an open-source code for the first bitcoin network, and the first bitcoin transaction took place between Satoshi and his project's initial user, Hal Finney — for 10 bitcoins.
While considered remarkable within the cryptography community, for the first year of its life, bitcoin technology was basically a community phenomenon; it was, in many ways, an experiment shared by a small group of dedicated bitcoiners. Bitcoin values were set by the users themselves, mostly in a forum called bitcointalk, and could vary widely in each transaction (one of the most popular stories involves a Florida programmer indirectly purchasing two pizzas for 10,000 bitcoins).
Even as the technology gained some mainstream notice over time, though, it was often thought of as a novelty — something in the realm of techies and hackers. In fact, until 2012, fewer than 1,000 merchants worldwide accepted bitcoin as a direct method of payment for goods or services.
However, while bitcoin struggled to pick up momentum (or, even, attention) as a mainstream money replacement in the developed West, digital currency and blockchain technology have been finding traction in some unexpected places.
Over the last few years, bitcoin has not only become a medium for millions in speculative investments, but it is becoming a viable way to transfer funds internationally, as well as providing financial inclusion to developing countries lacking established financial services. Indeed, from its start in relative obscurity, digital currency has now become a billion-dollar business.
"When CoinDesk started 2013, I think the amount of funding for the industry was, in total, around $5 to $10 million. I think the only funded company at the time that CoinDesk launched was Coinbase," described Ryan Selkis, Managing Director of leading digital currency news and research website, CoinDesk.com. "Now, there are hundreds of companies internationally that have raised money — and not just for the sake of raising money, but to build teams and to build products."
As bitcoin Gains Traction in World Markets, Enterprises and Consumers Alike are Taking a New Look
Despite its growing popularity, it often seems that the average American, for the most part, views digital currency with about as much seriousness as they do Monopoly money.
"From a consumer standpoint, I think the biggest misconception is that bitcoin hasn't had any traction or gone anywhere in the last couple of years," said Ryan. "People want to see something they can download on their phone that they can use every day to buy coffee.
According to Ryan, the technology wasn't necessarily intended to replace cash for day-to-day purchases — at least not in developed nations.
"I don't think that's ever been where bitcoin, and other digital currencies, will be successful," he explained. "There hasn't been a killer app — but, what we are seeing is a lot of adoption, and a lot of growth, internationally. It is being used for things like remittances, or for folks who are using this as a substitute for mobile money in economies that have insanely high inflation rates."
In many areas where it was once difficult, if not impossible, to transfer money between people, and, especially, across borders, users are finding solutions within bitcoin and digital currency.
"Now — versus three years ago — there is actually some infrastructure to facilitate commerce in those regions. So, we saw spikes in bitcoin transaction volume in India when they announced their demonetization plans a couple of weeks ago. And, the spikes we've seen in Venezuela, Argentina, and other countries, where the health of their currency is in question or nonexistent, have shown digital currency to be a viable solution. And it is one we expect will continue to be viable for many developing countries that don't have strong currencies."
Whether it's due to regulatory hurdles or an inherent mistrust of making any information public, the enterprise companies and major financial institutions seem to share much of the public's disdain for digital currencies. While some utilize more private variations of the blockchain technology upon which many of those currencies are based, most seem wary of the concept — for now.
"Most of the enthusiasm right now from large enterprises is around their own private blockchains — systems that allow a consortium of banks and 10 or 15 permission-parties to be the only people who can actually verify transactions," Ryan explained. "But, I think the tide is turning. I think more enterprises are starting to, maybe not embrace, but, at least, experiment with some of the public blockchains or how their own systems can be inter-operable with public systems."
Data, Guides, and Research Help Visitors Stay Abreast of Developing Cryptocurrency News and Technologies
As interest in and use of digital currencies and blockchain technology grew, so, too, did the need for a centralized source of information. CoinDesk brings together the latest news and research, as well as offering introductory guides to help readers get started.
"From day one, we focused on covering the day-to-day news about the evolving technology. We also started creating guides that help people understand the basics of bitcoin and blockchain technology — and, now, some of these derivative technologies and digital currencies." Ryan explained. "Our editorial team conducts most of the interviews, but we also have research analysts at our disposal who are both highly technical and experienced in the end-markets that we're covering."
In addition to the day-to-day reporting that helps readers stay current on the latest digital currency and blockchain technology news, CoinDesk's team combines the talents of experienced editorial staff with industry experts to create in-depth research-based reports, including monthly paid reports and their free quarterly report.
"Our quarterly 'state of the industry' report has now run for 11 or 12 quarters. The most recent of which came out a couple of weeks ago called The State of Blockchain. That's a 100-page report on the latest trends in the industry, both in bitcoin and new emerging technologies. For example, we featured Ethereum in this last report; what the enterprises are doing in the industry, what the regulatory outlook is, etc."
Beyond research, managers and developers in the burgeoning cryptocurrency space have found significant value in CoinDesk's industry events. Their main annual event, Consensus, is focused on senior-level members of the community, and the 2016 event in New York City drew 1,500 attendees.
"Consensus is about the business applications and policies — the practical side of the industry," described Ryan. "The attendees are startup executives, leads of internal blockchain projects for enterprise companies, legal practitioners, accountants — any service vendor who's looking to make relationships."
In addition to Consensus, CoinDesk has put together an invitation-only event for blockchain developers, called Construct.
"Construct will be an almost purely technical conference," Ryan said. "A place for developers to get together and see what the latest innovations are across communities — not just bitcoin, not just in some of the enterprise settings, but across all of these various blockchain technology communities."
Between the news, guides, detailed research, and dynamic events, CoinDesk has covered the gambit of information for just about anyone interested in digital currency — and that's the point.
"We see CoinDesk as the content platform that should be the first resource people turn to, regardless of their level of familiarity with digital currencies. Whether it's someone who is looking for a guide and coming up to speed, an enthusiast checking prices and monitoring their personal investments, or an experienced industry practitioner looking to network at an event."
New Events and Enhanced Research on the Horizon
While digital currency technology may have had slow, and, arguably, rocky beginnings, the keen interest of the dedicated blockchain community has kept the technology alive. Now, with the renewed interest from individuals and companies, digital currency seemingly increases its viability as a platform every year.
"The traction that's been made, not just here in the U.S., but internationally, is amazing. The infrastructure developing for the exchange, payment processing, and storage of bitcoin and digital currencies has grown from basically nothing, or two to three parties — to something that is truly a healthy global infrastructure."
As for the future, well, Ryan said it will be an exciting year for the growing technology — and for CoinDesk. "We have some changes coming in 2017. We're going to be investing much more heavily in research and data tools, and we plan to roll out a subscription service for companies and individuals. We also have some other surprises in store for the second half of 2017."
Advertiser Disclosure
CardRates.com is a free online resource that offers valuable content and comparison services to users. To keep this resource 100% free, we receive compensation for referrals for many of the offers listed on the site. Along with key review factors, this compensation may impact how and where products appear across CardRates.com (including, for example, the order in which they appear). CardRates.com does not include the entire universe of available offers. Editorial opinions expressed on the site are strictly our own and are not provided, endorsed, or approved by advertisers.