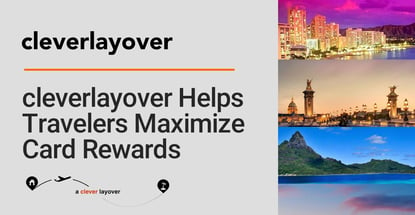 credit card news
Our experts and industry insiders blog the latest news, studies and current events from inside the credit card industry. Our articles follow strict editorial guidelines.
In a Nutshell: cleverlayover helps travelers save money on airfare by combining cheaper flights across multiple carriers with layovers in between. The platform started when a group of Harvard Business School students discovered the hack while traveling from the United States to the Middle East. cleverlayover's proprietary algorithm combs through flight schedules, fees, and destinations to deliver the cheapest possible combination of tickets centered around one or more layovers. Travelers can leverage cleverlayover to maximize their credit card rewards and enjoy longer vacations with more money to spend at their destination.
A few years ago, Phil Hu and a few friends decided to take a trip to Turkey. Although they had originally planned to fly straight from Boston to Istanbul, they discovered they could get a better bargain on airfare if they flew to Israel first with a separate ticket and then went to Istanbul from there.
The savings were so substantial that the group extended its vacation by several days. That allowed them to explore Tel Aviv and Jerusalem before moving on to their final destination in Turkey. The friends enjoyed a longer, more exciting vacation in the Middle East by simply adding a layover.

That experience planted the seed that would grow into cleverlayover, a platform that offers travelers savings on airline tickets and helps them stretch their credit card rewards further. Since 2015, cleverlayover has helped travelers save an average of $60 on trips to 228 nations and territoriesacross 2,500 layovers.
"The concept is that, if you're taking a flight, you can buy two flights with a layover city between and save some money," said Hu, CEO and Co-Founder of cleverlayover. "That's because airlines tend to price flights not based on distance but the frequency of travel. For example, if you're flying from San Francisco to Miami, it might be worth it to add a layover in Chicago. People call these a lot of things. Some people call it a double round trip, double ticket. We call it a cleverlayover."
Search Tools Bring Transparency to an Opaque Market
Hu was a first-year student at Harvard Business School when he and his friends planned that trip to Istanbul. The young entrepreneur got his undergraduate education in computer science. So he decided to apply that background to the problem of finding cheaper airfare while automating the process.
"Why don't people do this? Part of it is because it's such an opaque market," Hu said. "It's tough to search, and every time you search, it takes a few seconds to load. Prices refresh. By the time you've finished doing the 10 searches you need to figure out if there's an opportunity here, the price might have already changed."
Once Hu optimized the algorithm, his platform was up and running. Hu and his co-founders entered their enterprise into a school-wide competition among students starting and pitching businesses. Out of a cohort of 900, Hu's startup won and received an overwhelmingly positive response.
Then, the project worked with the Summer@Highland incubator program. The cleverlayover team chose not to seek additional investors, as their primary goal was to provide a free tool to help travelers save money and cut down on consumer debt. The team has built cleverlayover into a sustainable business and functional web platform.
"At first, it was a big clunky site that barely loaded, and we crashed several times when we first got out there. But eventually, we perfected it," Hu said. "We can find savings on about 30% of all searches. And it works in a reasonable amount of time."
Travelers Get Better Deals by Combining Flights on Different Airlines
Users can enter their origin, destination, and dates of travel to get started on cleverlayover. The platform searches thousands of flights passing through those and connecting locations, and it returns the cheapest possible combinations.
The secret to savings is combining flights on non-partnered airlines from a roster that includes value carriers as well as major players. Mixing and matching gives cleverlayover users the best possible deal within their specified time frame.
The critical component is the layover, the location and duration of which users can specify. Layovers can also extend into stayovers, much like Hu's excursion in Israel, and cleverlayover offers that option when booking.
"You can input the number of days you want to stay at your layover location," Hu said. "And if you stay for five days, that reduces the risk that a flight delay could ruin your second flight."
Flying on two or more tickets can help travelers spend less money and maximize their credit card reward points, but it does require a little more effort. Travelers will pass through baggage checks and claims, security, and customs at least twice. If they are late reaching their layover destination, and the next flight leaves shortly after the slated arrival, they may not make the connecting flight.
That makes carefully planning and spacing out flights by at least 12 hours essential.
"They're not going to wait for you," Hu said. "And you're not going to rebook as easily as if you were on the same ticket."
Pro Tips and Tricks to Save Time and Effort
One way to mitigate the possibility of travel disasters is by booking flights to and from the same terminal at the layover location. That can cut down on the time and effort of moving efficiently between gates and planes.
Hu also suggests flying first class. The tickets carry a higher price tag, but that means they may offer more significant savings than lower-cost options. Additionally, first-class tickets are typically refundable in the event of missed flights or change of plans.
"I have friends who tend to fly first class, and they like it because it is refundable," Hu said. "But they've used this trick on first-class tickets as well. The idea is, with first-class tickets being first of all much higher price, that means the savings are much higher, but also with them being refundable, this trick is a lot more appealing."
Hu recommends looking into which carriers offer the best deals and making travel plans based on the rates for those who just want to travel, but aren't picky about where they go.
"It's a way that people can save money, especially on international trips," Hu said. "The low-cost carriers in Europe and those serving Southeast Asia right now are offering good prices that aren't available to those searching domestically. So it might make sense to fly a major carrier from New York to Iceland, for example."
cleverlayover: Resources for Cost-Effective Travel
Hu and his co-founders set out to make a tool that would help travelers save money and maximize their credit card rewards. The team also wanted to establish a sustainable long-term business model.
The cleverlayover team relies on partnerships that pay out commissions when people purchase airfare. They decided on this model over the alternative of setting up a payment portal and charging travelers to use the platform. The latter, much like paying dividends to investors, conflicted with the team's goal of helping people save the most money and maximizing credit card rewards.
"We decided to keep it a free tool that would be useful for as many people as possible," Hu said.
cleverlayover's success is evident in its customer testimonials. One Australian man living abroad wrote that he could visit his family back home twice a year instead of just once, thanks to the savings the platform delivered.
"He was able to find much cheaper tickets," Hu said. "That made us feel good."
cleverlayover added a car rental feature that connects flyers to auto rental sites, making mobility simple on stayovers. The cleverlayover development team is also developing features that notify travelers about visa requirements and whether inbound and outbound flights are flying through the same terminal.
"We want to add more features, including the ability to tell whether you're in the same terminal on your layover," Hu said. "We think that's important to the customer's decision."