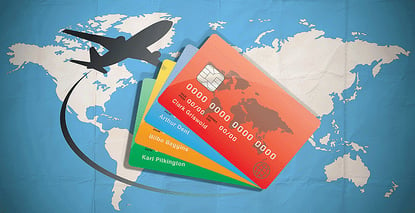 International travel can offer the experiences of a lifetime. The trick is to develop a strategy to avoid the expenses that'll last a lifetime.
How can you experience life abroad without being overwhelmed by airline fares and travel costs? With methodical use of airline miles, credit card rewards and exclusive offers, you can reach any destination for dimes on the dollar.
To help you master frugal adventure-seeking, we found the leading experts in credit card rewards optimization.These guys know what it means to be a thrifty traveler.
Once you get yourself a card with awesome rewards, here are the top 10 credit cards reward blogs to help you get the most points and perks possible:
The Points Guy

Offering Expertise Since: 2011
Social Clout: 77.5K+ Twitter followers; 119,870+ Facebook likes
Twitter Handle: @thepointsguy
The Points Guy founder, Brian Kelly, developed his credit card rewards strategy through extensive travel experience in both his professional and personal lives. As a Wall Street road warrior, Kelly spent as much as half the year abroad, sharing his wealth of economical travel tips along the way. In June of 2011, he left Wall Street to devote himself to building ThePointsGuy.com, which has grown into a resource supported by a team of 10 travel-savvy editors and writers. The site welcomes more than 1.5 million visitors monthly, with Kelly providing expert insight into a variety of publications, including CNN, The Today Show and The New York Times.
Million Mile Secrets

Offering Expertise Since: 2011
Social Clout: 23.4K+ Twitter followers; 11,040+ Facebook likes
Twitter Handle: @MilMileSecrets
Through careers with Fortune 500 and Fortune 100 companies, Daraius Dubash and Emily Jablon have traveled to more than 30 countries and visited six continents. They've combined their vast knowledge and understanding of mileage and rewards programs to create MillionMileSecrets.com. Recognizing that most people don't have the time to filter through copious amounts of information on airline deals, they search and narrow down the best resources for you. Their user-friendly analysis captivates more than 16,000 devoted readers worldwide. Their expertise has been featured in major media outlets, such as Business Insider, CNN and The New York Times.
Frugal Travel Guy

Offering Expertise Since: 2007
Social Clout: 28.5K+ Twitter followers; 27,580+ Facebook likes
Twitter Handle: @FrugalTravelGuy
Founder Rick Ingersoll created FrugalTravelGuy.com and authored "The Frugal Travel Guy Handbook" to teach others to maximize their travel experience at minimum expense, as he has been doing for years. He and his wife have visited 70 countries and even completed a five-year stretch without paying for a single airline ticket while traveling the globe. Visit FrugalTravelGuy.com to discover tips to taking advantage of bank promotions via good credit ratings, earning the "bump" customer service benefits and navigating frequent flier mile programs for the best perks and rewards. The blog received the Budget Travel Award from TripBase.com in 2009, 2010 and 2011.
GET.com

Offering Expertise Since: 2014
Social Clout: 1,110+ Twitter followers; 5,390+ Facebook likes
Twitter Handle: @getdotcom
Grace Cheng and Pedro Pia created GET.com to inspire users to get the most for their money in every aspect of life. Cheng has been featured by numerous media outlets as she traveled the globe blogging about her finance and travel knowledge. Pia utilizes his software development experience to build tools to save consumers time, money and energy as they orchestrate their personal and professional lives. The two co-founders assembled a team of avid experts in frugality to offer users trade secrets and tips to taking advantage of vital aspects of personal finance, including credit cards, insurance, mortgages and shopping.
CreditCardForum [The Blog]

Offering Expertise Since: 2008
Social Clout: 1,440+ Twitter followers; 1,425+ Facebook likes
Twitter Handle: @CreditCardForum
CreditCardForum is known as the leading site devoted solely to providing resources for optimal credit card rewards usage. Followers of the CreditCardForum blog will receive a myriad of tools and tips to maximize cardholder benefits, as well as master credit management. The blog also offers reviews on cards from credit unions, major banks and retailers. Whether it's credit information you're seeking, or you're on the hunt for special offers as you gear up for an anticipated getaway, CreditCardForum [The Blog] is a tool all cardholders should have in their financial tool belt.
Credit.com

Offering Expertise Since: 1995
Social Clout: 9,975+ Twitter followers; 3,175+ Facebook likes
Twitter Handle: @CreditExperts
The primary goal of Credit.com is to arm users with enough knowledge about credit to make wiser financial choices and optimize the potential benefits. Chairman and co-founder Adam Levin assembled an international team, highly knowledgeable in their finance fields, to serve as a credit advocates and mentors for credit card users everywhere. Featuring quality information on credit cards, scoring and reporting, Credit.com content has been nationally syndicated across numerous media platforms, including Yahoo, MSN and NBC.
Taking Charge

Offering Expertise Since: 2007
Social Clout: 2,885+ Twitter followers; 3,440+ Facebook likes
Twitter Handle: @CreditCardsCom
Taking Charge is a credit card resource brought to you by Bankrate Online — a leading authority and financial rate information site. The blog provides credit card consumers with the news, knowledge and advice necessary to make informed decisions regarding credit matters. Choose the best offers, rewards plans and cards to meet your personal needs with the help of their online features and tools. The site has been frequently featured by media outlets, such as Google News, NASDAQ.com and MSNBC.
The Well Traveled Mile

Offering Expertise Since: 2012
Social Clout: 265+ Twitter followers; 620+ Facebook likes
Twitter Handle: @WellTraveldMile
Originator of The Well Traveled Mile Rand Shoaf wanted to teach others the trade secrets to traveling around the world at an unbelievably affordable cost. Rand has visited more than 30 nations around the globe for next to nothing in travel expenses. After earning more than a million airline miles and rewards points, he decided to share his experience and expertise with the online community. His team researches fluctuating rewards offers and supplies site viewers with a simplified presentation of upcoming deals. While they keep you informed on optimal rewards offers, you're encouraged to "earn points and go travel!"
Airfarewatchdog

Offering Expertise Since: 2005
Social Clout: 492K+ Twitter followers; 118,200+ Facebook likes
Twitter Handle: @airfarewatchdog
Airfarewatchdog is the go-to resource for travel planning. They compare airlines, fees, policies and programs to offer you the smartest deals out there. Follow their blog to accumulate the best tips and tricks for optimal airline rewards, as well as gather useful knowledge of the airline industry in general. Whether you're looking for a one-way ticket to a frugal life abroad or a crash course in getting an around-the-world experience at a fraction of the cost, airfairewatchdog can help get you there.
Nomadic Matt

Offering Expertise Since: 2006
Social Clout: 82.2K+ Twitter followers; 78,200+ Facebook likes
Twitter Handle: @nomadicmatt
Nomadic Matt has been an expert frugal world traveler for almost a decade now. He created this blog as a resource to encourage visitors to believe it is possible to travel on a small budget. Offering thrifty travel news updates, exclusive offers and travel tips, Nomadic Matt has been praised by numerous media outlets, including CNN, BBC, The New York Times and Yahoo! Finance. More than 600,000 viewers turn to Nomadic Matt each month for  secrets to gaining inexpensive world experience. Join them and you'll find you too can travel anywhere you desire for less than you think.
Photo sources: twocents.lifehacker.com; facebook.com; twitter.com
Advertiser Disclosure
CardRates.com is a free online resource that offers valuable content and comparison services to users. To keep this resource 100% free, we receive compensation for referrals for many of the offers listed on the site. Along with key review factors, this compensation may impact how and where products appear across CardRates.com (including, for example, the order in which they appear). CardRates.com does not include the entire universe of available offers. Editorial opinions expressed on the site are strictly our own and are not provided, endorsed, or approved by advertisers.